There does not seem to be much of a let up in the discussion about the welterweight division in the UFC. With this past UFC card featuring 5 of the best welterweights on the planet, there is much to discuss and talk about. Although it seems every angle has been mentioned, discussed, analyzed, and broken down; I feel that a top-ten ranking in the 170 lb division seems about right at the moment.
10. Robbie Lawler (20-9 MMA 5-3 UFC)
At the beginning of the top ten is Robbie Lawler; a man with sensational KO power and a ruthless fighting style. Lawler was set to return back to the UFC after his 3-5 skid in Strikeforce. At the time, Lawler didn't have much stock to his name; he was just a brawler with KO power that everyone was taking down and either submitting or grinding out for a decision. However, in Lawler's return, Robbie had the performance of his life when he KO'd long-time top ranked fighter Josh Koscheck.
It was expected that Koscheck would use his distinct wrestling advantage over Lawler and smother him for 3 rounds much he has done to other strikers with heavy heads (Paul Daley, Anthony Johnson, Chris Lytle, etc.), but "Ruthless" Robbie Lawler did not let that happen. Lawler proved relentless in his attempts to get up to the feet, and when given a small amount of space in a scramble, Lawler blasted Koscheck for his first UFC win since 2003. This impressive performance put Robbie Lawler peaking into the top ten.
9. Tarec Saffiedine (14-3 MMA 0-0 UFC)
While he may not have any UFC experience, Tarec Saffiedine has shown that he belongs amongst the top after he won the Strikeforce Welterweight Championship earlier this year. Tarec started out in Strikeforce fighting on the prelims. When Tarec became recognized for his oustanding striking ability, he climbed his way up the ranks among the other Strikeforce welterweights. Eventually he earned himself a headlining position against fellow up-and-comer Tyron Woodley. Saffiedine lost a decision, but proved that he earns a spot fighting the best.
Since that defeat, Tarec went on a 3-0 streak before he earned himself a title shot against Nate Marquardt. Tarec displayed oustanding striking, including nasty leg looks and great awareness, and defeated Marquardt by decision. Now looking to make his UFC debut, Tarec Saffiedine has fought hard to make himself a spot in the top ten rankings.
8. Nick Diaz (26-9 MMA 6-6 UFC)
Sure Nick Diaz may not have the greatest record in the UFC, but Diaz has earned his respect through his no-fear fighting style, and his amazing battles inside and outside the promotion. As a true genuine fighter, Nick Diaz has fought the best names all over the world. From UFC champions, Japanese superstars, Strikeforce champions, and MMA legends, Nick Diaz has made quite the name for himself.
While it may not be Diaz's talented fighting skills that has made himself so popular as it is his attitude and big mouth, make no mistake about it when you decide whether to put Diaz among the top ten. Diaz has fought only the best, and has lost to only the best. The only thing that could kick him off the top-ten ranks would be retirement or lack of activity.
7. Rory MacDonald (14-1 MMA 5-1 UFC)
Being labeled as "the next big thing" at 170 lbs can sure bring a lot of pressure, but it hasn't seemed to slow Canadian and Tri-Star standout Rory MacDonald down any. MacDonald made his appearance known in the UFC when he nearly defeated MMA vet and current top-ranked fighter Carlos Condit. Since then, MacDonald has been on a 4 fight win streak, including wins over Nathan Diaz and BJ Penn.
MacDonald brings a mauling style to the Octagon, as displayed in both of those fights. From his physical strength, to his boxing technique, MacDonald is as well rounded as any. At Rory's rate, he's destined to make to the the top; the only thing that seems to be hindering his chances are injures (which have forced him out of three bouts now).
6. Martin Kampmann (20-6 MMA 11-5 UFC)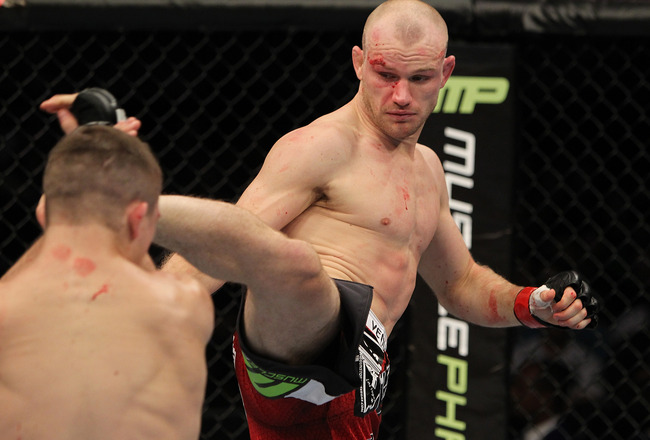 Kampmann has forever been known as one of the most exciting and dangerous fighters in both the welterweight division, and formerly the middleweight division where he began his UFC career. Since dropping down to 170 in 2009, Kampmann has went 7-4 in the division (finishing 4 of those bouts).
While Kampmann undeniably contains the skills to make it up to a title shot, he has not provided the same amount of consistency. Kampmann's closest chance to the title came when he defeated Rick Story, Thiago Alves, and Jake Ellenberger in a 3-0 streak, but was KO'd in the 1st round by the current title challenger Johny Hendricks. Does Kampmann have the chance to fight his way back up to the top? He's only 30 years old, but he's taken some heavy punches throughout his career. Kampmann may have the skills the make it, but can his jaw keep him standing long enough to do so?
5. Jake Ellenberger (29-6 MMA 8-2 UFC)
Coming in half-way up the rankings is "The Juggernaut", Jake Ellenberger. A Nebraska-native with dynamite in his hands and very good wrestling. Ellenberger possesses one of the most dangerous games in the division, and has the ability to finish anybody at any given time. There are only few who can match the amount of punching power that Ellenberger has, one of those people being title challenger Johny Hendricks, but no one has the versatility that he does. Ellenberger isn't a one-punch gimic like Dan Henderson or Hendricks, he's heavy handed in BOTH hands. Ontop of that Ellenberger can throw KO-inducing punches any range: kickboxing range, brawling range, in the clinch, or even on the ground.
Ellenberger was on a 6 fight win streak and extremely close to the title when he was abruptly stopped by Martin Kampmann. While Kampmann may have a win over Ellenberger, when you match up their UFC careers you have to give the edge to Ellenberger in terms of overall impressiveness. Afterall, Ellenberger does have a 6 fight win streak under the UFC banner under his belt, only few fighters can say they do. After his loss to Kampmann in June of 2012, Jake defeated MMA vet Jay Hieron and KO'd former Strikeforce Welterweight Champion and former UFC title challenger Nate Marquardt in his last outing. Expect Jake Ellenberger to receive a top ranked opponent next; if he gets past him in impressive fashion, look for Ellenberger to be ready to try and take the title.
4. Demian Maia (18-4 MMA 12-4 UFC)
Being possibly the most decorated BJJ practitioners in MMA, Demian Maia has gone through leaps and bounds since debuting in the Octagon back in October of 2007. Obviously known for his cut-throat ground game, Maia has finished half of his wins by submission. While he started out at middleweight, Maia decided to make a division change down to 170 after losing to Chris Weidman in January of 2012. This decision has turned out to benefit Maia drastically as he is now possibly just one fight away from a title shot.
Maia was undersized at 185, and it became too much for him when his incredible grappling technique was unable to keep up with the size and strength of the wrestling powerhouses like Chris Weidman, Mark Munoz, and Nate Marquardt. Maia debuted in his new weight class against top ranked Korean fighter Dong Hyun-Kim. It was expected that Kim would bully Maia around much like those did at 185, but it was an entire different story. While the fight didn't end in a very impressive way when Kim suffered a muscle spasm injury early in the first round during a powerful takedown by Maia, it still gave the viewers an introduction of what was to come.
After that TKO victory, Maia took on former top-ranked contender Rick Story. Maia ragdolled his opponent in the clinch, and made quick work of him when he submitted Story in the first round. Since then, Maia has compiled one more victory; a dominating decision over former title challenger and number one contender Jon Fitch. Maia has been on a tear with his outstanding grappling skills, so look for Maia to try and impose his will on the rest of the division.
3. Carlos Condit (28-7 UFC 5-3 UFC)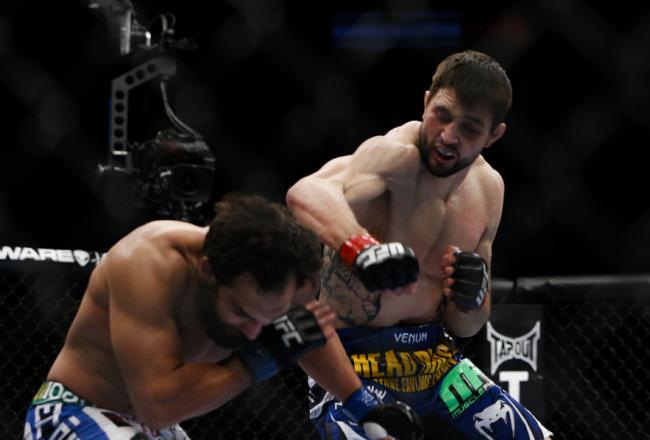 While maybe Jake Ellenberger's 6-fight win streak was impressive, Condit's 5-fight win streak proved to be another spectacle among welterweight contenders. Carlos Condit, a true MMA veteran, has compiled some of the most exciting careers in the division. While he didn't debut in the UFC until his 28th professional bout, Condit made sure to get his name on the rankings when he fought hard-tested bouts against Martin Kampmann, Jake Ellenberger, Rory MacDonald, Dan Hardy, Dong Hyun-Kim, and Nate Diaz.
While he lost his UFC debut by a razor close decision to Kampmann, Condit scored victories over all the rest; quickly showing the rest of the division the true talent and potential that rests in "The Natural Born Killer". While Condit may be on a two-fight losing streak, it's been to the champion and the number-one contender in a bout that shouldn't have lowered anyone's stock.
Carlos Condit is the definition of a true MMA fighter, being well-rounded in nearly all aspects of the game and having an answer for any position you put him in. His durability, heart, and creative mind has permanently labeled him as being of the most respected fighters in the game
2. Johny Hendricks (15-1 MMA 10-1 UFC)
Okay, I lied. Maybe Ellenberger's 6-fight win streak isn't the greatest of all time, it possibly comes second only to Johny Hendricks' 6-fight win streak. Johny Hendricks has made himself known throughout the division as being one of the most scariest fighters to face. His ferocious fighting style and ferocity inside the cage has propelled him to the top of the division, second only to the champion. Hendricks debuted in the UFC in his 6th fight, taking on TUF winner and up-and-comer Amir Sadollah in his 170 lb. debut. Hendricks upset Sadollah when he exploded with a fury of uppercuts, knocking the TUF winner out in just 29 seconds.
Since that debut, we've known that Hendricks possesses something special; the ability to end a fight, to stop anyone in front him, in just a blink of an eye. Hendricks continued to win three more times, showcasing his KO power again, and also his elite wrestling skills before dropping a decision to Rick Story. That loss to prove to be Hendricks's main motivator as he kicked his game up a notch and went on an incredible 6-fight win streak; including a 12 seconds KO of Jon Fitch (halting his 5-0-1 streak) and a 46 second KO over top-ranked contender Martin Kampmann. All of these impressive bouts finally earned him a shot at a title-eliminator bout against Carlos Condit.
Condit and Hendricks fought 15 hard minutes in an all-out barn burner that showcased both fighters' skills. In the end, it was Hendricks's aggressive pressure on the feet and his non-stop takedown barrage that edged the crafty Condit on the scorecards. Hendricks is now taking on the champion for a shot at the title; will Hendricks keep his streak going? Or will the champion defend his title for a record-setting time?
1. Georges St. Pierre (24-2 MMA 19-2 UFC)
Alright, maybe I lied again! Put Ellenberger's streak third, Hendricks's streak second, and Georges St. Pierre's first. GSP has not lost a fight since April of 2007. He took the belt in a rematch against Matt Serra in 2008 after wins over Josh Koscheck and Matt Hughes, and then has defended it eight times so far; creating an astonishing 10 fight win streak in the UFC (second best win-streak and defense-streak, first being Anderson with 16 fight win-streak and 10 title defenses).
With all of Georges success, comes criticism. GSP has also not finished a fight since he TKO'd BJ Penn in early 2009, making a 6-fight streak of unfished, unanimous decision wins. GSP has been losing fans because of his inability to finish fights, and has been a prime target for several welterweight contenders such as Nick Diaz. Diaz and Georges fought in a grudge match that was being publicized and promoted as being "personal" for Georges. Georges won the bout by decision, winning every round and shutting Diaz's game down; but all it did was create more criticism for Georges.
Now with a plethora of heavy-handed killers in his division, Georges is going to have to fight harder than ever to hold onto his belt. While he may be the second greatest champion in the UFC, he's unfortunately the king of a very talented division. Georges will be defending his title for a 9th time against Johny Hendricks; a fight that could very well spill the end for St. Pierre.
Thanks for reading!
-Hodgi