He is vicious, aggressive, and an absolute killer when it comes to swinging limbs. This is describing the one known as "The Axe Murderer", Wanderlei Silva, one of the most globally recognized faces in MMA. He has had a career with severe peaks and valleys. It's said that his career is about done for, but that shouldn't be a time for grieving, it should be a time for celebrating. Let's take a look at Silva's top 5 best performances of his career.
5. Pride 13 – TKO of Kazushi Sakuraba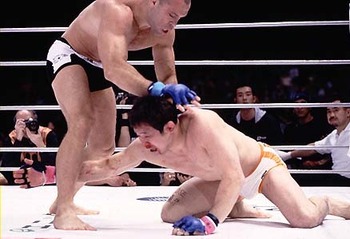 It was a brutal minute thirty-eight seconds. This was the first fight between two of Pride's greatest middleweights. Wanderlei was just 24 years old at the time, taking on the beloved Kazushi Sakuraba. The thing that makes this performance stand out from the other two encounters is the fact that both Silva and Sakuraba were on tears in their career. Sakuraba is now known as basically a punching bag, a "once-was" fighter, but not in this fight, not at this time. Sakuraba was truely a "Gracie-killer", coming off wins over Ryan Gracie, Shannon Ritch, and Renzo Gracie. Wanderlei on the other hand was coming off a battle against Dan Henderson in which he won via unanimous decision.
All Wanderlei needed was just 1:38. An early blitz by Wanderlei got Sakuraba's attention in the fight. Then another one, and then finally a third blitz of violence left Sakuraba in trouble. Silva finished his opponent off with soccer kicks, and then eventually knees to the head on the ground. It was a violent display of the aggression that sent a brutal note to the rest of Pride fighters letting them know that Wanderlei Silva is a killer.
4. UFC 84 – KO of Keith Jardine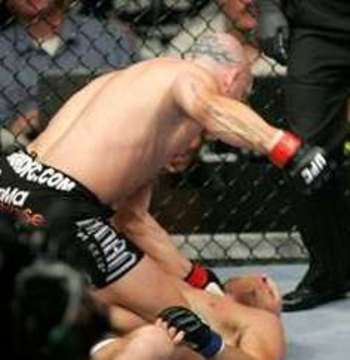 Perhaps his best outing in the sport's most competitive organization, the UFC. It was a weird thing at the time having fighters from Pride come into the UFC. Of course, everyone was eager to see how the legend, Wanderlei Silva, would fare against the UFC's top competition.
While the fight between him and Chuck may not have been the best performance from, it showed that he was still a threat; stunning the long-time former 205lb champion on several occasions. But it wasn't enough, he lost the fight which put Silva on a 3 fight losing streak; and the fans were sold that the UFC's top guys would beat any Pride fighter that stepped in front of them; this fight between Silva and Jardine would go to prove them wrong.
Jardine had just came off the biggest win of his career, a narrow decision victory over the previously mentioned Chuck Liddell, and UFC fans were wanting to see his showdown between Jardine and Silva in what was declared as a KO-lovers' dream fight. Wanderlei Silva fans weren't quite sure what was going to happen; Jardine was a tricky fighter on the feet who possessed KO power while Silva was a fairly simple brawler who looked to be at the tail end of his career. But boy did Silva prove the haters wrong.
Silva came out quickly, took a leg kick, and unloaded with a barrage of strikes that quickly dropped the top contender. Silva then hopped ontop of his wounded foe and finished him off with possibly the most vicious technique known in combat sports; the rape choke. With one arm pinning Jardine's head down, and the other unloading with punches, the ref was forced to step in just 36 seconds into the fight, and grant Silva his first win nearly 2 years.
3. Pride Final Conflict 2003 – TKO of Rampage Jackson
Wanderlei Silva and Rampage Jackson had probably the most intense rivalry of all of MMA as it lasted through 3 fights, spanning the course of nearly 5 years. Their first encounter was in 2003. Silva and Rampage were to meet to decide the Pride middleweight champion. Silva was on a 12-fight win streak, including his second KO of Kazushi Sakuraba. Jackson on the other hand was on a 7-fight win streak of his own, including a second round stoppage of UFC representative Chuck Liddell. This fight had fireworks written all over it.
In the fight, Quinton brought it the ground for the majority of the opening frame. After being caught in a guillotine attempt, Jackson methodically worked himself safe and into the full guard of Silva as they exchanged strikes on the ground. Eventually the ref stood them up and Wanderlei went loose. He clocked Rampage with some hard punches, and put some knees to his head. As Jackson tried to tie up, more and more knees slammed against the dome and eventually he couldn't take anymore. It was an impressive fight that would spark a fantastic rivalry between the sports' two most exciting fighters.
2. UFC on Fuel TV 8 – KO of Brian Stann
Taking the number two spot is the KO of the "All-American" Brian Stann in what is currently a front runner for Fight of the Year in 2013. Heading into this fight, the fans were cautious in rooting for their hero Wanderlei Silva. To them, Brian Stann was a horrible match up. A guy who hits like a truck, has solid wrestling, and has only been finished via strikes once in his career. It was a safe pick to bet on the hard-hitting Brian Stann against the aging, nimble-chinned Wanderlei Silva, or so they thought.
Right from the git-go Wanderlei and Stann exchanged some of the most violent punching combinations seen on television. Both fighters seemed to be getting the better of eachother as they both scored knockdowns. After the first round, Stann's nose was appeared to have been broken, but Wanderlei was banged up as well.
Heading into the second, it was clear they both needed time to think about things. Silva's corner told him to throw the right hand, and with a little over a minute left in the second round, he did. He connected hard with a right hand that timed Stann just right, and followed up with a whipping left hook that dropped the American. From there Wanderlei unleashed a salvo of right hands that relieved Stann from his consciousness and sparked the Japanese crowd inside the Saitama Super Arena. This was possibly Silva's proudest moment of his career.
1. Pride 28 – KO of Rampage Jackson
And taking the number one spot as Wanderlei Silva's best performance; the KO of Rampage Jackson in their second fight. This fight had so much energy behind it that you knew it was going to be fantastic. It was labeled as 2004 Fight of the Year and was for the Pride Middleweight Championship that Rampage wanted so badly. He just finished knocking Minowa out with a knee, and then performing possibly the greatest KO of all time in his slam KO against Ricardo Arona. Things were going to get dicey in this rematch against Wanderlei Silva.
In this rematch, it was clear that Rampage had done his homework as he floored Silva in the opening round and proceeded with a takedown and a full round of ground and pound. At the end of the round he had Silva mounted delivering knees and punches to the head, Rampage looked like he may best Wanderlei this time around.
In the second round Wanderlei was taken down again, but he fought his way back up and uncorked a preserved beatdown that could easily go in the record-books as the most brutal KO in history. It was knee after knee after knee to the head as Wanderlei dragged Rampage around the ring making him eat his patella. Finally, Silva finished him off as he through Rampage into his knee one final time and let his unconscious rival fall limp through ropes and face plant on the edge of the ring; splattering blood on the officials around him.
These 5 best performances of Wanderlei Silva can be looked up to by nearly anyone. The amount of success that Silva had created for himself is undeniable second to the heart and soul of "The Axe Murderer", a legend, a hero, a fighter.
Thanks for reading, stay tuned for more blogs on Linker!
-Hodgi