Welcome to the UFC on FX 8 prelim analysis! This Saturday will mark the 8th card to be aired on FX, taking place live in Jaragua do Sul, Brazil. Click 'more' to see my personal analysis of this cards' prelims as I break each fight and explain who we should expect to win. Enjoy!
Lucas Martins vs. Jeremy Larsen
To start things off is a lightweight scrap between two fighters who yet to taste victory in the Octagon. Both fighters can be described as aggressive fighters who like to push the pace. Martins is a solid striker with the majority of his wins by TKO or knockout. He has technical kicks and power to stop the fight in the first round. Larsen on the other hand is an aggressive wrestler who likes to fight close-ranged. He has power in his hands, but a solid grappling game to rely on.
When comparing these two styles, I'm going to pick the guy who is going to be able to control where the fight goes, and also the tempo of the fight. I'm expecting Larsen to be able to bring the fight into the clinching game if he can't hang with Martins on the feet. From there, expect Larsen's strength in wrestling and grappling to kick in as he smothers Martin's attempts for three rounds.
Jeremy Larsen via Unanimous Decision
Jussier Formiga vs. Chris Cariaso
Taking place in the flyweight division, an interesting bout between Jussier Formiga and Chris Cariaso is set to take place. Both fighters are coming off of losses; Formiga to former title challenger John Dodson; and Cariaso to current title challenger John Moraga. Both of these guys have a place somewhere in the top 10 of the shallow 125 lb division, so it'll be interesting to see just how close they are to a title shot.
Formiga has won the majority of his bouts by either submission or decision; he's a grappler who just wasn't on the same level as John Dodson on the feet. Luckily for Formiga, Cariaso isn't necessarily a striker either. Cariaso is a distance fighter who battles his opponents head on and often times edges them in the edge. He has outstanding cardio, a fast pace, and is extremely durable. When comparing these two fighters, it's interesting to note that Formiga will be taller, and longer heading into the bout. That should help aid him in striking exchanges, and also when attacking with submissions.
The biggest thing Cariaso has over Formiga however, is experience. Cariaso has faced some top level fighters, and has some solid wins. Formiga's only real notable opponents are John Dodson; whom he lost to by TKO and Ian McCall; whom he lost to by decision a while back. I'm picking this to be a real, close fight. Being that both of these guys are featherweights, expect a fast paced, well-rounded MMA battle that should be a real competitive bout until the end. At the conclusion, I'll pick Cariaso to win a close decision.
Chris Cariaso via Split Decision
Azamat Gashimov vs. John Lineker
Usually we're lucky if we get just one flyweight bout, but this card will be featuring two! Azamat Gashimov will be making his 125lb debut against tested Brazilian, John Lineker. At only 2 fights in the UFC, Lineker has more Octagon experience than most flyweights surprisingly, and not just there either; Lineker has a record of 20-6 which makes him one of the most experienced fighters in the weight class. Lineker is an aggressive, scrappy fighter who can put the hurt on his opponent anywhere. Lineker has several KO's to his record, so standing with him could be an issue for his opponent.
Gashimov, the 7-2 Russian, will be making his second UFC appearance. In his debut, he was submitted early by talented contender Ivan Menjivar. Gashimov is a big and strong fighter who uses his wrestling and grappling skills to overwhelm his opponents. This could very well come down to whether Gashimov is able to secure takedowns or not, as Lineker should have a definite advantage in the striking.
An interesting note in this fight is that Gashimov is a very tall 125 lb'er at 5'9″. Most flyweights are lucky to get near that, and that length could very well aid him in avoiding Lineker's heavy punches. When deciding a winner, this is really a 50/50 split to me. Gashimov is big, strong, and a way better grappler than Lineker. That being said, Lineker is experienced, and has one-punch KO power. I'm going to have to side with the proven force in John Lineker, to fend of Gashimov's takedown onslaught long enough for him to land some shorts. When he does, it'll be over for the Russian.
John Lineker via 2nd Rd TKO
Fabio Maldonado vs. Roger Hollett
Fabio Maldonado has quickly became an increasing fan favorite in the 205 division. What is there not to like about him? He's one of the best boxers in the division, he always pushes forward, and he can take a serious punch and keep swinging. Maldonado could very well be following Wanderlei Silva's footsteps in terms of fan favoritism if he keeps his ways going. In his path this Saturday is Roger Hollett, 0-1 in the UFC. His first appearance was against Matt Hamill, in Hamill's final retirement bout. While it was lackluster and didn't show much of Hollett despite his lack of cardio and striking technique, I think it's safe to say he should be having a better performance this Saturday.
That being said, I don't see Hollett being able to handle Maldonado's boxing and constant aggressiveness. Hollett is going to need to be explosive, and quick if he wants to catch Maldonado and take him to the ground where he can control him like he'll be wanting to do. I see Maldonado staying light on his feet, pumping his jab, and battering Hollett on the feet before he eventually turns it up and stops him late.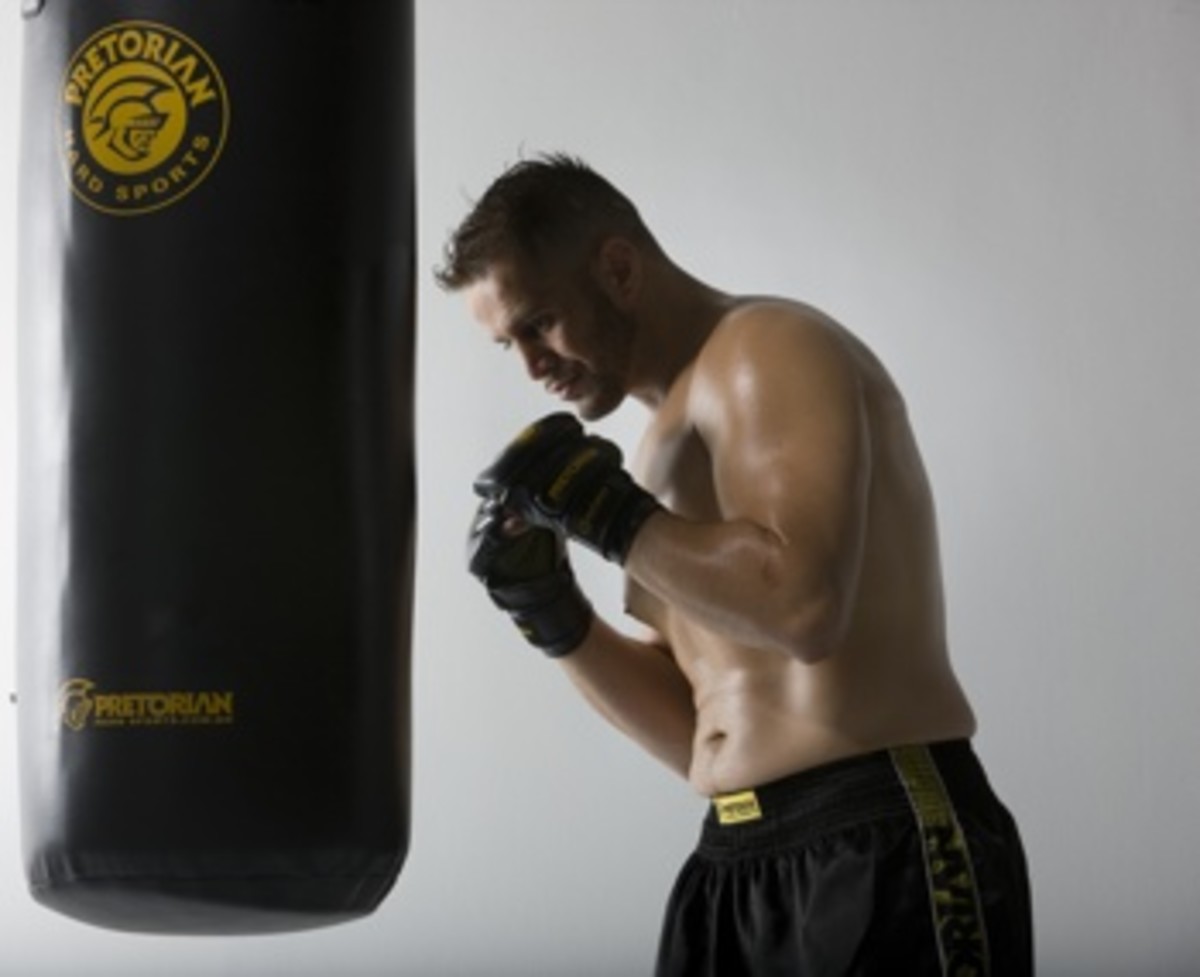 Fabio Maldonado via 3rd Rd TKO
Yuri Alcantara vs. Illiarde Santos
I think this bout takes the cake for being "flown underneath the radar". Alcantara and Santos bring very impressive records to the table with a combined 54-10 record between the two. These two Brazilians have loads of experience, but it's Alcantara with four bouts already in the UFC. Santos is making his debut on a 6 fight win streak, coming from various fight organizations based in Brazil like Jungle Fight. Santos is a slick submission expert who is also talented on his feet. He's extremely fast, dangerous, and can end the fight at any time. He'll be taking on the ultra talented, Yuri Alcantara, who is also dangerous on the mat, but more-so on the feet. This should be an extremely competitive and exciting bout between two highly skilled bantamweights.
First of all, I'm expecting this fight to go all three rounds. These guys are just too good, and too well-rounded to catch the other and finish the fight. If this fight does somewhere end in a finish, my best guess is that it'd be by Alcantara on the feet. He has just as many stoppages due to strikes as he does submissions. When comparing these two fighters, it's evident that Alcantara has a big edge in experience. He's faced bigger guys at featherweight, and even lightweight, and will be the bigger fighter this Saturday. I think I'll pick Alcantara by a decision in a very exciting, back-and-forth, well-rounded fight.
Yuri Alcantara via Unanimous Decision
Paulo Thiago vs. Michel Prazeres
With his last performance being all the way back in November of last year, Paulo Thiago has been itching to come back and get himself a win. Thiago was at one-point being considered a top contender, with his top-level grappling and unorthodox striking style making him a very hard opponent to face. Now, he'll get a chance as he takes on UFC debuting fighter Michel Prazeres. Prazeres is undefeated in MMA, with 16 victories without a defeat (8 submissions, 7 decisions, 1 TKO). I think it's safe to say that Prazeres is going to want to get this fight to the ground, which could give Thiago a bit of a dilemma; in nearly every bout Thiago has been in, it's been him who has been the fighter shooting for takedowns and trying to get the fight on the ground.
The important thing to think about in this fight is who has the bigger amount of tools. Prazeres, although fairly unknown at this point, seems very one-dimensional on the ground. I don't think he'll offer Thiago anything on the feet that he has not seen before in opponents, especially considering he's faced guys like Martin Kampmann, Mike Swick, Siyar Bahadurzada, Stun Gun, etc. If anything, I'd give Thiago's unorthodox swooping punching style an advantage against Prazeres, who seems pretty reliant on getting takedowns and smothering his opponent. I'm going to pick Thiago by KO, as he catches Prazeres with a looping punch on the feet after he shows that he can hang with him on the ground and defend whatever is thrown at him.
Paulo Thiago via 1st Rd KO
Gleison Tibau vs. John Cholish
One of the lightweight's largest competitors, Gleison Tibau, will make a return to the Octagon after suffering a close decision loss to Evan Dunham this past February. Tibau has yet to get on more than a 3-fight win streak, but will get another chance to start from scratch against John Cholish, who is 1-1 in the UFC. Cholish is an insanely crafty submission expert who trains under Vinny Magalhaes, and Renzo Gracie.
Unfortunately for Cholish, it's going to be incredibly difficult getting the tank-like stature of Tibau on the ground. Tibau is the bigger, stronger fighter who is also a talented grappler himself. I believe this bout will be mostly contested on the feet, and will come down to who is the better striker. Tibau packs a lot of power, but for the most part is fairly slow, and isn't the most fluid with his strikes. Another thing against Tibau is his cardio; carrying around all that muscle in his packed framework is extremely taxing to the human body, so don't expect much output from Tibau as the fight grows. I'm picking Tibau to take the fight by decision as he bullies Cholish with his physical strength and gets the better of the stand up exchanges, but expect Cholish to steal a round with his craftiness.
Gleison Tibau via Unanimous Decision
Francisco Trinaldo vs. Mike Rio
The three-time national wrestling champion, Mike Rio, will return to the Octagon to try and make it 2-0 as he battles the gigantic muscle-house Francisco Trinaldo. Both of these fighters are very talented grapplers, but Rio is more of a wrestler while Trinaldo is a BJJ guy. I think it's safe to say that Rio will be cautious of Trinaldo's submissions, while Trinaldo will be cautious of Rio's top game. With these two things in mind, I believe their ground games will cancel out. I can see Trinaldo snagging an armbar on Rio, but I can also see Rio scoring takedowns and tiring Trinaldo out for three rounds.
Let's take a look at the stand up game; Rio is an alright striker. He's nothing pretty since he relies on his wrestling to win fights, but he's okay. However, Trinaldo on the other hand packs some serious power at 155 being that he is a former middleweight. Trinaldo will definitely look to land some big shots on Rio at every small break. Because Rio is reliant on getting in close, this will be Trinaldo's window to score and win the fight. I'm picking Trinaldo and rock Rio with punches coming in, and swarm him with powerful shots during scrambles to score a TKO.
Francisco Trinaldo via 1st Rd TKO

Hacran Dias vs. Nik Lentz
Set to close these exciting prelims is another bout that has "flown under the radar"; a featherweight match up between 21-1 Brazilian, Hacran Dias, and undefeated 145'er Nik Lentz. This is a very exciting match up between two guys who have the potential to be at the top of this stacked featherweight division.
When looking at Hacran Dias, you'll see that he is a very methodical fighter. He fights the best when he's ontop, and has time and space to work. In his UFC debut, he took out UFC prospect Yuri Alcantara using offensive takedowns and ground and pound. However, that was back in June of 2012, he has not fought since then. Injuries have kept Dias out of competition, while his opponent has fought twice since last June. Lentz is an aggressive wrestler who has been rounding his game out since dropping to 145. His boxing has looked better, and his wrestling has always been up to par. However, against a talented grappler like Hacran Dias, the close-ranged combat may be the wrong road to take.
I believe that Lentz's best opportunity to win this fight will be on the feet. Dias is a talented muay thai striker, but he does not have the boxing and power that Lentz possesses. If Lentz shows up with sharp boxing skills, it could potentially force Dias out of his methodical process, and into a desperate-style which could result in him being knocked out. However, Dias has gone 9 fights now without a loss; I don't think some sharp hands are going to alter his game plan. Expect Dias to use kicks to open up clinch opportunities. From there, Dias will find a way to take the fight to the mat, and turn the fight into a grappling chess match which will have him the victory at the end of the 3 hard rounds.
Hacran Dias via Unanimous Decision
You can view another website's preview of UFC on FX 8 here
Thanks for reading, stay tuned for the main card tomorrow! Thanks!
-Hodgi