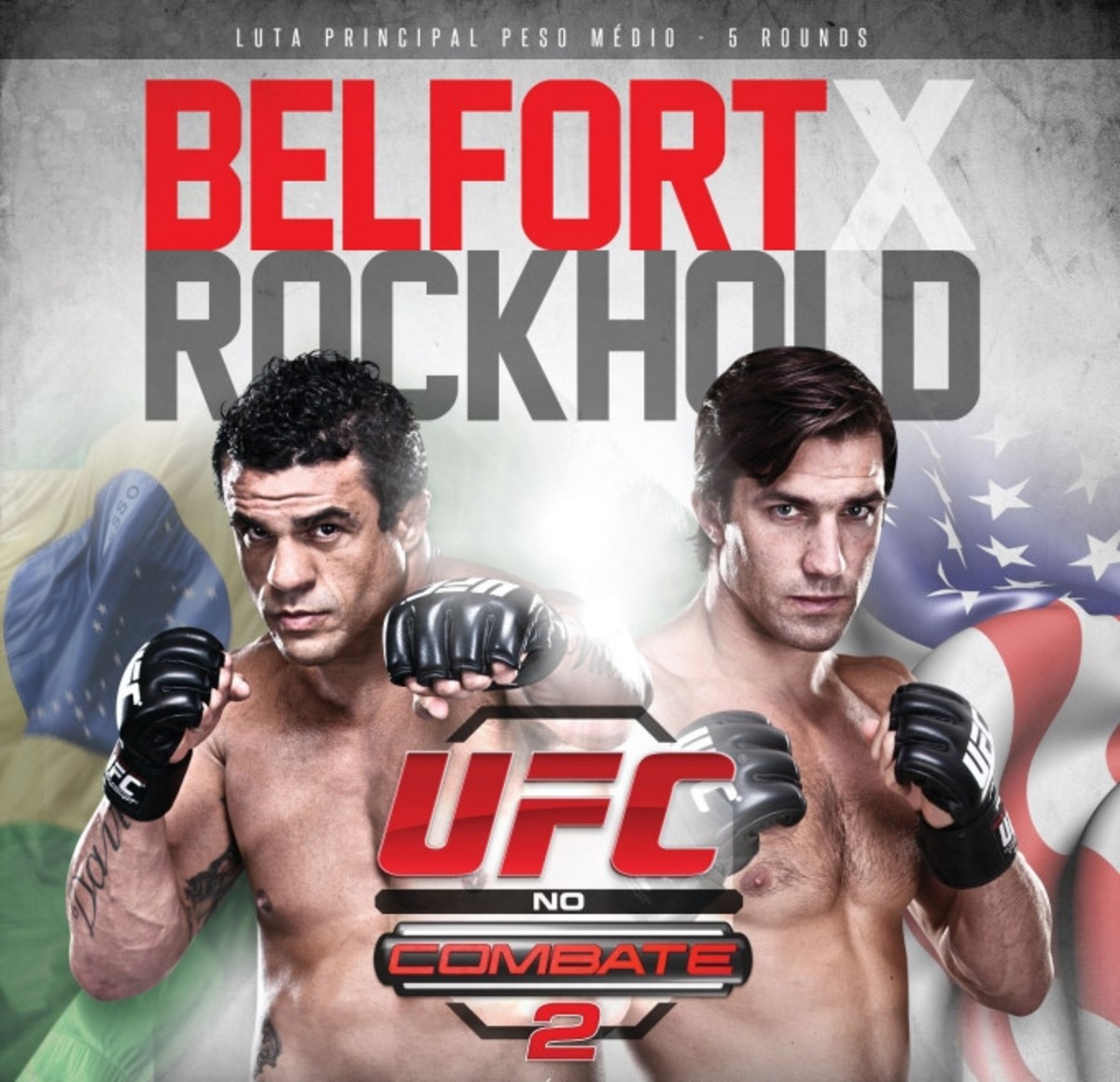 After breaking through the epic 9-fight prelims, we're now ready to head straight into the main card. UFC on FX 8 features an exciting middleweight bout as a headliner, that could potentially give us the new number one contender; between Vitor Belfort and Luke Rockhold, only one will advance up into the rankings. Also featured on the card is the former Strikeforce Champ, and grappling specialist, Ronaldo "Jacare" Souza.
Rafael Natal vs. Joao Zeferino
"The Brazilian Samurai", Joao Zeferino, will be making his UFC debut this Saturday after a shake-up of the card. He'll be taking on the sturdy Rafael Natal, whom is 3-2-1 in the UFC.
Natal has been a bit inconsistent since joining the UFC. As a grappler, Natal relies heavily on his takedowns and securing top control, but that doesn't happen, Natal can be taken out. Just ask Andrew Craig, who knocked Natal out with a head kick in their encounter after Natal dropped his hands several times through-out the bout. Natal's stand up is simple, but at times effective. He has a good jab, and throws lots of kicks which can break his opponent down enough for him to secure a takedown. However, Natal can be inaccurate and sloppy when he chooses to open up and start brawling; this could what Joao wants.
His opponent, Zeferino, is an aggressive fighter who also relies on his grappling. He has won by a variety of submissions, and is as good as any when it comes to strict grappling. However, he'll have to catch Natal off guard if he wants any chance of getting the takedown. I think this fight will come down to just that, whether Joao is able to get the takedown or not. Even if he does, Natal is a good enough grappling, and strong enough, to get back to his feet where he'll have the advantage; if he chooses to keep things simple. I'm picking the proven fighter in Natal to battle Joao on the ground, defend some of the takedowns, and get the better of his opponent using his stiff jab and kicking arsenal.
Rafael Natal via Unanimous Decision
Rafael dos Anjos vs. Evan Dunham
Up next is an exciting bout between two lightweights who battling to break through the B-level area of the division, and into the top echelon where some may believe they belong.
This is an exciting bout for me because both of these guys are very evenly matched. Dos Anjos is a proven grappler who possesses some devastating submissions skills, but ontop of that, holds some powerful fists. Dunham on the other hand is a taller, lankier fighter, but also as skilled on the ground as he is on the feet. Dunham has a dangerous muay thai attack which he uses to hurt his opponents in the clinch, but because of his length, Dunham often finds himself fighting on the outside with his jab and leg kick combinations. On the feet, it'll Dunham who will have the edge in technique, speed, and range.
What makes this bout interesting is what happens when they lock up. Yes, Dunham has devastating muay thai in the clinch, but Anjos has an explosive wrestling game that he uses to take his opponents to the mat. However, even off of his back, Dunham is a dangerous fighter due to his offensive guard. Anjos may be strong and explosive, but Dunham is crafty and is used to fighting off of his back.
Honestly, I think Dunham has all the tools to win this fight if he just plays it smart. If Dunham uses his jab, leg kicks, and keeps dos Anjos at range, he should be able to out-score him on the feet. In the grappling department, Dunham just needs to be smart, and use his defensive grappling to keep it competitive, from there, his striking should be able to cruise him by to a well-earned decision. However, Dunham has the urge to get into brawls. He did against TJ Grant, and it costed him. If Dunham loses it mentally, dos Anjos has too much power for Dunham and could catch him with a loopy hook. I'm banking on this to happen, as dos Anjos drops Dunham hard, and perhaps finishes with a submission, making his current streak increase to 4-0.
Rafael dos Anjos via 2nd Rd Submission
Ronaldo Souza vs. Chris Camozzi
Set to co-headline this event is an important bout between the former Strikeforce Champion, Jacare Souza, and up-and-coming contender Chris Camozzi. While Souza was originally slated against heavy-handed boxer, Costa Philippou, he'll instead take on the rising stock in Chris Camozzi.
For Jacare Souza, this fight is exactly what needs to get his name back into everybody's mind. For the longest time, Souza was considered the number 1 middleweight outside of the UFC. But then came his loss to Luke Rockhold, and for some reason, a lot of people have forgotten about him. Now is his time to get himself known on the big-stage of the UFC by taking on a contender who is on a 4-fight win streak.
Camozzi, a TUF 11 competitor, wasn't able to find his stride in the UFC until 2012 when he went on a perfect 3-0 run. Then to continue his success, Camozzi defeated Nick Ring in his latest outing, increasing his streak to 4-0. Now, as he takes on the dangerous Brazilian grappler, Camozzi will be risking all of his progress in a chance to rocket himself among the top 10 in the division.
There's a lot of breakdown in this fight, especially considering both of these guys's striking styles. Camozzi is primarily a kickboxer who stays light on his feet, and exercises solid footwork. He out-scores his opponents, stays away from danger, and defends well against takedown attempts. Not only that but Camozzi is excellent at fighting his way out of bad situations, he truly does have a fighters' spirit and is great at edging his opponents in close battles.
Unfortunately, Souza is not the guy who is easy to edge. Being one of the most decorated black-belts out there in BJJ, Souza is a finisher on the ground and is in a whole other level compared to the rest of the UFC's middleweight division. You take that, and add on his every improving striking, and you have some serious potential. Souza recently discovered his knockout ability when he KO's Strikeforce up and comer Derek Brunson. All of this makes Souza a very well equipped fighter, and not someone who is going to let this fight go very far. Unless Camozzi is able to really out-work Souza on the feet, expect Souza not to have any tentativeness, get the fight to the ground, and finish quickly.
Ronaldo Souza via 1st Rd Submission
Vitor Belfort vs. Luke Rockhold
Here we are, at the main event of the evening, a middleweight bout between two strikers who have a lot on the line. The explosive KO-artist Vitor Belfort, will be taking on the fluid striker who is 10-1 in MMA, who is on a 9 fight winning streak.
Any fight with Vitor Belfort has the chance to be quick, brutal, and feature one fighter laying face-first on the canvas within the first round. Belfort has the power, speed, and explosiveness to do that to anybody. How do you stop that? Well, you have to be smart. In his bout with Jon Jones, Belfort's chance of scoring a first round blitz was immediately taken away by a takedown. Rockhold is quick, and possesses good enough wrestling to take Belfort down. But will he need to? On the feet, Rockhold is a sight to watch. He's unpredictable, fluid, and has a complete arsenal of strikes to confuse his opponent. Belfort on the other hand is simpler; he relies on his power and flurries to injure his opponents and then finish them with pure aggression. That's going to be very hard against an opponent who is contempt with staying on the outside, picking him apart.
Like I said, Belfort can always change the pace of the fight with one-strike. Like he did against Michael Bisping, who's gameplan was to out-box him from the outside. That makes me believe Rockhold will do more than just strike from the outside; expect him to close the distance, work some wrestling, and try to tire Belfort out. Vitor does have a reputation for slowing down as the fight continues, so it could come down to whether Rockhold can avoid getting caught long enough for Belfort to slow down and allow Luke to implement his striking game.
In the end, you have an aggressive striker who is reliant on one aspect of the game against someone who has way more tools. Not only that, but Rockhold is just a better athlete with better cardio, and will only get better as the fight progresses. If Belfort is unable to snag him early with a flurry and finish him, expect Rockhold to methodically implement his game and take a well-earned decision.
Luke Rockhold via Unanimous Decision
Thank you for reading, stay tuned for more blogs on MMALinker!
-Hodgi