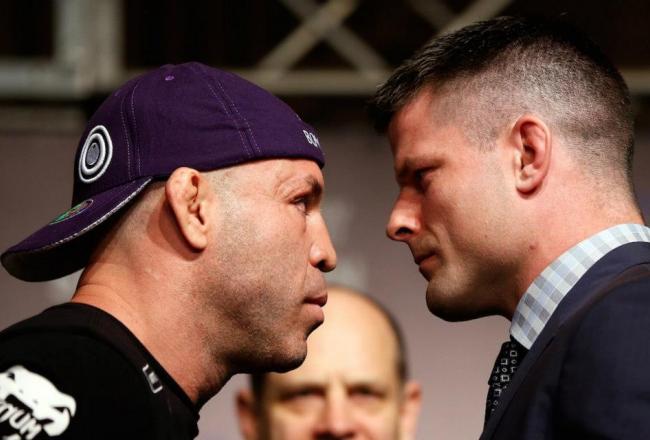 With UFC on Fuel TV 8 officially "in the books", we can take a step back and take a look at what went on at Saitama Super Arena in Japan.
Although this card was heavily dominated by decision victories, it was said that the two main event spectacles made up for the entire card. But before we take a look at what happened at the end of the night, let's review the prelims.
Marcelo Guimaraes vs. Hyun Gyu Lim
My Prediction: Guimaraes via decision
Outcome: Lim via 2nd rd KO
The card started promising with a good battle and a good finish in the bout between Guimaraes and Lim. The thing that really took me by surprise about Lim was how massive he was. He dwarfed the smaller welterweight by what looked like a full weight-class. Lim was able to stuff Guimaraes's takedowns with ease throughout the majority of the fight, and landed some really good strikes. I expected Guimaraes to control distance a little better and get in close when he needed to; but Lim did a great job keeping Guimaraes at his range and avoiding the clinch and takedowns of the Brazilian.
Eventually Lim started to slow down throughout the second round which had me worried for him. Guimaraes was still swinging his clubbing right hands and was starting to find his mark. Lim showed an unorthodox stand up approach throughout the fight, but it was beginning to cost him. Guimaraes's punches eventually set up a good double leg, but he couldn't keep him down. Lim got back up and knew what was coming, another takedown attempt. Lim times it perfectly with a knee and puts Marcelo's lights out to make it a KO victory in Lim's UFC debut.
Alex Caceres vs. Kyung Ho Kang
My prediction: Kang via split decision
Outcome: Caceres via split decision
I really wasn't too far off on this one. I knew what type of fight this was going to be and I think this bout was overlooked. If the main event wasn't such a slug fest, I'm sure this bout would've received Fight of The Night awards. It was an entertaining grappling battle that made both fights look good.
I picked Kang to win this bout because I thought he was going to out-score Caceres from the top position. Which, for the most part he did. He was able to get ontop and land good ground and pound and dominated the takedowns. However, Caceres proved why he is so exciting when he kept Kang guessing off of his back. Caceres showed his crafty leg work from the bottom as he used sweeps and defensive techniques to keep Kang from progressing.
The judges ultimately gave the nod to Caceres. He did have more submission attempts, but Kang was the one that was getting the takedowns and doing more damage. However, I really don't think there was a clear winner or loser in this fight. It was a great debut for Kang, and he showed that he is an exciting and talented fighter even in defeat.
Cristiano Marcello vs. Kazuki Tokedome
My prediction: Marcello via submission
Outcome: Tokedome via decision
Wow! I have to say that I was incredibly impressed with Tokedome. I thought for sure that Marcello was going to impose his will, take the fight to the ground, and then finish it. However, Tokedome had different plans. Tokedome basically gave Marcello all the tools he needed; Kazuki was more than willing to go to the ground with Marcello and not only defended himself, but dominated. Marcello couldn't really get anything going off of is back and was forced to eat punishment from Tokedome for three straight rounds.
That was basically the story of this fight. Marcello played very aggressive on the feet, that was somewhat surprising considering that Marcello would be at a disadvantage on the feet against almost anyone. He landed some decent punches in his charges, but Tokedome had none of it as he fired back with some of his own strikes through out the fight. He dropped the Brazilian in the third round, and secured atleast one takedown in every round while staying ontop, defending the offensive grappling techniques of Marcello, and doing work to bring home the victory.
Takeya Mizugaki vs. Brian Caraway
My prediction: Caraway via decision
Outcome: Mizugaki via split decision
It was emotional victory for Mizugaki who has yet to find much luck in the UFC. Mizugaki has been up and down, alternating wins and losses, for about the last 5 years of his fighting career. Mizugaki brought the heat in his fight, as did Caraway. I underestimated Mizugaki's strength however in this fight. I expected Caraway to be able to tie Mizugaki up and get takedowns at will, but Mizugaki fought against that and played his own game.
Mizugaki was able to land big power shots on Caraway and light "Kid Lighting" up for most of the fight. Caraway proved tough though, as he caught Takeya with his own punches and when the fight hit the mat, it was all Caraway. Caraway had success in the second round, getting the back and coming real close on a guillotine attempt after Caraway dropped Mizugaki.
This was also a pretty exciting fight. They both seemed to be getting the better of eachother at times, but Mizugaki was more deserving in the end. Great to see Mizugaki finally get a short streak going, he's definitely an exciting fighter.
Riki Fukuda vs. Brad Tavares
My prediction: Fukuda via decision
Outcome: Tavares via decision
This was another match up where I think size played a huge factor. Brad Tavares was undeniably the bigger, stronger fighter last night. Fukuda is known to be a great grappler, solid in the clinch and on the ground, but against Brad Tavares there was nothing he could do. Tavares shrugged him off easily and battered him with his tighter boxing skills for 3 rounds.
It also didn't help that Fukuda appeared to have an injured left hand. While he threw it heavily throughout the opening frame, Fukuda looked to be throwing it less and less as the fight wore on. Brad continued to pick his opponent apart with punches and kicks for the next 10 minutes.
Fukuda's best round was the last one, as his heart looked to be driving him ahead of the tiring Tavares. Brad became slower as his high-volume boxing was getting the better of his conditioning. With an injured left hand, Fukuda pressed forward for the last frame, keeping the fight competitive; but it wasn't enough. Tavares took the decision as he was able to avoid the close-range grind work for Fukuda.
Thanks for reading, stay tuned for the main-card review! Cheers.
-Hodgi