Dong Hyun Kim vs. Siyar Bahadurzada (Welterweight)
Let me just start out by saying that I do NOT like this fight one bit. I think it's a great match up but I hate it when Joe Silva matches up two guys with a LOT of potential up against eachother. Stun Gun has already been battle tested, we know what he's about and what type of gameplan he likes to initiate. With Siyar, not a whole lot of people know what he's all about; he only has one fight in the UFC (A stunning KO over Paulo Thiago) so that's all the main masses really know of him. It'll be really exciting to see whether an outsider, like Siyar, can overcome an insanely tough test against a battle-tested Kim.
Like I mentioned above, we know what Kim is about. He may not have the most exciting style, but to me, I love it. Kim is an excellent Judoka with dangerous ground and pound, athleticism, and very accurate strikes on the feet. Siyar on the other hand is an explosive stand up fighter with a LOT of KO power, and a very high finish-rate. This fight will all come down to whether Siyar can stay off his back or not. If he can either a.) stuff takedowns, or b.) get right back up off the ground, than it'll be his game on the feet. Kim has been finished before (flying knee by Carlos Condit), but he hasn't been "outstruck" before. Kim is very good at getting the fight to the ground and we'll see if he'll be able to do so or not.
My prediction is that Kim WILL be able to take the fight to the ground, and he'll be able to keep it there. We haven't seen a whole lot of Siyar's takedown defense, but we've seen a whole lot of Kim's takedown offense, and I think it'll be showcased again against Siyar. I like Bahadurzada, but Kim is too good at fighting his fight and will be able to grind out a Unanimous Decision victory as he pounds and grinds Siyar on the mat for 15 minutes.
Stun Gun via Unanimous Decision
Mizuto Hirota vs. Rani Yahya (Featherweight)
This has the potential to be a very exciting fight as the Japanese slugger Mizuto Hirota drops down for the first time to 145 to take on the experienced 2nd degree BJJ Blackbelt, Rani Yahya. Last time we saw Hirota was in Strikeforce against Pat Healy; it was a fight where we really saw a lot of Hirota's grappling defense and for a lot of people, it was surprising. Hirota has always been known to possess KO power in his punches but in that fight, he really showcased good grappling defense despite losing the decision.
With Yahya, we saw him choke out Josh Grispi last August. Yahya is no surprise; he goes in there and he tries desperately to get the fight to the ground. If he does, chances are you're in trouble. If he can't, chances are you are going to have your way with him. His stand up, while it was been heavily improved, is still awkward and sloppy, but it all pays off when he's able to get the fight to the ground.
This fight will really be a test to see how good of defense Hirota has. It's not an unknown fact that Hirota is the better striker of the two, but if he's not able to stay off the ground then it's not going to matter. However, I have faith in Hirota's defense, especially after seeing him do so well against Pat Healy. I think Yahya will come out and push for the takedown, but Hirota will be too strong and too solid for him to get anything going. We may see Yahya try to pull guard, but Hirota should be able to handle himself and not make any big mistakes. I'm predicting Hirota to fight defensively, but get enough offense going on the feet to win the decision after 3 rounds.
Hirota via Unanimous Decision
Yushin Okami vs. Hector Lombard (Middleweight)
This is probably the most anticipated match up for me on the card. I'm a huge fan of Lombard and it's really good to see him in the UFC. He had a rough first fight but I think he's adjusted to that and realized he needs to be more aggressive, which he definitely was in his last fight. However, he's taking on a top ranked fighter who is good at shutting guys down and winning. Okami is extremely well rounded, but make no mistake about it he'll want to get Lombard down and keep him there.
For Lombard, it's going to be all about defensive clinch-techniques, and heavy accurate punches. Okami has really good cardio so it's possible he'll be trying to wear him down and gas him out. I think a good portion of this fight will be fought in the clinch (however long it lasts) and will really be a good test to see just how good Lombard's judo is.
Expect Okami to keep his distance in the beginning, try to frustrate Lombard and get him making mistakes. But once Lombard starts coming forward, Okami is going to want to clinch up and drive him against the cage. Okami is a big middleweight, but Lombard is very physically strong as well. Okami will have more leverage, but Lombard will be closer to his hips and will be able to possibly take Okami down if he gets the chance. Usually it's tougher for the taller fighter to take down a shorter, stockier fighter without completely wrapping up their legs and utilizing their leverage; however, keep in mind that Lombard is a 4th dan in black belt in Judo so he knows a thing or two about the clinch.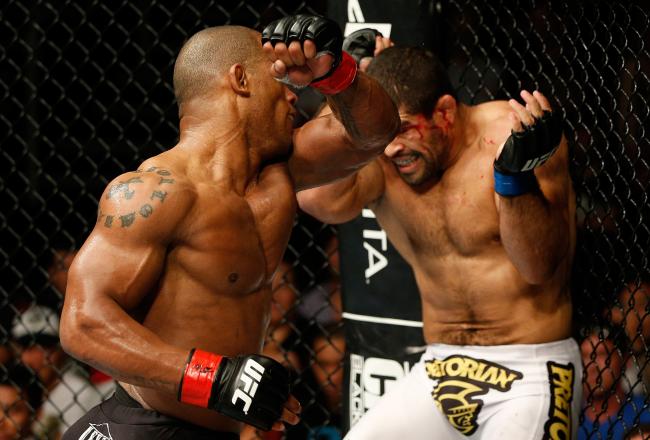 In the end, I just don't see Okami being able to control Lombard in the clinch like he can other fighters. Lombard is short, stocky, and extremely strong. Expect Lombard to land vicious short punches inside the clinch and rock him there, or even get takedowns of his own and unload with ground and pound. Ultimately, bank on Lombard getting a finish with the insane amount of KO power he possesses. Possibly in the 2nd round.
Hector Lombard via (T)KO
Takanori Gomi vs. Diego Sanchez (Lightweight)
A solid contender for Fight of The Night as "The Dream" returns back to the Octagon in the lightweight division to battle the Japanese vet Takanori Gomi. Gomi has looked good recently as he rides a 2 fight win streak heading into this important bout. Sanchez however is coming off a loss at welterweight to top contender Jake Ellenberger. Both of these guys are aggressive, explosive, and can be highly entertaining. I'm excited for this fight.
First off, Gomi has upped his conditioning to another level recently, which was spotlighted in his split decision win over Mac Danzig. His boxing looks sharp, and his wrestling looks top notch as well and could really give Sanchez some problems. Gomi's big key in this fight is going to be the power in his hands and his offensive takedowns. Sanchez's wrestling can be hit-or-miss, just depending on the skill set and style of his opponent. Gomi however is a tricky fighter to fight on the feet, so we could see these two go at it in a wrestling match. If that's the case, you'd have to give the edge to Sanchez as he outclasses Gomi in physical strength, cardio, and grappling technique.
Coming down from welterweight, I think Sanchez poses as a big threat to most fighters at 155 just out of shear athleticism and power. It's no surprise that Sanchez will be the dominant force if/when they lock up, so that could be a powerful weapon for Diego. Another thing that I feel Sanchez has an edge in, is the technical striking. Yes, Gomi has power but he doesn't really throw with the greatest technique. He leaves himself open for counters and keeps his chin up high, leaving his ability to take punches as his only defense. I think Sanchez could outbox and utilize some Frankie Edgar-esque stand up techniques to possibly steal rounds and batter Gomi up.
Ultimately, I see this fight going all 3 rounds in a fast paced well-rounded fight. Good stand up exchanges, explosive clinch work, and competitive grappling could leave this as a toss up to the judges. However, I'm going to pick Diego. I think he'll be able to impose his physique on Gomi in the clinch, and possibly on the ground. Diego has never had any problems getting off his back when it comes to fighters he is bigger than, so I don't think Gomi will be able to keep him on his back. Book it for Diego, winning a 29-28 decision as he edges Gomi on the feet, survives his haymakers, and bullies him around up close for 15 minutes and makes a successful return back to lightweight.
Diego Sanchez via Unanimous Decision
Mark Hunt vs. Stefan Struve (Heavyweight)
Here we go, the heavyweights! To most, this may not be that exciting of a match up after what you saw Roy Nelson do to Stefan Struve. Obviously, Hunt and Nelson are both very similar in their build, absolute iron chins, and the fact that they both have insanely powerful punches; however they do have a bit different styles.
For one, Hunt has a much larger arsenal on the feet than Nelson. Hunt throws surprisingly dangerous kicks, and strings combos together utilizing more techniques other than overhand rights. However, the one big disadvantage for Hunt is his submission defense. He's been known to be fairly easy to submit, especially when caught in armlocks. 6 out of his 7 losses in MMA have been from various armlocks (armbars, kimuras, keylocks etc.) so it'll be interesting to see Struve's strategy to possibly isolate that that.
Struve brings length and durability to the table against Hunt, but unfortunately for him, I don't think his durability would be able to keep him conscious like it has with other heavyweights. Hunt brings abnormal power to the Octagon. Yes, we've seen Struve take big punches from big heavyweights before and still somehow manage to survive and pull off the submissions; but make no mistake about it, if Hunt lands on Struve, he's going out.
Struve's main source of attack is going to be on the ground. Because of Struve's length and reach, I think he could keep Hunt away long enough for him to time him and tie up. With a tie up, Struve can pull guard and attack from there, or he can possibly work on his own takedowns. It'll be very hard for Struve to take Hunt down, just because Hunt is so short and stocky, it's hard to get his momentum going the other way. However, I think if Hunt wanted to take Struve down, he probably could; wouldn't advise it though. Struve's guard is extremely dangerous and is extremely effective. Especially with his long limbs, if he latches around Hunt's arm, you can consider it a goner.
So we have two very polarized styles and strengths heading into this fight, which is why I like it so much. Basically you can bet on Hunt winning in the first by (T)KO, or you can bet on Struve winning by submission (Most likely an arm lock of some sort, it's hard to choke someone with no neck!).
Flip the coin, and place your pick. For me, personally I'm feeling good about Mark Hunt. I think he's experienced enough to play it safe when coming to the ground game of Struve. If Hunt finds himself in an opportunity to jump down and do some ground and pound, he can't fall for it. If Hunt plays it safe, stays away from the grappling game, and times his punches right, you can bet on him taking the first round KO.
Mark Hunt via KO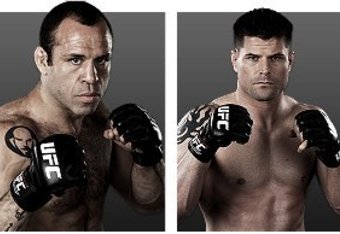 Wanderlei Silva vs. Brian Stann (Light Heavyweight)
And here we are, the main event of this promising card. If Sanchez vs. Gomi doesn't take FOTN, this fight is another solid bet. We have two vicious stand up fighters that bring two different styles, mindsets, and backgrounds of striking up against another.
For one, you have Brian Stann, a guy with real solid boxing and power in both of his hands. He was most famously known as the first person to really separate Chris Leben from consciousness, and he did it viciously. He has also had a solid performance against Jorge Santiago where he oustruck and finished him in the first round. Other than that, he hasn't really faced anyone at the level of Wanderlei and came out the victor. He went 3 rounds with Michael Bisping, but he looked gunshy and was outboxed and outclassed at a pace that he didn't seem to be able to mentally and physically keep up with. Fortunately for Stann, I don't think he'll have that problem with Wanderlei.
As of late, Wanderlei has shown much more controlled aggression. We saw what rushing in with your chin down does for Silva in his fight against Leben; it didn't end well for him. Silva is exciting with that type of style, but if he wants to win he needs to vary his combos up and go back to his Muay Thai roots. An advantage that I think Silva has over Stann that may be uncorked in this fight is his submission game. It's very rarely seen because he prefers to stand and bang over going for takedowns, but he has a black belt in BJJ and has shown glimpses of it in the past.
I think if Wanderlei has Stann hurt, he may go for the submission rather than the finish when you look at what happened in his second outing against Rich Franklin. He had Franklin hurt, went for the finish, couldn't get it and gassed himself and ultimately lost the fight because of it. However, will Wanderlei even manage to hurt Stann before Brian connects with his own shots? That's the biggest question of this fight.
The clear definite weakness of Wanderlei is his INability to take power shots to the chin. He seems to get rattled at the littlest punches nowadays and believe me, Stann has what it takes to knock Wanderlei Silva unconscious.
In predicting this fight you really have to decide whether you have faith in Silva's survival skills at this point; and to answer that question, I do. Silva's chin has gone down hill, there's no denying it, however his heart has not. Japan is Silva's home when it came to MMA. Even though he started out in Brazil, it was Japan where he was able to become recognized and turn into the star he is today. I think we're going to see a brightly fueled up Wanderlei Silva when he steps into the Octagon and Brian Stann isn't going to know what hit him when The Axe Murderer comes charging after him.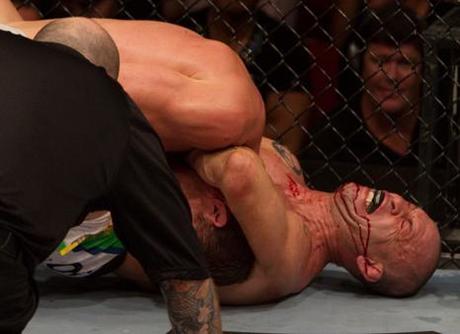 However, I'm not taking Silva by strikes, I'm taking him by submission. I predict that they'll get right to trading strikes. Stann will have the advantage early as he lands first on Silva, but Silva's heart and determination will take over and he'll fire right back and put Stann on his heels. From there Silva will take the fight to the ground, and go for the submission victory; something that Stann may not be expecting, and something that will ignite the fans of Japan.
Wanderlei via submission.
Thanks for reading! Be sure to stay tuned for more news and coverage!
-Hodgi