This Saturday's card will feature 13 exciting fights; the majority consisting of Brazilian fighters who are up and coming in the UFC scene. Also, it will feature the final showdown between TUF: Brazil Season 2 finalists; William Macario and Leonardo Santos. Set to headline the whole deal is the battle between the two coaches; Antonio Nogueira and Fabricio Werdum. But before we can crack into any of that, let's take a look at the 7-fight long prelims that will be free on Facebook.
Antonio Braga Neto vs. Anthony Smith
Set to start the action off in the prelims is a middleweight bout between two debuting fighters. Neto, the Brazilian, has notable victories over Brock Larson and Maiquel Falcao, while Smith has had several presences in Strikeforce. Just by looking at their records, it's evident that both are extremely skilled grapplers. The biggest difference between these two guys is that Smith has several victories by KO, and has lots of power in his hands. When watching these two fighters fight, Neto relies on his takedowns and top position for his grappling while Smith does a lot of offensive off of his back.
I'm expecting Neto will not want anything to do with Smith on the feet. Smith may not be the most technical striker, but he packs a lot of power in his hands. With Neto chasing after the takedowns, expect him to be pushing the pace and not letting Smith sit down on his punches and time them. Look for Neto to score takedowns and top position through-out the first two rounds. Finally, when Smith starts to fatigue, look for the more-skilled grappler to shine through and pull off the submission late in the fight.
Neto via 3rd Rd Submission
Caio Magalhaes vs. Karlos Vemola
Vemola is a true traveler of MMA; he's competed at heavyweight, light-heavyweight, and now we'll see him for the third time at middleweight. It's undeniable that Vemola will be the bigger, stronger fighter coming into the fight, which could give Caio lots of problems. Magalhaes is a talented BJJ black-belt who relies on his takedowns heavily. Unfortunately, Vemola is a very talented wrestler and combined with his physical size, he could be very hard to takedown.
On the feet, neither fighter really possesses outstanding technique. Vemola packs some serious power in his punches, but he's prone to swinging wild and reckless which could severely cost him into giving up a takedown to Magalhaes. Should Vemola want to chase the takedown, I'm fairly certain he'd be able to get it. Vemola has some serious ground pound that is good enough to stop fights. Expect Magalhaes to try to look for takedowns, but Vemola's size will keep him off the mat. Then, Vemola should be able to land big punches on the feet, get ontop, and finish the fight with some big ground and pound in the second.
Karlos Vemola via 2nd Rd TKO
Rodrigo Damm vs. Mizuto Hirota
The long awaited UFC debut of Mizuto Hirota is finally here. Mizuto is a very exciting and aggressive fighter who pushes the pace and loves to throw-down. While his weakness has been his wrestling, Hirota's performance against Pat Healy has shown improvement in dealing with American-styled fighters. While Rodrigo Damm is a talented grappler, I don't find him to be on the same level as some of Hirota's opponents have been (Aoki, Healy, Yahya).
I'm expecting a fast-paced fight that will have Hirota pushing the pace on the feet, in the clinch, and on the ground. Whatever bad position Damm puts him in, I believe Hirota will be able to battle out and continue landing volume punches. Eventually, look for Hirota to get the nod with his high volume of damage as it outweighs Damm's positioning and control.
Mizuto Hirota via Split Decision
Ildemar Alcantara vs. Leandro Silva
Alcantara made quite a name for himself when he stepped in on late notice to score a 2nd round kneebar over Wagner Prado in his debut. Now, he takes Leandro Silva, undefeated in MMA who made it to the second round of prelim match-ups in TUF: Brazil. Honestly, I think this is a big miss-match. I see a lot of potential in Alcantara, being that he has lots of experience, and is very well-rounded. Silva on the other hand is primarily a grappler who either wins by submission or lets the fight go the distance to win on the scorecards. Basically, Silva is a position-fighter who relies on takedowns to set up on dominant positioning; if the submission is there, he'll take it, if not then he'll grind his opponent out.
Being that Alcantara is also a talented fighter on his feet, look for Ildemar to try to work his stand up. He may have lots of success and want to defend takedowns to keep it on the feet. If not, then look for these two fighters to battle it out on the ground. Either way, Alcantara is just too skilled and will most likely finish the fight on the ground after rocking Silva on the feet.
Ildemar Alcantara via 1st Rd Submission
Godofredo Pepey vs. Felipe Arantes
Both fighters here are surprisingly coming off of fighting the same opponent, Milton Viera. Pepey won a close decision utilizing his grappling and submission attempts while Arantes and Viera fought to a draw. The big thing in this fight is whether or not Arantes will be able to stop Pepey's takedowns. We saw Felipe lose the first round to Viera because he let Viera take him down and keep him there, against Pepey, that's a very dangerous to do considering his grappling skills. Another side note to take into consideration is that Arantes has not fought since June of last year.
While Arantes may have the better striking and a better ability to throw combinations, I don't think that will phase Pepey too much. In fact, expect Godofredo to push the pace, keep Arantes moving backward so he can't get off on his kicks, and push the takedown and/or tie-ups. From there, Godofredo will most likely use superior grappling to dominate the fight. Arantes will keep things competitive on the feet, but Pepey's ground game will be too much.
Godofredo Pepey via Unanimous Decision
Ronny Markes vs. Derek Brunson
With both of these fighters undefeated in the UFC, we could see a very competitive fight between these two. Both guys have very similar styles and rely on the same things in every fight. Both Markes and Brunson are very strong fighters with superior wrestling skills. Often times when we see two wrestling-styled fighters against eachother, it comes down to who has the better striking. Considering that both fighters have very solid takedown defense, expect to see a 3-round slop fest on the feet as both fighters are not the most skilled in the striking department.
I really don't know who would have the edge on the feet, but Brunson I would say is the most physically fit fighter. As the fight wears on, Brunson's conditioning could play as a factor and supply him with a little bit more energy to secure a fight-winning takedown. In the end, it'll be 3 hard rounds of striking between two wrestlers, but Brunson's athleticism will give him the nod.
Derek Brunson via Split Decision
Raphael Assuncao vs. Vaughan Lee
Since dropping down to 135 lbs, Assuncao has been spectacular, picking up 3-straight victories. Now, he faces one of England's top bantamweight fighters, Vaughan Lee, who is 2-2 in the UFC. When you compare these two fighters, it's very clear who is going to have the more well-rounded skillset, and that's Assuncao. Lee's main advantages has always been his submission skills, but against a top-level grappler like Assuncao, don't expect Lee to possess anything that Raphael hasn't seen before. Plus, Assuncao is the bigger, stronger fighter and has been looking in fantastic shape as of late. You combine that with Assuncao's improved striking game, and you get a very dangerous 135 lb fighter who is currently rising up the ranks. Expect Assuncao to take Vaughan Lee out in similar fashion as TJ Dillashaw did, as he taps him in the first.
Raphael Assunca via 1st Rd Submission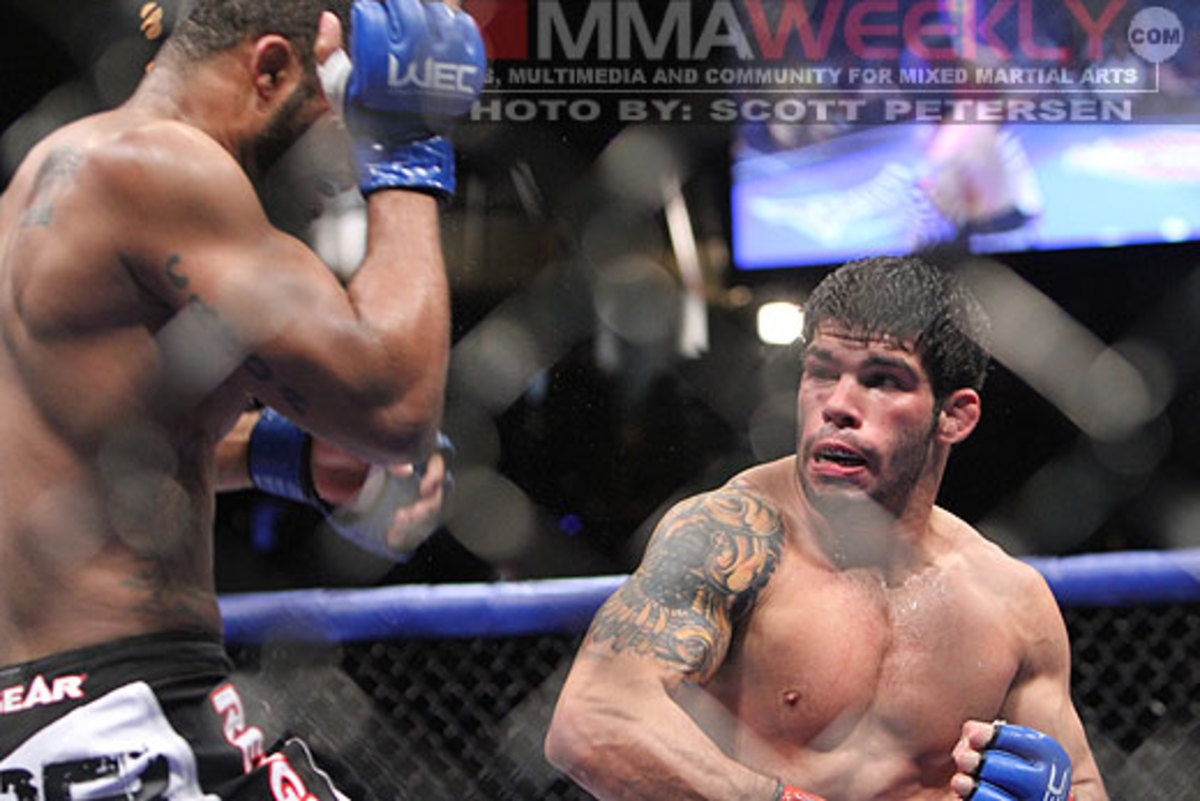 Thank you all for reading! Have a great day!
-Hodgi