UFC on FOX will be headlined by an exciting fight between the current UFC champ, Benson Henderson, and the Strikeforce champ, Gilbert Melendez. This showdown has the potential to be one of the most epic lightweight fights in history, but that's not all this card has in store for us. Click more to see me breakdown the main card bouts, and give my thoughts who I think will win and why. Enjoy!
Matt Brown vs. Jordan Mein
Coming off of an impressive UFC debut against former middleweight contender Dan Miller, the Canadian, Jordan Mein, will look to make it 2-0 in the Octagon when he fights battle-tested veteran Matt Brown. "The Immortal" has a total of 14 bouts under the UFC's name, and is currently on a 4-bout win streak. Matt Brown is fresh off of an exciting KO victory over former contender Mike Swick last December, and a win over the young gun in Mein will add a lot of stock to Brown's name.
Right now as this fight stands, I have no doubt that this will be an absolute war. Brown has survived tough losing streaks in the past because he is exciting, always willing to throw down, and is very rarely involved in a slow-paced fight. Mein is exactly the same way as well. With 35 professional bouts at just 23 years of age, Jordan Mein is the definition of a fighter. In the last 3 years, Mein has fought a total of 16 times; he always brings it in the cage and has only gone the distance 8 times out of 35 fights.
Brown will have a small 3″ reach advantage on the feet coming into the bout, which is a lot less than Brown is used to. Mein fights very long on the feet, and his hands are very solid. I'd give the advantage in technique and speed to Mein, but Brown packs some serious power. Unfortunately for Brown, Jordan Mein has only lost by knockout one time in his career. Brown likes to dirty, and by that I mean he likes to make the fights ugly; charging forward in punching exchanges, dirty-boxing against the cage, and smother wrestling. The thing that Mein will have to watch out for his Brown's grappling. Mein has to be very cautious if he finds himself on the ground with Brown ontop of him as he has dangerous ground and pound, and submissions.
I see this fight being very ugly, fast-paced, and competitive. I am expecting Mein to get the better of the exchanges using his crisp boxing, but Brown will eventually charge forward and try to tie up. In the clinch, Brown is strong and powerful, mixing up his attacks. However, I see Mein being able to stifle his wrestling attacks, throw in offense of his own, and get out of any nasty positions. Even if Brown manages to take him down, I don't think he'll be able to hold him there. I see Jordan escaping, landing punches where ever the fight goes, and earning himself a close decision victory.
Jordan Mein via Unanimous Decision
Nate Diaz vs. Josh Thomson
Up next on the main card is a very exciting lightweight tilt between two of the lightweight division's top fighters looking for their way back to fight for some gold. Nate Diaz, the former title challenger, will be trying to get back in the win column since dropping a one-sided decision to the champion, Ben Henderson. His opponent, Josh Thomson, knows all about coming up short in title fights. Thomson lost his belt to Gilbert Melendez back in 2009 in a rematch, and then lost the rubber match in an attempt to get his belt back last year. Thomson has proven to be a tough test for any fighter, and has fought the best 155 lb fighters in Strikeforce, and has even fought in Japan against top ranked Japanese fighter Tatsuya Kawajiri.
Josh Thomson will be making his UFC return, having not fought in the UFC since 2004, and will not be getting any easy test. I believe Thomson is a very underrated fighter, and isn't really getting a whole lot of attention in this bout. Stylistically when you compare these two fighters, it's a very winnable for Josh. The California-native has struggled with wrestlers in the past, and Josh Thomson is one of the best. Not only is he great wrestler, but his grappling and submission skills are what makes him a dangerous opponent. He's lost the majority of his bouts on the feet, but he's still very solid there too. For Thomson to win this fight, he's going to need to make it a grappling match. However, he's facing a Diaz brother, which means it's going to be extremely challenging dictating the pace and style of the bout.
Diaz has worked on his wrestling extremely for his bout with Ben Henderson, especially on his back, so if you think we're going to see a typical "wrestler vs. Diaz" fight where the Diaz brother gets dry-humped against the cage for three rounds, you're wrong. I see Diaz having lots of tricks up his sleeve in the clinch and ground battles, which Thomson may not be ready for. Another thing I see being a huge factor in this fight is the fact that Thomson has never fought a fighter like Diaz, while Diaz has faced many, many wrestlers that are even on a higher caliber than Thomson. While Thomson may be in a more winnable fight than many think, he's going to have his hands full.
Ultimately, I'm picking Diaz for a safe bet, but do not be surprised if Thomson comes out and shocks everyone. He's strong, powerful, talented, and has had loads of fighting experience which means he's not going to freeze up in his UFC return; besides, Diaz won't let him. Diaz will make this a sloppy fight and will most likely get his hands going from the beginning. Look for Diaz to out-box Thomson who doesn't possess the striking arsenal needed to out-strike Diaz. With that being said, Thomson needs to close the distance. Look for Thomson to clinch up, get takedowns, but it's going to be Diaz's game from there. Expect attacks from the bottom, forced scrambles, and non-stop offense from Diaz. It'll be a fun fight, but it'll be Nate's in the end.
Nate Diaz via Unanimous Decision
Frank Mir vs. Daniel Cormier
Set as the co-main event, the long awaited heavyweight showdown between Frank Mir and Daniel Cormier. Cormier will be making his anticipated UFC debut having gone 8-0 in Strikeforce, and 11-0 as a mixed martial artist. Frank Mir will be the one welcoming him to the cage. Mir will be returning to the UFC after a disappointing loss to Junior dos Santos last May. It's been a while since Frank Mir has fought, so that could play as a big factor in this fight; especially considering Cormier's last bout was just this previous January.
Honestly, this is a pretty easy fight to predict; either Mir wins by submission, or Cormier wins by stoppage. I really don't these guys will go 3 rounds, mainly because Frank Mir doesn't let it happen. Mir is a guy who is going to finish his opponent, or be finished, that's just the way he fights and his record shows it. Out of 22 total bouts, Mir has only gone the distance just 3 times. Cormier on the other hand has racked up 3 decisions in just 11 bouts. Nevertheless, expect this fight to be explosive, violent, and end early in the first round.
Cormier's strategy in this fight, ironically, will be to be patient. He can't risk hurting Mir, and letting his excitement and adrenaline over whelm him; if that happens, Mir will be taking a limb home. There is no one in the heavyweight division, or really in MMA, that has as sneaky of a ground game as Mir. He's an expect that pulling submissions out of nowhere, even if he's getting pounded on the head. The way to beat that, pound harder. Really, if you are unable to finish Mir and you let him recover, you're in deep deep trouble. That's going to be key for Cormier; to either finish the fight, or back out and take another chance later in the fight.
The one thing that is really going to benefit Cormier in this bout is his wrestling. His amazing wrestling skills will not allow Mir to take advantage of scrambles, or secure takedowns. Cormier is short, stocky, strong, and has a low center of gravity which makes him nearly impossible to move. Cormier can use this to overpower Mir, and load up on big punches. On the feet, one would be inclined to give the advantage to Cormier; afterall, he knocked out Antonio Silva and has shown that "Fedor-esque" style of striking. However, you have to remember that Frank Mir has worked extensively on his striking; perfecting it, gaining more speed, power, and overall more technique. I would not be surprised if Mir comes out and starts to out-strike Cormier, afterall, Mir will have a big 8″ reach advantage.
The more you break this fight down, the more likely it seems that Mir isn't as doomed as many fans make him out to be. Mir is extremely durable, has many weapons, and is experienced. That being said, you're looking at an incredible person of potential in Daniel Cormier, and the perfect style that matches up well against a guy like Mir. I'm predicting Cormier to come out, tie up close, avoid Mir's grappling attempts, and lay into him with big hammers. From there, it'll be a struggle for Cormier to stay aware of Mir's submission attempts, and keep punching until the lights go out.
Daniel Cormier via 1st Rd KO
Benson Henderson vs. Gilbert Melendez
Now onto the main event of the evening; the lightweight championship fight between the defending UFC champion, Ben Henderson, and the Strikeforce lightweight champion, Gilbert Melendez. Henderson brings a 6-fight winning streak into the fight, and Melendez brings a 7-fight winning streak. Both of these guys are the most elite in the division, they both are extremely well-rounded, and both guys are exciting to watch; this going to be epic.
When comparing these two fighters, there seem to be clear advantages and disadvantages of both fighters. First of aspect I'm going to break down is physicality. Henderson is extremely athletic, strong, and explosive. His thighs look like those of a race horse's, and he uses his powerful hips to aid his wrestling and grappling game. Melendez on the other hand isn't quite as athletic or explosive; he's very strong, but Henderson has him beat if this were a "Strong Man's" competition. What Melendez lacks in physical strength, he makes up for in power. Melendez is known to hit very hard, and to have a killer-instinct unlike no other. When Melendez gets ontop, he drops heavy heavy ground and pound that include; punches, hammerfists, elbow strikes, knees to the body, etc. He's very versatile in his offensive game when it comes to ground pound, and most importantly it's all very effective.
I wish the same could be said for Henderson, but unfortunately Henderson is more of a grinder. He has good ground and pound, but he doesn't strike with the same power and tenacity that Melendez does. That being said, Henderson is way better technically, is strong, quicker, and of course more explosive. This will allow Henderson to get out of any bad spots, and find a way on top; he almost always does.
On the feet, I'd put these guys pretty even. The one thing that will stand out is Henderson's stance. While Melendez will have an edge in reach (just one inch), he doesn't really use it. Henderson stands wide, he moves in and out, and uses kicks more than most fighters do at lightweight. This will allow to keep Melendez away from landing his power strikes, and keep him out of trouble. While Henderson may be the more explosive on the mat, I'd label Melendez as being more explosive on the feet. We haven't seen Henderson knock someone out with one punch like we have with Melendez, so expect Melendez to be fearless on the feet and try to bring the pressure like no one has. Henderson has matched the boxing of Edgar, but will he able to endure the powerful punching power of Gilbert Melendez? If there's one distinct advantage Melendez brings to the table in this match up, it's going to be raw power.
However, like I said above, Henderson's foot work and long stance will keep him out of trouble. Henderson moves well, it patient on the feet, and most importantly is unpredictable. If Henderson gets off first with his strikes and doesn't let Melendez get his rhythm going, then any chance Melendez may have had on the feet will be gone. Ontop of that you have to take into consideration the fact that Henderson is most likely going to want to take this fight to the mat. Will Melendez be able to stop Henderson's takedowns? I'm not sure. I think he'll do better than most fighters have, but eventually Henderson will able to grab ahold of him and get the takedowns. I'm not sure the same can said for Melendez; I'd expect Henderson's speed and wrestling technique to keep the grappling game advantageous for himself, and not allow Melendez to get anything going.
I basically see this fight mostly on the feet. Melendez will try to time Henderson with his long jab, and try to set up straight rights. However, Henderson's kicking game and footwork will stifle his offense, and score some of his own. Then, expect Henderson to eventually get the fight to the mat where he should be able to control Melendez, and dominate the fight. I'm picking Henderson for five rounds in another unanimous decision victory.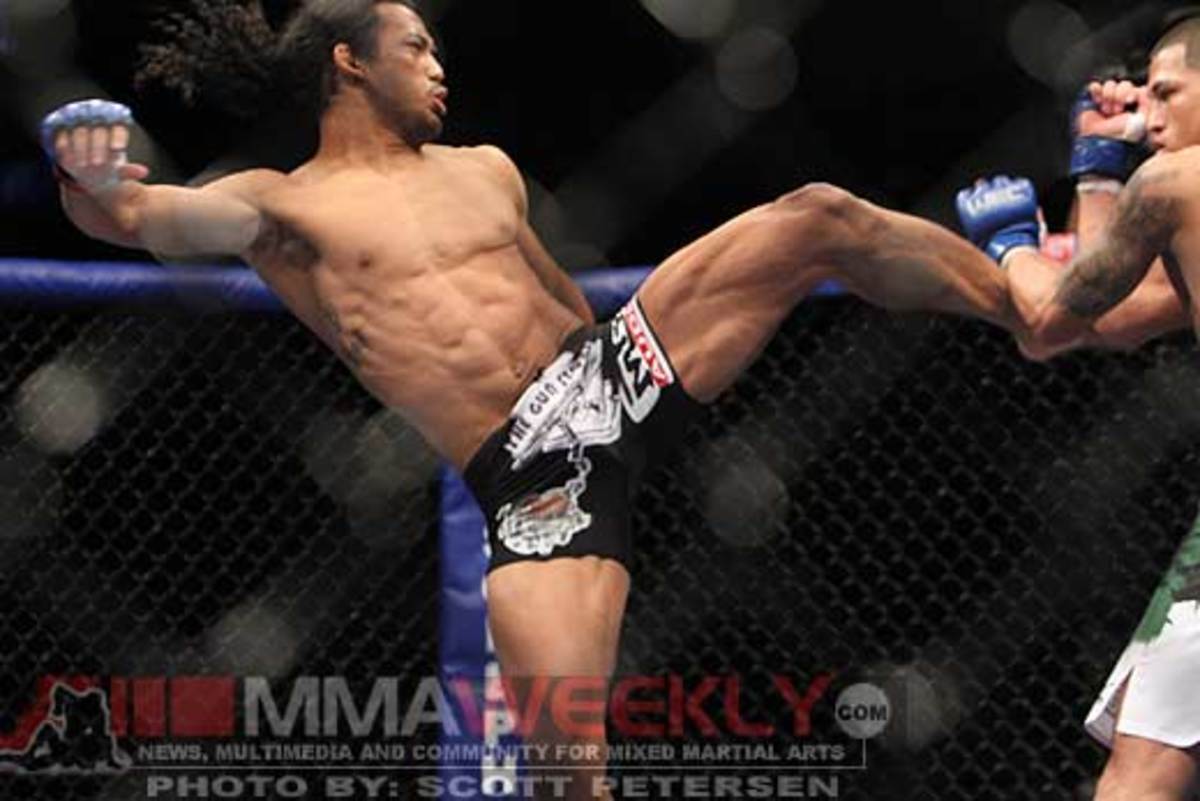 Ben Henderson via Unanimous Decision
That's all for my analysis! Stay tuned for another piece from me tomorrow. Thanks for reading.
-Hodgi