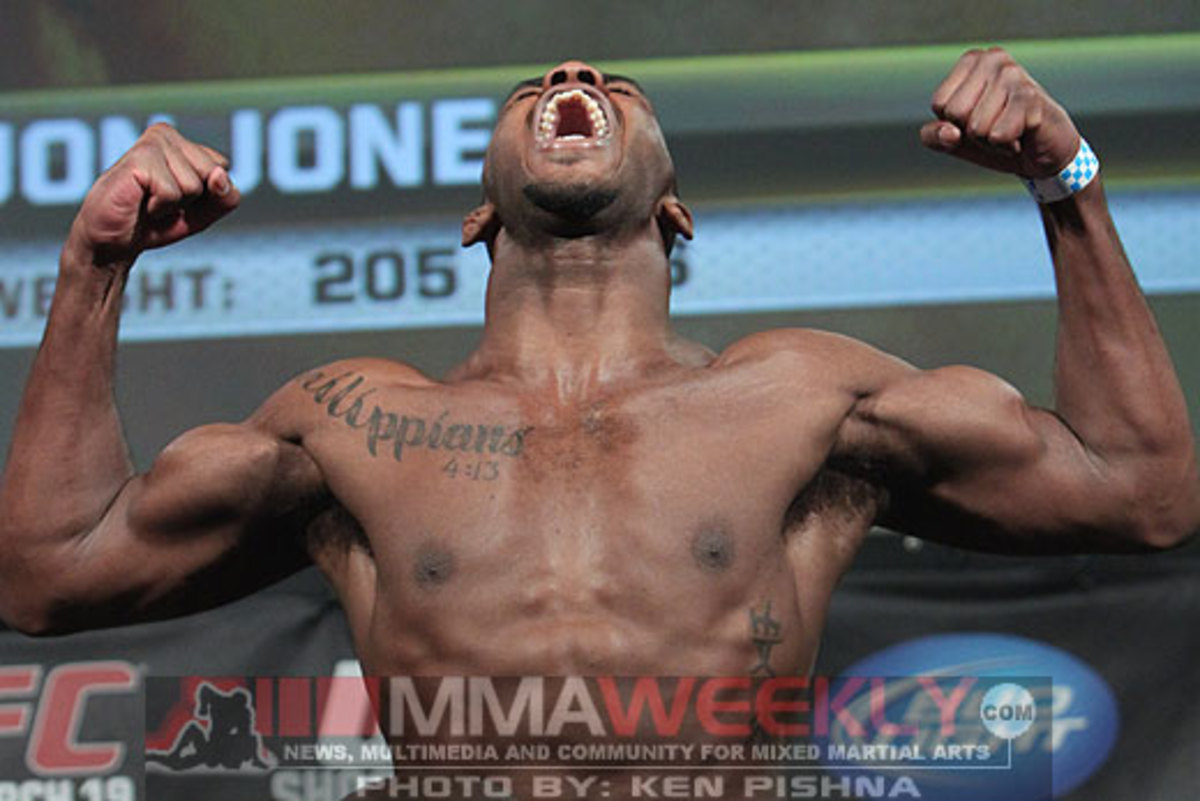 With UFC 159 in the books, we can now take a look at the next contenders for the title, but there's a problem; there is not a definite contender, and with Jon Jones out for several months, it leaves a lot of room for some shake ups at 205. Follow me through this breakdown; we'll check out up coming matches, unscheduled fighters, and finally some match ups that I'd personally like to see happen. Enjoy!
Scheduled Match-Ups:
Glover Teixeira vs. James Te-Huna – Originally scheduled against Ryan Bader, the highly prospected contender Glover Teixeira will face another opponent destined to bang with him. Teixeira has been highly hyped and targeted as a future champion since joining the UFC, and is so far undefeated. However he's facing a tough, durable, motivated slugger named James Te-Huna who is not going to back down easily. This should be a fun fight.
Mauricio Rua vs. Antonio Rogerio Nogueira – These two Brazilian have battled before, in Pride, and are going to be set for a rematch which should really test both fighters' endurance. Shogun Rua won the first bout, despite being dropped and stunned in the fight, and will be fighting to keep his name relevant in the division and away from the "washed up" category (despite only being 31 years old). Nogueira on the other hand is also fighting to do the same. He's been criticized in the past, and will be looking to continue his current streak in the UFC and get his first chance at a title shot.
Dan Henderson vs. Rashad Evans – Both of these guys will be coming off of fairly disappointing losses; Henderson to Machida, Evans to Nogueira. But now they'll get a chance to knock eachother down a peg in the cut-throat light-heavyweight division. Henderson, a true pioneer of the sport, will be looking for what could be his last chance at a title run. However, Evans will attempt to silence the critics, who battered him with negative comments after his last performance, with a big win over a big name.
Other notable match-ups:
Ryan Jimmo vs. Igor Pokrajac
Thiago Silva vs. Rafael Cavalcante
Fabio Maldonado vs. Roger Hollett
Unscheduled Fighters:
Ryan Bader
Joey Beltran
Phil Davis
Cyrille Diabate
Cody Donovan
Forrest Griffin
Alexander Gustafsson
Jon Jones
Kyle Kingsbury
Ilir Latifi
Lyoto Machida
Vinny Magalhaes
Jimi Manuwa
Eddie Mendez
Gegard Mousasi
Ednaldo Oliveira
Ovince St. Preux
Wanderlei Silva
Chael Sonnen
Gian Villante
Match-Ups To Be Made:
Lyoto Machida vs. Alexander Gustafsson – This fight is all but officially confirmed; both fighters have verbally agreed to this match up, and it's the perfect match up to make in order to create a number one contender. Machida has seemed to have learned some new techniques since originally challenging for the title, and will look for a second chance. Against him is the rising contender Alexander Gustafsson who has been on absolute tear, and is the fan's choice to fight for the belt next. This should be an extremely dynamic fight as you have two of the best strikers going in against eachother.
Chael Sonnen vs. Wanderlei Silva – Another fight that has been verbally agreed to, and really makes sense considering the beef between these two. This feud has been on going for about 2 years now ever since Sonnen began lashing out against the country of Brazil. Silva, one of Brazil's proudest warriors, has since then made it a personal goal to silence Chael Sonnen's mouth. Both of these fighters bring intense aggression and fury in the cage, and will look to be a fast, intense, fueled match up.
Gegard Mousasi vs. Forrest Griffin – This is a match up that, to me, makes a lot of sense to make. Mousasi made his long-awaited debut with a unanimous victory over the Alexander Gustafsson replacement, Ilir Latifi. After that bout, Mousasi stated that he'll need surgery done on his leg and will most likely be out for several months. Ironically, UFC veteran Forrest Griffin has also been out for nearly a year due to injury, and will be looking to return at the end of this year. I think this a great test for bout fighters, and will really test Mousasi's ability to handle pressure and size.
Other notable match-ups:
Phil Davis vs. Ryan Bader
Ovince Saint Preux vs. Vinny Magalhaes
Joey Beltran vs. Cyrille Diabate
Jimi Manuwa vs. Gian Villante
Ilir Latifi vs. Kyle Kingsbury
Ednaldo Oliveira vs. Maldonado/Hollett Loser
Eddie Mendez vs. Cody Donovan
Hope you enjoyed this breakdown and I hope it brought some helpful insight! Thanks for reading!
-Hodgi