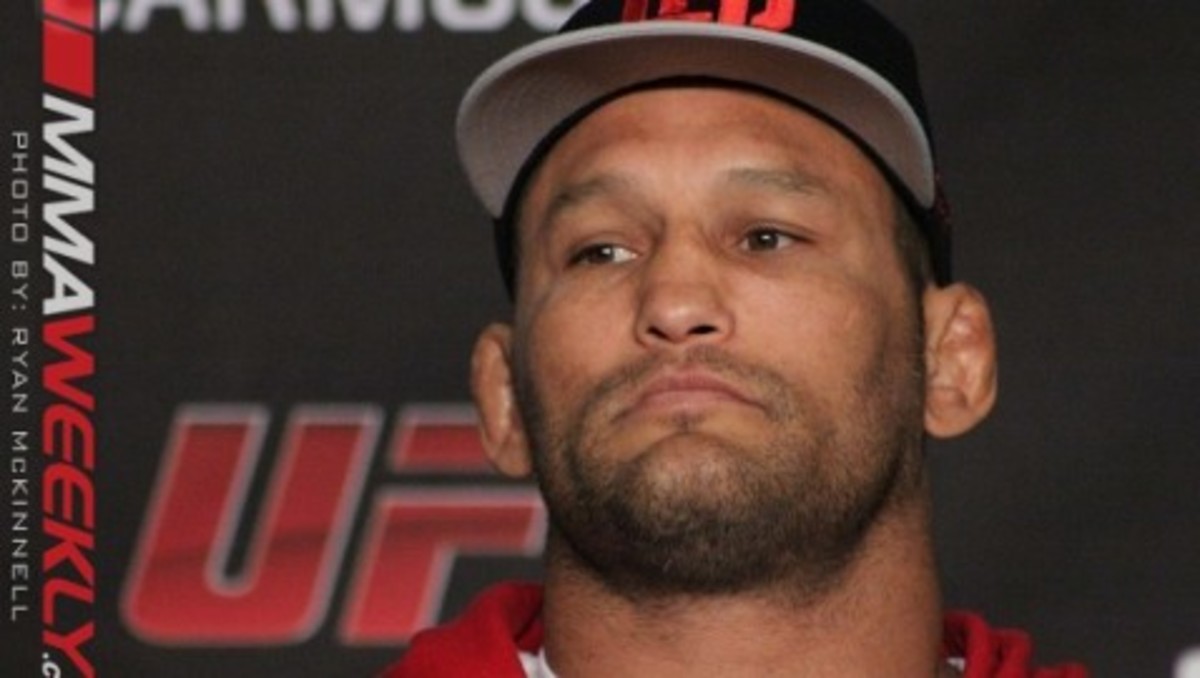 UFC 161 seems to have been the card that the injury bug liked the most, as it stole a main-event fight, a co-main event fight, and three prelim fights. However, this card still remains solid and possesses bouts that have quite large odds to produce fire works. Now that we wrapped up the prelims, let's move on to the main card!
Pat Barry vs. Shawn Jordan
It's no surprise that Pat Barry is the fan-favorite fighter coming into this fight. Barry is a dynamic kickboxer who likes to put on a show by throwing flashy kicks, and never trying to stall his opponent out. His opponent however will not get the same treatment. Shawn Jordan has made himself appear as a bit of a dull fighter, after his lackluster performance against Cheick Kongo. While he rebounded from that fight with a TKO over Mike Russow, don't expect this fight to be fire works unless it's Pat Barry teeing off.
The gameplan should be fairly clear for both fighters. Barry needs to stay on the outside and pick his opponent apart with his precise striking game, and Jordan needs to close the distance, muscle Barry around in the clinch, and make it a "dirty" fight.
The physical difference between the two will give Shawn Jordan much bigger odds in this fight than the betting lines do. Jordan is a little taller than Barry, a little longer, and doesn't have a frame jam-packed with muscles that will be dead after 5 minutes of tense grinding. Jordan's big head will offer as a shield as he takes shots while closing the distance, but once the fight is there, it'll be downhill for Barry as he gets ground out for 3 rounds.
Shawn Jordan via Unanimous Decision
Rosi Sexton vs. Alexis Davis
Both of these female bantamweights will be making their Zuffa debut this Saturday, and were given a main card slot to show the female MMA haters that there is indeed a spot for women's MMA. Both Sexton and Davis are bringing win streaks in to this bout, but only one will take a step forward. I'm picking this is a contender for Fight of the Night, as the ladies usually do not cease to disappoint in bringing the action.
Both Sexton and Davis are very solid grapplers, but it's Davis who is the bigger and stronger athlete. Davis also provides a bit more credentials if you want to compare their grappling talents, but both are very solid and have over half of their wins by submission. Because both are fairly well-matched on the feet, you have to give the advantage to Davis in this bout. I think she and Sexton will go toe-to-toe on the feet, but when they lock up, it'll be Davis's strength size that will carry her to a late-fight submission victory.
Alexis Davis via 3rd Rd Submission
Ryan Jimmo vs. Igor Pokrajac
Since entering the UFC, Ryan Jimmo has not ceased to disappoint the fans with his exciting style of fighting. With a heavy base in karate, Jimmo is a dangerous striker who has laser accurate punches and kicks capable of knocking his opponent out. While he fell a bit in his last bout, losing a competitive decision to James Te-Huna, Jimmo will look to rebound and get back in the game against Pokrajac. Igor on the other hand is in desperation mode. He made a promising 3-fight tear in 2011 and the first part of 2012, but has dropped two straight (one being turned to a NC) and is in desperate need of a win.
Both of these fighters are very capable on their feet, but it's Pokrajac who is going to be the better wrestler. Igor has very powerful takedowns and isn't afraid to take a couple shots to get them. This type of aggressive style is what cost Jimmo his loss to James Te-Huna. Pokrajac has the perfect style to give Jimmo another loss, so what does Jimmo have to offer? Well he has speed. James had success standing and moving forward against Jimmo because Te-Huna could match him with his speed, but Pokrajac doesn't possess that. If Jimmo can cut angles, avoid Pokrajac's rushes of punches and takedown attempts, than Jimmo can easily set up his strikes and potentially score a finish. Look for Pokrajac to have success early on with his aggressive style, but once Jimmo settles down and gets his timing down, it'll be a TKO victory in the second.
Ryan Jimmo via 2nd Rd TKO
Roy Nelson vs. Stipe Miocic
You would think that by now, Nelson would be at the top of the heavyweight division with his three consecutive first round knockouts, but he's being matched up with Stipe Miocic instead. Stipe is coming off of a loss to Stefan Struve, which closed off his 3-fight win streak he had going in the UFC.
You can expect this fight to consist mainly on the feet. While Stipe Miocic does have powerful hands and solid boxing, he doesn't have the type of power that will put Nelson down. Ontop of boxing, Stipe has a decent wrestling game to fall back on, but very few have had success taking "Big Country" to the mat. Besides, we all know that about Nelson's underrated grappling game; it's crazy to think that Nelson is primarily a ground fighter, but has been knocking everyone out left and right. This fight is fairly easy to predict; Stipe and Nelson box it out for a bit, they'll tie up with neither fighter having much success, and then Nelson will land his big right hand later in the first round to put Stipe down and out.
Roy Nelson via 1st Rd KO
Rashad Evans vs. Dan Henderson
Rashad Evans and Dan Henderson will meet in this main event attraction. This fight is being hyped up to be fireworks as both of these guys possess heavy hands that are capable of scoring big knockouts, but I think we all know deep down that this has more potential to be a snooze fest. Considering that both of these guys are coming off of very lackluster performances; Evans, pawing the air for 15 minutes and losing a decision to Nogueira, and Henderson, missing his right hand over and over and getting out pointed by Machida.
It's hard to tell where Dan Henderson is mentally after that disappointing fight against Machida, but he's made it clear that he has some fire left in him. However, "fire" doesn't translate directly into speed and explosives, which he'll need to keep up with Rashad Evans. Look for this fight to consist mainly on the feet, as Henderson's only real hope in winning to land his big right hand. Yes, Henderson is a phenomenal wrestler, but Evans is just too fast, explosive, and athletic for Henderson to keep up with. If these two fighters lock up, look for Evans to be the one dictating the wrestling game. If Evans gets ontop, it's unlikely that Henderson will find an escape.
On the feet, it'll be all about Evans' speed and fluidity. His frantic bouncing and bobbing will give Henderson a moving target, and will decreases the chances of him landing his overhand right. As the fight drags on, it'll swing more and more towards Evans as Henderson's cardio will soon fail on him. Then, Evans can mix his strikes with his takedowns and ground and pound, and put a beating on old Dan. This will go the distance.
Rashad Evans via Unanimous Decision
-Hodgi