Perhaps the MOST stacked card so far this year, UFC 160 is taking place this Saturday night! I'm excited, and I'm sure you're excited too! The main card has some sick fights, the prelims have awesome match ups, so let's get right to it!
Jeremy Stephens vs. Estevan Payan
To kick things off is a very interesting bout in the featherweight division between heavy handed brawler Jeremy Stephens, and UFC newcomer Estevan Payan. The interesting thing about this bout is that Stephens is on a 3-fight losing streak, and is making his featherweight debut in this fight. Stephens has always brought the heat in his fights and has proven to be exciting, but 3 consecutive losses pretty much warrants a much needed win. His opponent, Payan, is 14-3 in MMA with a 2-0 record in Strikeforce.
Payan is a fairly well rounded fighter, but he's definitely going to want to take this fight to the ground. He has solid wrestling skills, and is a very aggressive fighter who likes to engage. Unfortunately, he'll be dealing with a gigantic featherweight in Jeremy Stephens who, at 155 lbs, had some of the hardest punches; at 145, Stephens will hit like a tank and Payan will be the first guy to witness it. I'm Stephens in the first round as he stuffs Payan's wrestling attempts, and breaks his 3 fight losing stint.
Jeremy Stephens via 1st KO
Brian Bowles vs. George Roop
For the first time since November 2011, Brian Bowles will step back into the Octagon. Bowles has always been considered a top 10 fighter in the bantamweight division ever since his WEC days, but it's hard to tell how well he'll do after taking a year and a half of absence. His opponent, the scrappy George Roop who just picked up a decision victory this last March.
Stylistically, Bowles is a horrible match-up for Roop. George is a very tall fighter who is prone to getting KO'd by heavy hitters who can make it through his reach. Brian Bowles is definitely a heavy hitter, and on top of that, he has explosiveness to be able to do it. The big thing that Roop needs to do to have any chance of surviving on the feet with Bowles is to clinch. If Roop can clinch, wear Bowles down, and possibly get ontop, then he has a chance at victory. However, Bowles is a very powerful wrestler as well, so getting him down and muscling him around will not be easy.
It's hard to tell how Bowles will do after coming back from a long lay off. I'm expecting him to have to battle through a little adversity; perhaps the rangy striking from Roop will give him early troubles, but once Bowles figures Roop out and figures out how to get inside, expect a vicious flurry from Bowles to end the night.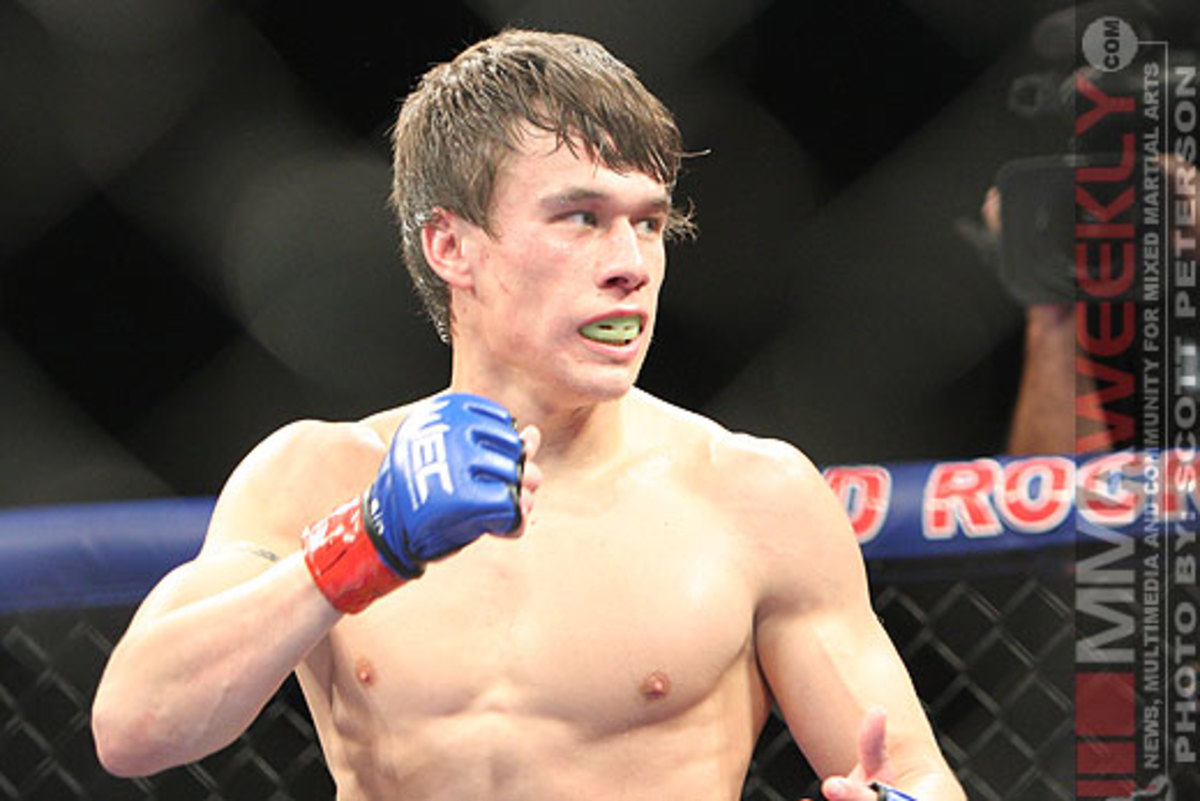 Brian Bowles via 2nd Rd KO
Stephen Thompson vs. Nah-Shon Burrell
If you enjoy high-level striking in MMA, this is definitely the fight you're going to want to watch. Stephen Thompson, a highly decorated kickboxer, is taking on the slick striker Nah-Shon Burrell.
Although these two guys are extremely talented on the feet, they both possess very polarized styles. Thompson is a technical phenom who throws everything with superb crispness; including his kicks which he uses to score a KO win in his UFC debut. Nah-Shon on the other hand is a smoother striker; he uses more head/body movement, holds his hands lower, and focuses more on volume rather than the one strike KO ability of Thompson.
So which won wins out? Well honestly, they both can win this fight. If Thompson can snap Burrell's mobility with his powerful leg and body kicks, he can turn Nah-Shon into a sitting target and blast away with powerful, straight strikes. But if Burrell stays on the outside, avoids Thompson's powerful kicks, and outscores Thompson, then Burrell can out point Stephen in the end. Whichever scenario happens, I'm picking this fight to go all 3 rounds, and be a fairly close fight. I'm picking Stephen Thompson to beat Burrell though, as technique will win out.
Stephen Thompson via Split Decision
Khabib Nurmagomedov vs. Abel Trujillo
After an impressive 3-fight streak in the UFC, Khabib is quickly becoming one of the lightweight division's most talented prospects. He brings an explosive wrestling game, combined with submissions and powerful ground and pound to the cage. His opponent, Abel Trujillo; a tough scrappy fighter who is 1-0 in the UFC.
Honestly, I don't see a single area that Khabib is at a disadvantage. Trujillo showcased his clinch-striking; using his knees and other strikes to TKO his opponent in the second round, but Khabib's wrestling will prevent Abel from keeping him in any single position for too long. Expect Khabib to launch powerful punches on the feet, if those don't get the job done, then look for Khabib to score takedowns at will and dominate his opponent using his superior grappling. I'll take the lightweight prospect by submission after a round of dominant display.


Khabib Nurmagomedov via 2nd Rd Submission
Robert Whittaker vs. Colton Smith
Up next is a battle between two TUF winners; Whittaker, from The Smahes and Colton Smith, from TUF 16. Both fighters proved dominant in their tear through the season, as they both never faced any real adversity. Whittaker displayed his one-punch KO power, finishing his two opponents by knockout. Colton Smith on the other hand was a bit more lackluster in his victories, winning all of them by unanimous decision.
Even though this fight has a real potential to be a snooze-fest, I think it'll be a little more exciting than many think. Sure, Colton Smith is a "lay-n'-pray" artist, but Robert Whittaker is a serious finisher who is dangerous everywhere the fight goes. I think that will force Smith to fight a bit more fast-paced, and be forced into having to score some offense.
Smith is definitely the better wrestler, and is physically the more empowering force. One thing Smith does not have though is the one-punch KO power of Whittaker. All Whittaker needs is one shot to end this fight, and give him the victory. However, that could force Smith into not even wanting to engage at all on the feet, and take this fight to the ground immediately. If he does, I'm predicting it'll be a back and forth battle between. Whittaker's bottom game and Smith's top game. In the end, I'll take Smith just because he seems to be a cardio-machine. Whittaker may be able to steal the first round with his bottom game, but as the fight drags on it'll be Smith's smothering top assault that will give him the nod.
Colton Smith via Split Decision
Dennis Bermudez vs. Max Holloway
Two exciting featherweight contenders, Dennis Bermudez and Max Holloway, are squared to face off. Both of these guys are bringing three-fight win streaks to the table, and one of them will have to go home a loser. Bermudez was the TUF 14 finalist, he lost to Diego Brandao but has rebounded with victories over Pablo Garza, Tommy Hayden, and Matt Grice. Holloway on the other hand also lost his UFC debut, bu has rebounded with wins over Pat Schilling, Justin Lawrence, and Leonard Garcia.
This has the makings to be an absolute slug fest as both fighters are extremely resilient and are not shy to bang. Holloway has the reach advantage, and perhaps an advantage in technique, but Bermudez is a heavy hitter and can take a shot to land a shot. This could prove to be a problem for Holloway, as Bermudez is also a very excellent wrestler. Bermudez should have no problem charging in, exchanging punches, and shooting for a takedown. Once ontop expect Bermudez to get busy with some steady ground and pound, and not allow Holloway to do much about it. Expect the majority of this fight to feature Bermudez ontop doing to damage, as he should be able to grind out a unanimous decision.
Dennis Bermudez via Unanimous Decision
Rick Story vs. Mike Pyle
Scheduled to "headline" these prelims is a very exciting bout between two fighters itching to crack into the top 10 rankings at 170. Mike Pyle, perhaps one of the most underrated fighters at 170 lbs, has strung together the most impressive streak of his career; 3 straight first round stoppages over Ricardo Funch, Josh Neer, and James Head. Now, he puts that on the line as he faces former top contender Rick Story. Story has faced a bit of ups and downs throughout the last few years. He was once considered to be a future title challenger, but after back-to-back losses against Charlie Brenneman and Martin Kampmann, Story is fighting to stay relevant.
This is a very intriguing fight because of how well rounded these two guys are. Story is an extremely strong wrestler who has also showcased some talented striking skills and gameplanning in his decision win over Thiago Alves. Pyle on the other hand has been about effective as possible on the feet as he's ever been. While Pyle isn't really known for his striking, he's been knocking everybody out and doing it very impressively. Pyle's muay thai game has improved leaps and bounds and is now becoming one of his most dangerous weapons.
When talking about grappling, Mike Pyle is one of the craftiest guys out there. He's extremely effective off the bottom, but even better on top. His submission rate is ridiculous as he has won 16 of his 24 victories by submission. Story on the other hand is a brute force wrestler with very explosive takedowns and very explosive ground and pound. Story has the ability to overpower Pyle on the ground, and on the feet, but I'm not sure whether he'll be able to generate enough offense to sway the judges if it goes to a decision.
It's really hard picking a fight to go all 3 rounds when you have Mike Pyle in there, but I'm thinking Story will do enough to save his neck in this fight. That being said, Pyle will be the one generating all the offense (mostly off of his back on the ground) and should be able to get the nod from the judges.


Mike Pyle via Unanimous Decision