HERE WE GO! UFC 160's main event will feature several well known MMA stars doing battle against one another. This main card is being slated as one of the most stacked main cards so far this year, and it should not disappoint come Saturday night! Let's get to it!
Donald Cerrone vs. KJ Noons
If you thought the prelims featured more striker vs. striker match ups than usual, than you'll be amazed to find out that there is even more to come! Set to start things off right on Pay-per-View is an exciting lightweight bout between two of the 155lb division's top sluggers; former lightweight contender Donald Cerrone and former Strikeforce lightweight champion KJ Noons.
We all know what KJ Noons is about, and that's boxing. Noons has some of the best pure boxing skills in the lightweight division, and will look to suck Cerrone into a striking match in their bout. Unfortunately, Cerrone can do a lot more than just strike. Cerrone is a very talented kickboxer on the feet, but he's even better when he takes guys down, takes their back, and is looking to put them unconscious. Look for Cerrone to do as little striking with Noons as possible as he looks for openings to set up his takedowns. I believe he'll be able to achieve this by using his long reach and his kicks. He can use his kicks to make Noons cover up and expose himself to Cerrone's wrestling game. From there, Cerrone is on another level. Expect Cerrone to have Noons tapping inside the first frame.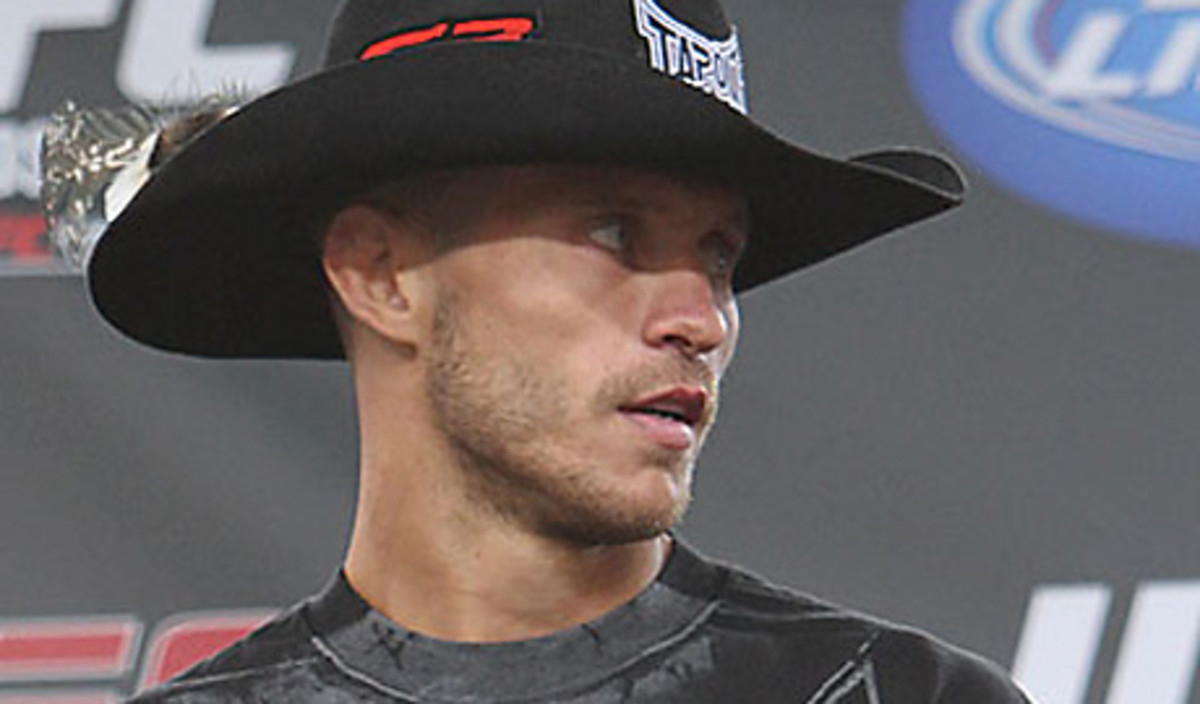 Donald Cerrone via 1st Rd Submission
TJ Grant vs. Gray Maynard
In what should be yet another exciting lightweight bout, the up and coming TJ Grant will face former title challenger Gray Maynard in a bout that could potentially sprout the division's next top contender. TJ Grant has been white hot since dropping down to 155 lbs, and has racked up 4 straight victories, including a KO of Matt Wiman and a decision over Evan Dunham. TJ Grant has displayed his vicious muay thai game, and has been extremely effective with his aggressive style. Maynard on the other hand is looking to clear his name with a dominant victory. Maynard hasn't won a bout decisively since August of 2010, and will look to do so tomorrow night.
On the feet, I give a big edge to TJ Grant. Not because he's been knocking everybody around on the feet, but he's just way bigger than Maynard and more powerful than Maynard is probably used to. Grant will have a 2.5″ reach advantage, and will stand 3″ taller. Ontop of that, Grant is a very big lightweight. He formerly fought at 170, and compared to other medium sized lightweights like Maynard, he's a big guy. Now you may be curious about speed. Being a big powerful guy like Grant, he has to have a downfall when it comes to speed right? Well, against Maynard, there won't be a big difference. Yes, Gray is quick and explosive with his haymakers, but he isn't Frankie Edgar fast, and he won't be offering Grant anything he hasn't seen before.
The big edge that Maynard has over Grant is his wrestling skills. Maynard is a Div I wrestler and is very explosive. Grant on the other hand has decent wrestling skills, but his big go-to weapon in the grappling department is his submissions. He has a brown belt in BJJ, compared to Maynard's undeveloped blue belt. I think off of his back, Grant could offer Maynard lots of problems.
All in all, I'm picking Grant in this fight to pull of a mild upset and make his name known to be 155's next top contender. Grant is too versatile on the feet, too aggressive for Maynard's fighting nature, and offers too much in an all round MMA game for Maynard to be comfortable with. I'll pick Grant in an exciting 3-round bout that should feature highlights for both fighters.


TJ Grant via Unanimous Decision
James Te-Huna vs. Glover Teixeira
Up next is a light-heavyweight bout between two very exciting sluggers who have the potential to put on a real barn burner. 205's up and coming "kingslayer", Glover Teixeira, will be facing James Te-Huna. Teixeira has yet to lose in 8 years, is 3-0 in the UFC including a victory over Rampage Jackson, and will be looking to add one more victory to his resume. While James Te-Huna doesn't really offer much in terms of star power, he brings a 4-0 streak into the bout himself. Both guys love to stand and bang, so this one could be a classic.
Like I said, both guys are not shy to stand in the middle and throw leather, but both also have a ground game to rely on. James Te-Huna is very solid when he's on top, working ground and pound to slow his opponents down. While James isn't a specialist at anything, he's very effective because of his frenetic pace and non-stop punishment that he likes to dish out. Teixeira on the other hand so a bit more tools to work with. He has a very strong wrestling game, very effective with takedowns, and has a high-level grappling game in his arsenal.
Expect both guys to stand and deliver for the majority of the first round. While I do believe Teixeira out-classes Te-Huna on the feet with technique, variety, and overall maturity, I think Te-Huna does have a chance of catching Glover with heavy shots. However, Teixeira has shown that he can take a shot, and shouldn't find himself in too much trouble banging it out with Te-Huna. Eventually, expect Teixeira to take this fight to the ground. From there, he'll be able to assault Te-Huna with ground and pound, and open up a submission opportunity. Teixeira just has too many tools, and is too skilled for James's caliber.


Glover Teixeira via 2nd Rd Submission
Mark Hunt vs. Junior dos Santos
In what should be the fan's most anticipated fight of the night, Mark Hunt will take on former UFC heavyweight champion Junior dos Santos. Hunt brings in an incredible 4-0 streak in the UFC that has featured him knocking guys out cold with his vicious boxing skills. Hunt possesses perhaps some of the best hands at heavyweight, and also one of the greatest abilities to take a punch. Hunt is a very durable fighter who can spring the upset at any given time. His opponent, the former "Baddest Man on the Planet", Junior dos Santos. Dos Santos was considered to be the best current heavyweight in the world before being assaulted by Cain Velasquez for 25 minutes straight. Junior also brings some very good boxing skills, so this fight could be very interesting.
First of all, both guys have shown that they have undeniable chins. Dos Santos has been hit very hard, and has survived. Mark Hunt has also been hit very hard, but doesn't need to survive because he doesn't really flinch. The only time Hunt has been rocked off the top of my memory was when Manhoef one-two'd him to KO Hunt back in Dream in 2008. Other than that lone KO loss, Hunt's chin has withstood very heavy blows and has not failed him. If I had to give an advantage to chins, it would go to Mark Hunt.
When comparing both of their striking skills, they're fairly similar. They're not really volume strikers; they like to wait and set up their punches using feints and overall patience. I think we could see a very slow-paced opening round, as both fighters are very patient when waiting for their opponent to "show their hand".
While both fighters have one-punch KO power, I think Hunt has a slight advantage here. We've seen Junior land hard shots before, and not get the finish. Hunt on the other hand usually finishes when he connects hard. The thing that separates them on the feet is speed. Junior is way lighter than Hunt, and way faster with his hands. I think if Junior is going to stay standing with Hunt, he needs to get his feet going, bounce around, and control distance with his speed. Unfortunately, that's not Junior's style, which makes this fight SO interesting!
Junior dos Santos's biggest weakness in his striking is his lack of footwork. He could very easily get caught flat footed by Hunt, and dropped hard. Hunt possesses that type of explosive power to catch JDS off guard, flat footed, and spring a very big upset. So if Junior doesn't get his feet going and utilize his speed advantage, a New Zealand upset victory could very well be in store. Now, dos Santos's footwork isn't the only thing that he could use to defeat Hunt. Hunt has a blaring weakness when it comes to defending armlocks. We haven't seen much of Junior's ground game, but apparently he does have submission abilities. The only problem with that is that you have to get a stocky tree-stump's momentum going the other way and get ontop of it, that could be an issue and which is why I don't think we'll see much ground work from either fighter.
All in all, this is a very tricky fight to predict because the more you look at it, the more you begin to think that Hunt could pull it off. Hunt has a gigantic fan base, has lots of momentum, and of course possesses the power and raw explosion to get the victory. However, Junior dos Santos is a champion. He's a champion who lost his title, and is VERY determined to get it back. Dos Santos will most likely show up with better footwork than we've ever seen, better cardio than ever, and more fluid than we've ever seen him. If he does show up, isolate Hunt's weakness in speed and cardio, then we'll most likely see dos Santos tag Hunt for 3 rounds while avoiding the knockout blow. But if Hunt is able to hunt JDS down, time his punches, and catch Junior flat footed, then it could be a very different story. I'd give Hunt one round to get it done, otherwise JDS's speed will take over and he'll cruise along for the victory.


Junior dos Santos via Unanimous Decision
Cain Velasquez vs. Antonio Silva
And now for the main event; a heavyweight title fight between two men who have faced eachother just one year ago. Now, they rematch for the heavyweight title after both men have came off of all-time career high performances.
In the first bout, Velasquez wasted no time taking Silva down from the beginning off of a caught leg kick, and absolutely destroying Bigfoot with ground and pound. While the ground and pound was effective, opening up a gigantic gash on Silva's face which immediately covered his face and eyes in blood, there was no doubt that Silva's affected eyesight was what ultimately caused his lack of defense. Now, just one year later, what will be different?
Well first of all, it's a little unlikely that Velasquez will cut Silva open in the similar fashion that he did in the first fight. But what's stopping Silva from being taken down and just pounded out for round after round? Well, we don't know. Silva's last two opponents were guys who tried to stand with him, and they paid for it. While Silva may no the fastest, deadliest, or most technical striker out there, he's very effective and he's very powerful. This could potentially cause problems for Velasquez if he chooses to mix it up a bit and try to stand with Bigfoot.
In the stand up department, Velasquez's biggest advantages are when it comes to speed and technique. Cain and get in and out, while doing lots of damage, in a blink of an eye. This could give Bigfoot lots of issues considering he generally has a methodical stand up approach, up until he is forced to explode. This sudden explosive from Silva is what could potentially give him Cain's belt. However, Velasquez has that outstanding wrestling to rely on.
In almost every category, Velasquez out-matches Bigfoot. So what makes Silva such a dangerous opponent? It's his puncher's chance. If Velasquez gives Bigfoot any momentum, any opening, he will capitalize on it and end the fight. We've seen Velasquez get rocked before so he's not immune to it by any means, but we've also seen Velasquez's speed on showcase before and that is extremely dumbfounding.
My prediction for this fight goes like this: Bigfoot will come out very methodical and sluggish like he usually does, this will allow Velasquez to work in some kicks and get his timing down. Then, they'll engage in some striking exchanges; I'm predicting Velasquez to be more of an initiator while Bigfoot will look to counter. If Silva catches Cain with anything big, expect an immediate takedown attempt which will most likely be successful. On the ground, it's all Velasquez. Bigfoot is too big and bulky for him to generate much offense off of his back in terms of grappling, so he'll just have to hold on the ride. After a round or two of this, expect conditioning to turn a once competitive fight into a one-sided beatdown in favor of the champion. Expect a mid-fight TKO finish for Velasquez as his speed and gives him opportunities to land big combinations on the feet.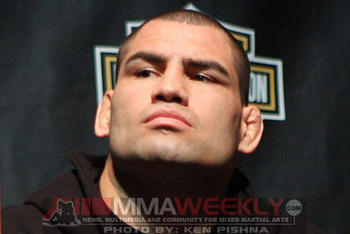 Cain Velasquez via 3rd Rd TKO