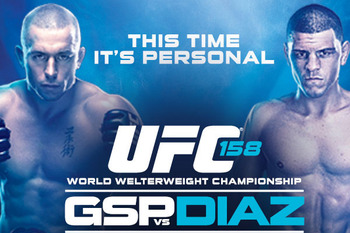 UFC 158 is destined to be one of the most epic cards of the year, with fantastic match ups all round. Click more to see my personal breakdown and analysis of UFC 158's prelims.
George Roop vs. Reuben Duran (Bantamweight)
Set to kick off the night is an exciting bantamweight match up between two fighters looking to get back into the win column. Roop is on a two fight skid, last losing to Cub Swanson, and has not won since June of 2011 where he TKO'd Josh Grispi. For Duran, he also has not won since June of 2011 where he last choked out Francisco Rivera.
Both of these fighters have displayed well rounded skills as they have won fights with their striking and their grappling, but if I had to give edges I'd favor Duran on the ground, and Roop on the fight. Roop will have a 6″ height advantage, and will have a huge size advantage, which could give Duran some problems on the ground.
I'd favor George Roop in this match up. Mainly because of his huge advantage in physicality and experience. I think Roop will be able to keep Duran on the outside with his strikes, and if Duran wants the fight on the ground, it'll be very tough to get it there. I think eventually Roop will find a good combo and put Duran down and finish him with strikes in the second.
George Roop via 2nd rd TKO
TJ Dillashaw vs. Issei Tamura (Bantamweight)
Another bantamweight fight is scheduled on the prelims as TUF finalist TJ Dillashaw will battle Shooto veteran, Issei Tamura. Dillashaw brings a two-fight winning streak into the cage, while Tamura is coming off of a loss. Personally, I think this fight is a pretty big mismatch. Dillashaw trains with Alpha Male MMA, so you know he's going to be in fantastic shape; he's shown he has power in his punches combined with solid wrestling and coming from Alpha Male you know he'll be technically sound in the grappling department.
However, Tamura is a tricky fighter. He has racked up 2 KO victories in his career, but other than that it's been all decisions. I don't think Tamura will be able to catch Dillashaw with anything the feet however, he's too technically sound and coming from a solid camp like Alpha Male, he'll be prepared for any haymakers Tamura throws. I'm predicting Dillashaw to out-box Tamura on the feet, possibly avoiding takedowns and using his strength advantage to keep Tamura off of him. Even on the ground, I think Dillashaw can hold his own as he's more explosive and is probably the more solid wrestler. I'm taking Dillashaw by decision as he out boxes and out scrambles the Japanese-native.
TJ Dillashaw via Unanimous Decision
Quinn Mulhern vs. Rick Story (Welterweight)
Set to do return back to the Octagon is former top contender Rick Story as faces Strikeforce stand-out Quinn Mulhern. A little about Quinn: he's 18-2 as a professional with 11 of those wins by way of submission. He's fairly tall at 6'3″. He also has loads of KOTC (King of the Cage) experience, being their former welterweight champion before losing to Jason High.
You may see this match up and think, "what a mismatch, Rick Story is a former contender and Mulhern is making his debut", but Mulhern is solid. He's tricky and has very long legs which could problems for Story if the fight is taken to the ground. The key to this fight for Story is going to be to avoid Mulhern's attempts to get the fight to the ground, and do damage with his big power punches and good footwork.
I predict Mulhern to tie up with Story as often as possible, but that's Story's world. Story is very strong in the clinch and should be able to do dictate where the fight goes. Maybe you'll see Mulhern try to pull guard, if that's the case I don't think Rick Story will make any stupid mistakes and get caught in anything. I'm taking Story by TKO in the 1st round as he defends takedowns long enough for him to connect on Mulhern and send him down for the count.
Rick Story via 1st rd TKO
Daron Cruickshank vs. John Makdessi (Lightweight)
Possibly being one of the most anticipated match ups on the under card, these two strikers will go head to head to see whom will out-strike whom. Cruickshank, a TUF veteran, won his first UFC fight against Chris Tickle. Even though is a TUF Finale fight, he showcased his excellent striking skills and made a case to go up against the scrappy Henry Martinez. In that fight, Cruickshank again showed his dominance on the feet and even his finishing ability as he KO'd Martinez in the 2nd round; showing that his kicks are a force to be reckon with.
So what better fighter to put him against than fellow striking stand up John Makdessi? Makdessi has shown the power of his spinning strikes when he KO'd Kyle Watson with a spinning back fist in a highlight reel spectacle. Since then Makdessi went on a two-fight skid before winning against Sam Stout last November. Makdessi brings a unique Shotokan and Tae Kwon-Do styled stand up game which would pose problems for Cruickshank.
Possibly the ground breaking factor in this fight is going to be whether any of these guys will take the fight to the ground. Unfortunately for Makdessi, Cruickshank is an NCAA Div III wrestler, so he may be in trouble if put on his back. I think both of these guys will give it there all, but in the end it'll be Cruickshank's takedowns that keep him ahead on the score cards. Expect both fighters to have their moments on the feet, but in the end you have to give the edge of Cruickshank.
Daron Cruickshank via Split Decision
Dan Miller vs. Jordan Mein (Welterweight)
UFC veteran Dan Miller will be making his second fight at 170 in an attempt to get on a win streak. Standing in his way will be the exciting Canadian prospect and Strikeforce stand-out Jordan Mein. Mein holds an experienced record of 26-8 with wins over DREAM champion Marius Zaromskis, Cyborg Santos, and UFC vet Josh Burkman. Mein is primarily known for his scrappy styled of stand up and his ability to put on exciting fights. Mein will look to crush Dan Miller's hopes of getting to the top of the ranks in this exciting welterweight match up.
The key to Jordan Mein's success has almost always been his jab. He has a strong powerful that he used to outstrike Marius Zaromskis and used to help fight back against Tyrone Woodley in their bout (which he lost by split decision). I think Miller looks good at 170, he's a lot more explosive, but he has to take this fight to the ground. Mein's boxing is too good and Miller just isn't that technically sound on the feet. If Miller can get the fight to the ground, it's a whole different story, but if Mein is able to keep him at bay and use him as target practice, then it'll be all Mein.
I predict that it'll be a little of both. I think Mein will definitely have the advantage on the feet, and having that home town advantage Mein will be energized and ready to take Miller's head off. However, Miller is extremely durable and is very unpredictable. I think Miller will be able to time takedowns and eventually get Mein down, but Mein is just so scrappy and never stops fighting; expect Mein to get back up. In the end, I think Mein will win on score cards. I think he's just overall the more offensive fighter and unless Miller can snag him in a submission during a scramble, I think it'll be Mein's fight.
Jordan Mein via Unanimous Decision
Antonio Carvalho vs. Darren Elkins (Featherweight)
Next up on the card is an anticipated featherweight match up between the highly credentialed Antonio "Pato" Carvalho, and 15-2 Darren Elkins who is currently riding a four-fight win streak. Like I said, Carvalho is very credentialed; he black belt in Brazilian Jiu-Jitsu, a black belt in Shotokan Karate, and even a green belt in Judo. Carvalo is dangerous, and showed that knocked out Daniel Pineda back in July of 2012. Unfortunately for Carvalho, he has struggled against fighters who can take him down and isolate him there, which is exactly what Elkins may do.
Darren Elkins is on a very impressive streak, racking up four consecutive wins ever since his featherweight debut. Elkins is a phenomenal grappler who utilizes lots of ground and pound and really likes to rough his opponent up. I think if Elkins find himself in a top position against Carvalho, it's not going to be a good night for the Brazilian. However, Carvalho possesses KO power in his hands, and is dangerous on the ground with submissions.
I willing to bet that if this fight is a finish, it'll be Carvalho, but if it goes to a decision than it'll be all Elkins. I'm leaning toward Elkins just because of the fact that he has never been finished by strikes and his only submission loss was to a phenomenal submission expert in Charles Oliviera. Elkins takes a decision as he smothers Carvalho with takedowns and ground and pound.
Darren Elkins via Unanimous Decision
Patrick Cote vs. Bobby Voelker (Welterweight)
Set to headline UFC 158's prelims is the anticipated match-up between one of the UFC's toughest fighters on the roster and former title challenger, Patrick Cote, as he takes on the Strikeforce Challenger stand up Bobby Voelker. Voelker holds an impressive record of 24-8, he's extremely experienced for making his UFC debut and holds some really good wins over Roger Bowling. Voelker possesses a lot of power on the feet and has really good kickboxing. Cote on the other hand may not be as technical, but he's extremely durable and tough as he has never been finished by strikes in his 11 years of fighting professionally.
Unfortunately for Cote, he hasn't looked the greatest lately. Cote hit his prime in 2008 when he strung together a five-fight win streak and earned the right to challenge the middleweight champion Anderson Silva. Cote lost the fight when he suffered a knee injury, and hasn't been the same since. He lost two fights after that, and was forced to fight outside of the promotion when he went on a four-fight win streak. He returned to the Octagon against karate striker Cung Le and lost the fight, looking extremely sub par. Since then he scored a win over Alessio Sakara by DQ when Cote suffered strikes to the back of the head, and now he's looking to get his first official win back in the Octagon since 2008.
It surely doesn't look good for Cote, but one thing is for sure, you can not count him out. Cote is a true fighter who hits very hard and can take any punch you throw at him. I think the fight between him and Voelker will be entertaining, but in the end I'm giving the edge to Voelker. I think Voelker is just too powerful, too fast, and too dynamic for Cote to deal with. Expect Voelker and Cote to go back and forth for three rounds, but it'll be Voelker's superior striking that takes the decision.
Bobby Voelker via Unanimous Decision
That's all for the prelims! Stay tuned for the main card!
-Hodgi