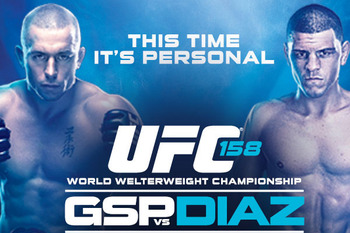 Mike Ricci vs. Colin Fletcher (Lightweight)
Ready to start the card off is an interesting match up between two TUF finalists in Mike Ricci and Colin Fletcher. Ricci is from TUF 16, coached by Roy Nelson and Shane Carwin, while Fletcher was from TUF: The Smashes, coached by George Sotiropoulos and Ross Pearson. Ricci, nicknamed "The Accountant", because of his mild personality and appearance, is primarily a striker but is also very good on the ground. He is surprisingly powerful as well as he won Knockout of the Season during his semi final match up against Neil Magny.
Across the cage of "The Martian", is the flamboyant Englishman Colin Fletcher. Fletcher made his appearance on TUF: The Smashes a noticeable won, being the clown of the house. However, he quickly showed everyone that he wasn't just out there to seek attention, he was also a very good fighter.
In this match up, the big question is going to be whether Ricci can close the distance with Fletcher. Their both fairly sound on the feet, but I'd give a slight edge to Fletcher in the fact that he is a risk-taker. He throws lots of kicks, flying knees, and is aggressive; while Ricci is more of a technical striker. Ontop of that, Fletcher has won seven of his eight bouts by way of submissions, so I don't think Ricci is going to have much success on the mat.
I'm predicting Fletcher to be able to use his reach to out-strike Ricci early, and when Ricci finally decides to try to tie up or shoot, he's going to get caught with something. I'm predicting either a knee, or maybe he'll get caught in a submission like a guillotine.
Colin Fletcher via 2nd rd TKO/Submission
Chris Camozzi vs. Nick Ring (Middleweight)
In the next bout we have a middleweight match up. 18-5 Chris Camozzi faces 13-1 Nick Ring. Ring is coming off of a controversial decision win over Court McGee, a fight that man believed McGee should have won; Ring was outstruck on the feet statistically and even had him in trouble late in the fight. Despite that, Ring showed solid defense and a sturdy chin. Chris Camozzi on the other hand has been on a tear; he's racked up three wins since his last loss in 2011, and will be looking to make it four in a row.
Both of these fighters are fairly well rounded, but have only finished one fight each in their UFC career. Expect this one to go to a decision just because neither of these fighters are entirely great in one area, but are proficient everywhere. In a scenario like this you have to look at natural advantages, like reach and size. In that case, Camozzi is taller and will have a slight reach advantage which should give him a better edge on the feet. On the ground, Ring has finished a majority of his career fights on via submission. Ring has shown a solid ground game in the past, while Camozzi has shown better stand up.
I think this fight will come down to whether Ring can get takedowns or not because I'm suspecting Camozzi, with his slight physical advantages, to get the better of Ring on the feet. I'm predicting this to be a very close fight, but when it goes to the judges it may favor the takedowns of Ring. I'm going with Nick in a fight where he gets out-struck, but edges his opponent with takedowns.
Nick Ring via Split Decision
Jake Ellenberger vs. Nate Marquardt (Welterweight)
Set to begin our trio of welterweight fights; top contender Jake Ellenberger will face returning UFC title challenger and former Strikeforce welterweight champ Nate Marquardt. This is a very exciting fight and could sprout the divisions next top contender.
"The Juggernaut", Jake Ellenberger, is coming off a win over Jay Hieron. Ellenberger has always shown top level wrestling combined with some big power on the feet. He was just knocked out last June by Martin Kampmann, but he had Kampmann hurt for the first part of the fight before eating a solid hook that was followed up by some big knees. To a lot of people, Ellenberger's chin may be suspect, but just know that anybody who stands with Ellenberger could be destined to get knocked out as he has won 17 of his 28 career victories by way of TKO or KO.
Marquardt on the other hand is looking to return to the UFC on a win since he was cut from the promotion due to a scandal involving TRT. After Marquardt left the promotion, he faced Tyrone Woodley for the Strikeforce Welterweight Championship. It was a back and forth fight where both fighters were hurt badly on the feet, but Marquardt was able to muster up enough power to KO Woodley in the fourth round with an attack of elbows and punches. However, in his last bout against Tarec Saffiedine; Marquardt was outstruck by the technical striking and precision of Tarec, and lost the title by decision.
I think this is a very equally matched bout. Both fighters could win the fight on the feet, or on the ground. I think Ellenberger has the better takedowns, but Marquardt has a very solid ground game although he hasn't submitted anybody since 2008. Ellenberger probably won't go for any submissions, but he has some very nasty ground and pound. He contains a lot of power in his hands on the ground, and has put away a lot of fighters with it. I think Ellenberger is going to take awhile to get used to Marquardt's diverse stand up, but when he does expect Marquardt to be tested. I don't think Nate will be able to take Ellenberger down easily, as Jake is a phenomenal wrestler. I'm predicting Ellenberger to hurt Marquardt on the feet, get ontop, and put Marquardt away late in the second round.
Jake Ellenberger via 2nd rd TKO
Johny Hendricks vs. Carlos Condit (Welterweight)
In the co-main event, the two top ranked welterweights will collide head to head to find out who is really number two in the division. This is such an intriguing match up because you have the hardest hitting welterweight against possibly the smartest and versatile welterweight. Let's get into it.
Hendricks has been on an absolute tear through the division ever since 2011 when he started his five-fight win streak including a 12-second KO of Jon Fitch, and a 1st round KO of Martin Kampmann. Hendricks entered the UFC back in 2009 when he upset TUF winner Amir Sadollah by knocking him out just 29 seconds into the bout. At that point, it was known that Johny is a ferociously hard hitter.
On the flip side, Carlos Condit also presented one of the best streaks in the UFC. He debuted against Martin Kampmann and lost a very close fight. Since then Condit went on a five fight win streak including a spectacular KO over Dong Hyun-Kim, and a one-punch KO over Dan Hardy. Carlos Condit was previously known for risky style, as he produced exciting match ups every fight.
However, when he faced Nick Diaz in a title eliminator match up, Condit pulled out the intelligent side. After working with Greg Jackson, Condit put together a gameplan that would ensure himself the victory. Condit used his evasive footwork and technical striking to out point his aggressive opponent and win himself a title shot. Although he may not have won himself very many fans with that approach, Condit showed the effectiveness of his mind and technique, which makes him a tough fight for anybody.
In this fight between Hendricks and Condit, the biggest question is going to be whether Hendricks will land his big haymaker left hand. A very similar match up took place earlier this year when heavy-handed wrestler Dan Henderson fought evasive karate expert Lyoto Machida. Henderson chased Machida around the Octagon for 3 rounds trying to land his big right hand, and couldn't. Could a similar scenario happen between Hendricks and Condit? That's what a lot of fight fans are predicting, but I call it rubbish.
I do not believe Condit will utilize the same gameplan he used against Nick Diaz, against Hendricks. First of all, that's too predictable; and secondly, Carlos Condit at the core is an exciting fighter. If you watch all of his other fights, Condit does everything he can to finish the fight; I believe that Condit and Greg Jackson put together such a defensive tactic only for Nick Diaz. I think Condit will be very evasive and defensive on the feet, but I expect Condit to have other plans in store.
Condit possesses some very high level grappling ontop of his technical muay thai. However, Hendricks has never had any issues on the ground. He's a brickhouse wrestler who hits like a mule and has an NCAA Div 1 wrestling background. If Condit is going to want a chance at submitting Hendricks, it has to be something sneaky and deceptive; like pulling guard, or rolling for a leg.
My prediction for the fight is this: I think Hendricks will eventually time Condit with a ferocious flurry of punches. I think Condit will be forced to attempt to take the fight to the ground, but he will fail because Hendricks is just too powerful. From there, I think Hendricks will dominate position. Condit has never been finished by strikes in his entire career, so it's somewhat unlikely that Hendricks will finish him; but if anybody it would be him. I think Hendricks will dominate position and continue to pressure Condit with his heavy hands and wrestling and give Condit all he can handle for three rounds.
Johny Hendricks via Unanimous Decision
George St. Pierre vs. Nick Diaz (Welterweight)
Here we are, the main event. GSP faces Nick Diaz for the welterweight title. GSP, undefeated since 2007, seven successful title defenses. GSP is one of the most physically dominating fighters in the world. His takedowns are virtually unstoppable. He has not faced anyone of recent memory that could stop his double or single leg shot. He's faced the best wrestlers in the world, and has outwrestled them. Ontop of the that, he contains an extremely high level striking game. GSP's primary weapon on the feet is his jab. He may not have the longest reach in the division, but he covers distance so quickly and with so much explosiveness that his jab is the perfect weapon. On top of that, he has an advanced kicking game that he utilizes to set up takedowns and other punching combinations.
However, he's facing a very unique opponent. Nick Diaz is one of the trickiest fighters to fight for a number of reason; his style, his chin, and his mouth. Diaz has a very unique style with very little defense. Why? Because he wants you to him. Diaz persuades fighters into trying to tee off on him, but in return it's Diaz who racks up the offense. Diaz peppers you with a high volume of small shots until eventually you can't take anymore. He works the body and the head, which confuses a lot of fighters. Ontop of that, he never stops. Diaz possesses insane amounts of cardio which is needed for his style of fighting.
Diaz's chin is another aspect to his fighting. Diaz has taken some of the biggest punches in the sport, and has walked through them. The only time Diaz has lost is either by decision or doctor stoppage. Diaz is very rarely dropped or hurt, and brings non stop pressure which is very difficult to deal with.
And finally, perhaps his most dangerous weapon, his mouth. It is undeniably noticed that Diaz has really gotten underneath GSP's skin. He's talked so much smack and has been so disrespectful that he may have GSP in a vulnerable spot. That's all part of Diaz's gameplan. Diaz is a thug at heart, and will always have that edge over fighters.
However, will any of this work against the physical denominator in George St. Pierre? I think it will, but it's not going to win him the fight. I'm predicting Diaz to have the best fight against George. I think that Diaz's non-stop pressure is going to mess with George and possibly make him fight out of desperation. Whenever George stands with fighters, he looks to keep lots of space. With Diaz, that's not going to happen. Diaz is going to walk him down and and fire of shots and never stop, the only thing holding Diaz back from being able to overwhelm GSP are those takedowns. GSP can fire off a double leg whenever he chooses and toss Diaz on his back; however, will GSP be hesitant to shoot knowing that he has promised to smash Diaz? Knowing that all of his fans are becoming restless with GSP's smothering style? We'll find out Saturday.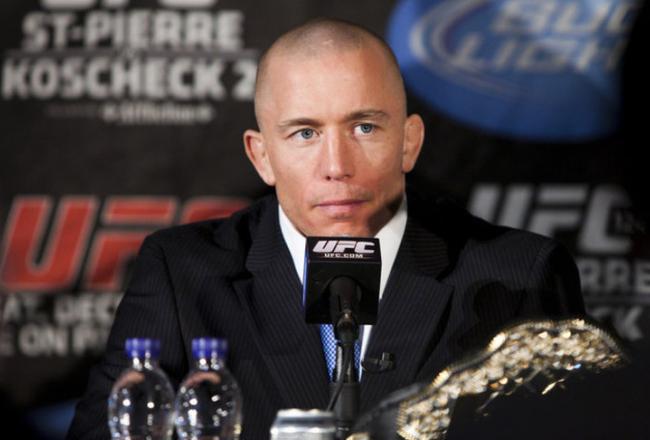 George St. Pierre via Unanimous Decision