Welcome to my official coverage of UFC 158! This is one of the most awaited cards of the year, and I can't wait to start cracking into it! First up is the betting lines, we can take a look at who is the favorite and who is the underdog, we'll see if there are any golden opportunities with some smart betting. Enjoy!
Betting Line: (odds from mmaplayground.com, a fantasy betting site)
Georges St. Pierre -420
Nick Diaz +370
Johny Hendricks -115
Carlos Condit -125
Jake Ellenberger -100
Nate Marquardt -130
Bobby Voelker +235
Patrick Cote -255
Chris Camozzi +105
Nick Ring -115
Dan Miller -105
Jordan Mein -125
John Makdessi +100
Daron Cruickshank -105
Antonio Carvalho +215
Darren Elkins -250
Colin Fletcher +290
Mike Ricci -330
Quinn Mulhern +390
Rick Story -440
Issei Tamura +600
TJ Dillashaw -640
Reuben Duran +115
George Roop -125
The heavy underdogs for UFC 158 are:
Issei Tamura – at +600, that is a huge underdog, however it's a dead one. I really don't see a way for Tamura to win. Dillashaw is too good and stylistically he is the better fighter to pick; he's more consistent and is from Alpha Male so you know he'll be prepared and ready to fight. Plus, Tamura is a decision-based fighter. The majority of his wins are by decision, but against a physically stronger fighter in Dillashaw, I don't think Tamura will be able to take a decision. Tamura is a bad pick.
Quinn Mulhern – at +390, I'd say Mulhern would be a decent pick. When looking at his record, he is pretty impressive. He's 18-2 with 11 submissions, and has fought some tough guys in Jason High, Rich Clementi, and Mike Guymon. The thing that makes me hesitant to pick Mulhern is the fact that he is making his UFC debut; plus you add on the fact that he's fighting Rick Story, a guy at one time considered to be a top contender. If Mulhern was fighting someone else, I would pick him pretty easily, but against Story I don't think he's going to be able to fight his fight and win. Not a good pick.
Nick Diaz – at +370. Diaz is really a shot in the dark for me because you have no idea which GSP is going to show up. You have the GSP that is excellent at winning fights, whether its on the feet or on the ground, he isolates his opponent and wins. However, against Diaz I think things have the potential to be a bit different. You have GSP running around saying Diaz has "uncorked" a demon inside of him that is going to smash and batter Diaz worse than anybody every before, and how he "doesn't care" about being champion anymore. This should worry you if you're a GSP fan because history tells that GSP can get caught and finished ala Matt Serra. I think Diaz is the best underdog to pick, but be careful because you're basically banking on the fact that GSP will "lose his grip" in the fight and not fight smart. Unfortunately, GSP is about as smart of fighter as they come, so your best bet is to just pick GSP. I'd say he's a decent pick to place a very small wager.
With that, let's take a look at some good picks and parlays that have interested me: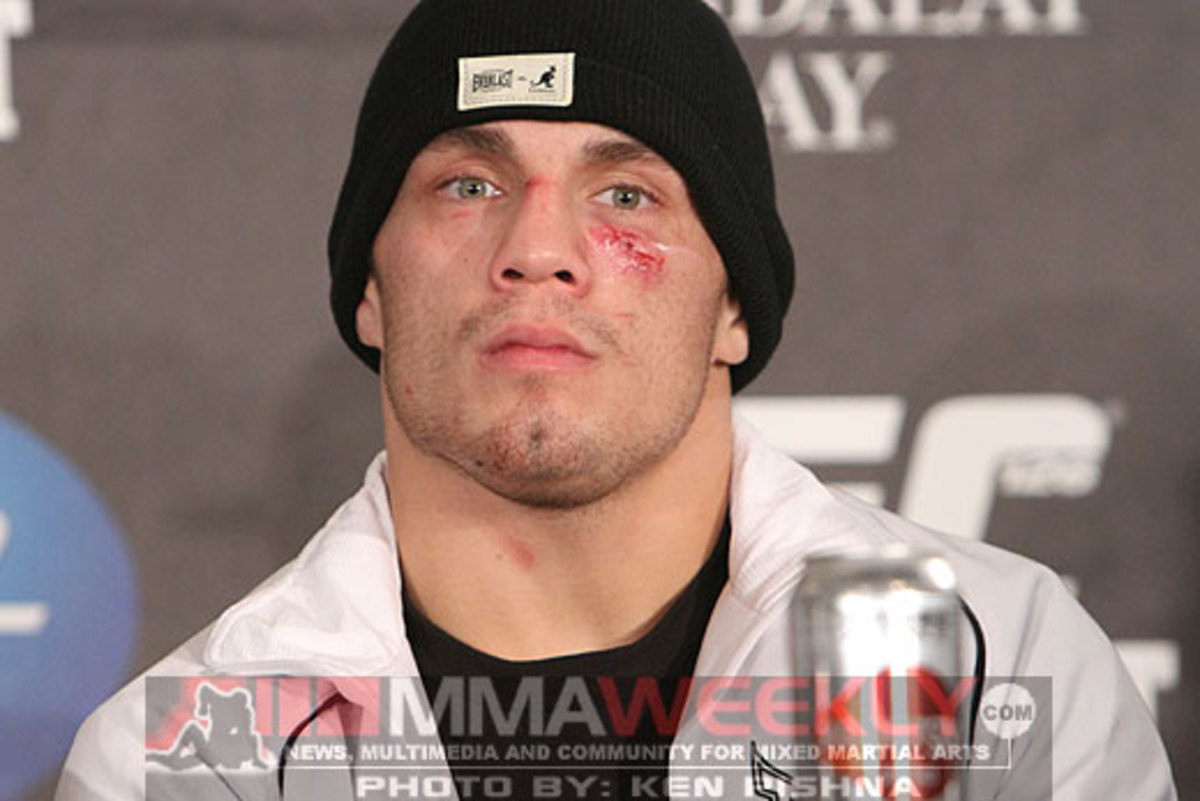 Jake Ellenberger – While he may only even at -100, you're still getting whatever you bet back added to your starting amount. I think Ellenberger is going to beat Nate Marquardt, because the only person who has beaten Ellenberger in the UFC is Carlos Condit (If you even count that as a loss) and Martin Kampmann. While Nate Marquardt is a talented fighter and has the skills to become a valid contender, I don't think he'll be able to hurt Ellenberger. I think Jake will be able to force tie ups, get takedowns and smother Marquardt with pressure for 3 rounds and win a decision. Bank it.
Bobby Voelker – At +235, I think Bobby Voelker is a fantastic bet. He's facing Patrick Cote in his WW debut. Let's be honest, Cote is on the down-slide of his career. He's lost 4 out of last 5 UFC appearances and while moving down to WW may be a good decision, he's facing a very talented up n' comer in Bobby Voelker. For those who don't know, Voelker is a hard-hitting fighter from Strikeforce Challengers who headlined their events several times and is mostly known for defeating Roger Bowling twice. I think Voelker and Cote will be a good fight, but you have to give it Voelker for the mild upset as he outstrikes and edges Cote in a decision.
Colin Fletcher – At +290, I think Fletcher is a decent bet. He's long and lanky and is a guy that could end the fight at any time because of his risky style of fighting. He's taking on fellow TUF household competitor Mike Ricci. I think Fletcher is a solid pick for an upset because if the problems Ricci had against Colton Smith. Ricci is primarily a ground fighter, but had problems against Smith because he was at a size disadvantage; which he'll be at against Fletcher. Ontop of that, Fletcher is the more solid fighter on the feet. I think Fletcher is a very solid pick.
Parlays:
John Makdessi (+100) against Daron Cruickshank
Jake Ellenberger (-100) against Nate Marquardt
Johny Hendricks (-115) against Carlos Condit
I like this three-way parley because all of the odds are really close together, but combined, you can make some decent profit. This parlay is really going to come down to Hendricks and his KO power. Makdessi over Cruickshank is a given to me, I think Makdessi is just more experienced to stay out of danger of Cruickshank's stand up, and skilled enough to inflict his own. Ellenberger over Marquardt was discussed above, and Hendricks over Condit is really going to come down to Hendricks KO power to beat Condit. I think Condit can really only win by a) fighting smart and defensive like he did against Diaz, or b) by catching Hendricks slipping on the ground and subbing him. I think Hendricks is too explosive and too powerful for Condit, and will put a beating on him similar to what Ellenberger did against him during the first 2 rounds.
Bobby Voelker (+235) against Patrick Cote
Jordan Mein (-125) against Dan Miller
Darren Elkins (-250) against Antonio Carvalho
This is an interesting parlay; it contains one mild upset, one favorite, and one pretty-much even match up. Voelker over Cote was discussed above. Mein over Miller is a safe bet; I think Mein, although making his UFC debut, has too many tools, too long of reach, and has too much momentum for Dan Miller. Elkins over Carvalho is a favorite; Elkins brings the wins streak and size advantage over Carvalho who is better finisher, but is prone to being grinded on and over powered which is what I think Elkins will do.
That's all for betting lines and smart bets! Hope you enjoyed it and found this helpful. Thanks for reading!
-Hodgi