The welterweight division has been labeled as being on the most talent-filled weight classes in the UFC for a very long time. There are new top contenders sprouting each and every year, but so far none of them have been talented enough to take out the current champion, Georges St. Pierre. While they could be due to the fact that Georges only fights maybe twice a year, this gives the rest of the division a chance to line up a true contender and showcase some really exciting fights. This is my top 10 UFC welterweights, enjoy!
10. Tarec Saffeidine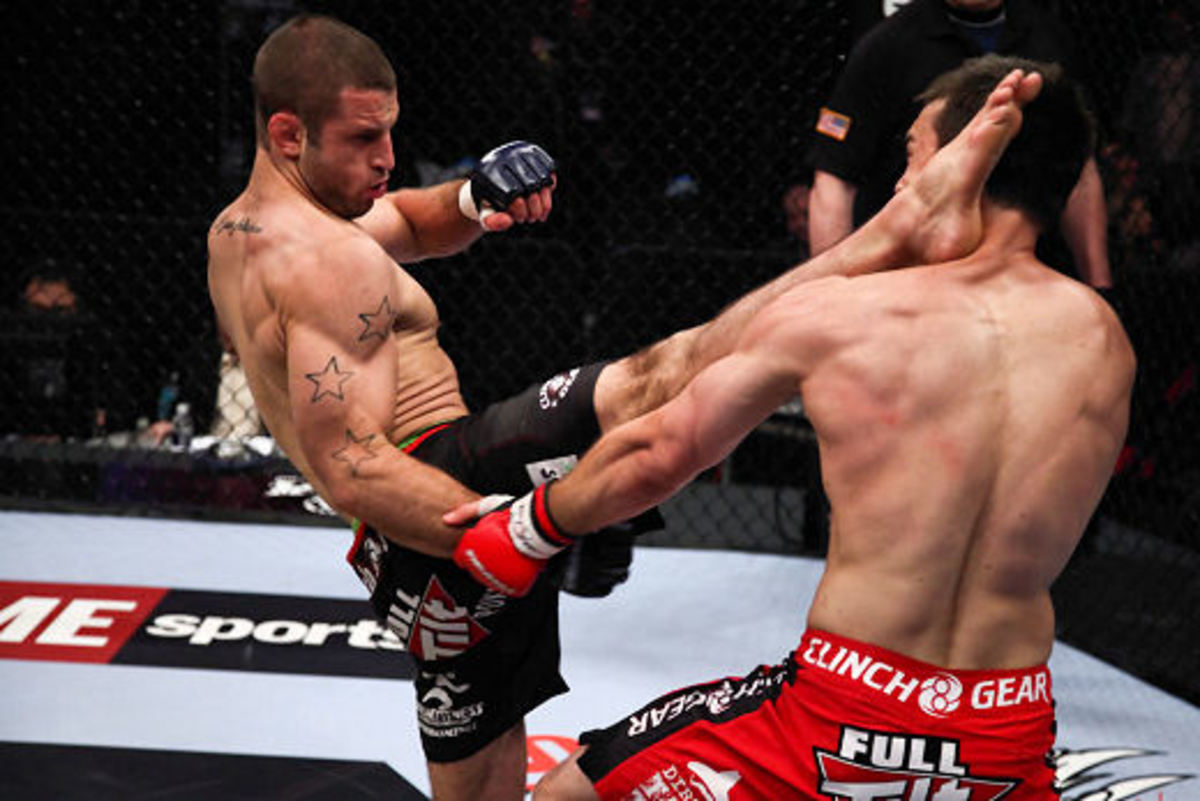 It's a little hard to see exactly where Tarec goes as he has not officially debuted in the UFC yet, but being the last welterweight Strikeforce champion you to count it as something. Tarec's last outing showed really good Saffeidine has become. He's worked his way up from Strikeforce's undercard, only losing to Tyrone Woodley by decision, to make it to the top where he and Nate Marquardt went 5 rounds for the gold. Saffeidine displayed his technical striking as he picked Marquardt apart and outpointed him to win the title. Saffeidine has the style to make a big slash in the 170 lb pool; we'll see who is debut is against.
9. Dong Hyun-Kim
While "Stun Gun" may not be everybody's favorite fighter, he deserves a spot on this list. Kim is best known for his black belt in Judo and being one of the few fighters to actually utilize his Judo skills in the Octagon. Ontop of that Kim has a creative striking game where he likes to throw unorthodox combinations. But don't be mistaken, Kim is a grappler.
Kim is one of the few fighters that gets fighters to the ground and actually grapples. You can look at other fighters with wrestling background and notices how they'll usually just lay in the guard and throw enough hammerfists to keep the fight from being stood, not Kim. Kim attempts to pass guard, gets himself in a good position (Usually side control or back-mount) and goes for the finish. He favors heavy elbow attacks, and arm-triangles which was on display in his last fight against Siyar Bahadurzada.
8. Jake Ellenberger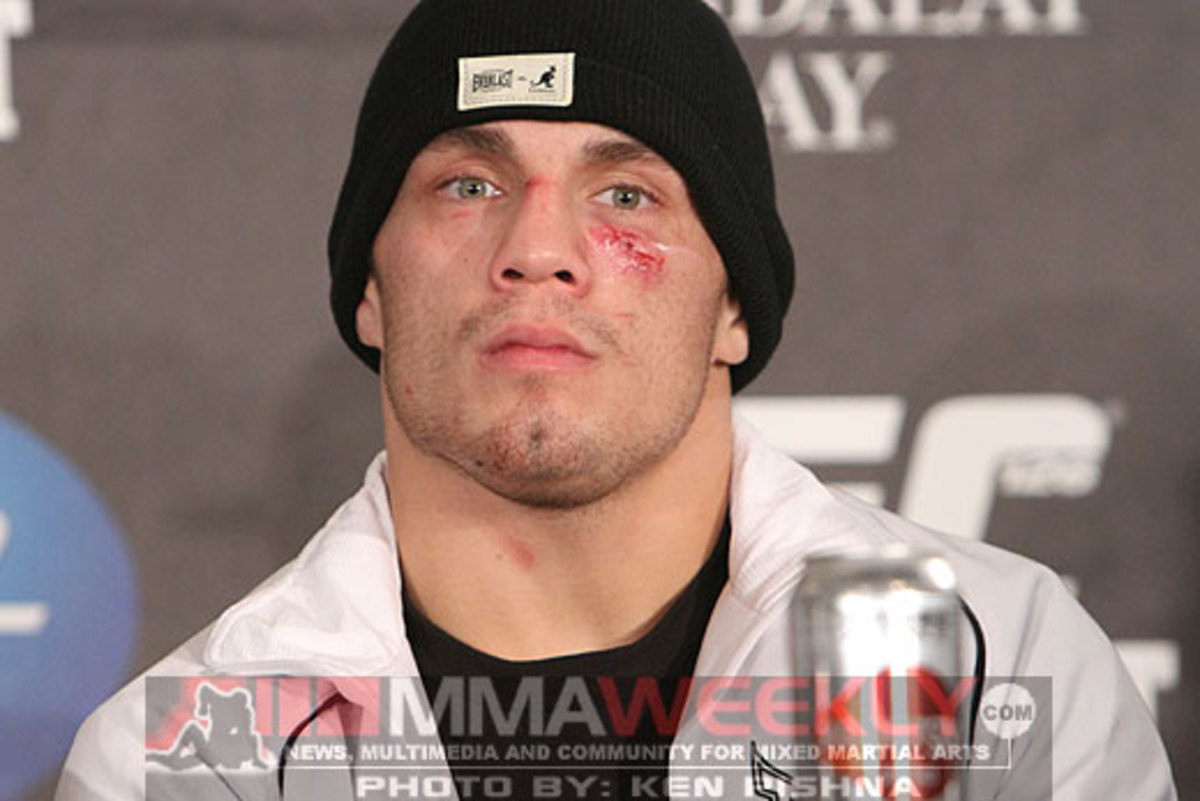 Coming it at number 8 is the Nebraska-native, Jake "The Juggernaut" Ellenberger. Known for his explosive power on the feet and his excellent wrestling skills, Ellenberger has racked up a total UFC record of 7-2, including a Knockout of the Night award performance against Jake Shields. Ellenberger lost his UFC debut in a controversial decision to now-top ranked contender Carlos Condit. That performance showed everyone the potential of "The Juggernaut", where he would then go on a 6-fight winning streak. That streak came to a halt when he fought fellow top contender Martin Kampmann; despite hurting Kampmann early, Jake was outmatched on the feet to the striker and was finished in the first round.
Since then Ellenberger has only fought once, a decision victory over former UFC-vet and anticipated returning fighter Jay Heiron. Ellenberger is scheduled to meet another anticipated returner in Nate "The Great" Marquardt, the former Strikeforce champion.
7. Demain Maia
Labeled as being the best grappler in the UFC, Demain Maia has completely turned his career around since dropping down to 170. Maia came into the UFC with just 6 fights of experience, but went on a 5-fight winning streak before he tasted defeat for the first time. After his lackluster title shot against Anderson Silva, Maia went on a streak of inconsistency; going 3-2 in his next 5 fights, all ending by decision. After that Maia made his drop to 170 where the fighters weren't so big despite nearly all having wrestling skills; turns out that seems to be the greatest decision of his career.
Maia is 3-0 at 170, all wins over top level competition and seems to be rising up the ranks quickly. At 170 Maia seems to be a lot stronger, which means he can utilize his grappling a little more efficiently. I'm excited to see who Maia will be matched up with next, hopefully someone who can spring him to the top of rankings to get his name in line for a title shot.
6. Martin Kampmann
Next up on the ranking, at spot number six, the well-rounded Danish fighter Martin "The Hitman" Kampmann. Kampmann has forever been known as an exciting fighter as he likes to get into intense punching exchanges, but also possesses some of the most dangerous submissions in the division. While Kampmann may have had a bit of bad luck in his bouts with Diego Sanchez and Jake Shields (Fights where everyone but the judges had him winning), he rebounded well with wins over Rick Story, Thiago Alves, and Jake Ellenberger. However, Kampmann lost his last fight by knockout to the top ranked fighter Johny Hendricks.
Kampmann next fight is unannounced, but it should be someone who is near the top-ten. Possibly Tarec Saffeidine? Whomever it is, expect an entertaining bout as "The Hitman" almost always delivers.
5. Nick Diaz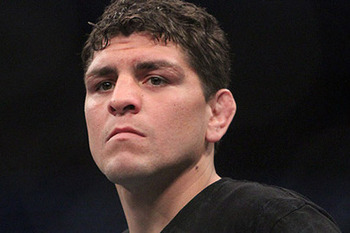 One of the most infamously known fighters to fight at 170 lbs is the Stockton-native, Nick Diaz. Diaz has received immense amounts of hype following the scheduling of his title shot last year; but when an ACL injury forced GSP out of the event, Diaz was rescheduled to compete for the interim title against top contender Carlos Condit. Condit displayed excellent footwork and movement against Diaz and edged him on points at the end of the fight; a fight that many believed Diaz won. Diaz was extremely frustrated after the fight and unofficially retired. When Diaz's retirement was over, Diaz looked to get back into another fight; however, post-fight drug test results from the Condit fight came back positive for marijuana and Diaz was put on suspension. Now that Diaz's suspension is over, he and Georges St. Pierre can finally do battle in a fight that should've taken place last year.
Diaz brings a unique style of fighting into the Octagon. He possesses some of the best straight-up boxing in MMA, mixed with an incredible ability to take a punch. Combine that with a high-level Gracie Jiu-Jitsu black belt and Stockton, California attitude and you get Nick Diaz.
Diaz has earned himself a love-hate reputation throughout the course of his career; but one thing is for sure, he can fight. Diaz has fought the best competition all over the world: from the UFC to Pride to Elite XC to Dream to Strikeforce and now back to the UFC. Expect Diaz not to back down and let Georges get comfortable in their bout, as he could potentially give GSP the toughest fight of his career.
4. Rory MacDonald
Considered to be the greatest fighter in the UFC under 25 years old, Rory MacDonald has spread his name through the media as being the next big thing in the 170 lb division. The 23 year old Canadian, who trains at Tri-Star with the likes of Georges St. Pierre, has racked up solid wins in the UFC with 5-1 record under the promotion. His only loss, a last second come-from-behind stoppage to Carlos Condit, is the only blemish on his record, and is one that he is looking to avenge. The rematch between MacDonald and Condit was scheduled for UFC 158, but an injury took him out. Now looking to hop back into the heat of things is "The Water Boy".
MacDonald's biggest strength when stepping into the Octagon is ironically his strength. MacDonald showed his physical dominance when he ragdolled Nate Diaz for 3 rounds, and when he batted BJ Penn around for 15 minutes as well. MacDonald possesses a well rounded game; a strong striking game combined with powerful wrestling and brutal ground and pound. MacDonald is a threat to anyone who can't stuff his takedowns. Look for MacDonald to try and come back from his most recent injury by taking on someone like Demian Maia, someone who could catapult him to fight for top contention.
3. Carlos Condit
At number three, Carlos "The Natural Born Killer" Condit. Condit has had one of the most impressive UFC careers to date; racking up victories over Nick Diaz, Dong Hyun-Kim, Rory MacDonald, and Jake Ellenberger. Not only has Condit been impressive compiling notable victories, but he's highly touted as being an exciting fighter. Condit possesses technical Muay Thai and kickboxing skills, combined with a dangerous ground game.
However those aren't what usually wins him fights; it's his intelligence. Condit is one of the most intelligent fighters that you'll fight out there. He structures the best possible game-plan and executes in perfectly; you could see that in his victory over Nick Diaz. The other amazing thing about Carlos Condit is that he's not stagnant. He's constantly changing his style, his approach, and his mindset from fight to fight which makes him a scary fighter to go up against. While Condit may have fell short in his title shot, he could potentially earn himself another as he takes on fellow top contender Johnny Hendricks at UFC 158 to sprout the official number one contender.
2. Johnny Hendricks
Hendricks has been overlooked by the UFC for a while now. He's knocked out 2 top ten fighters, and defeated another by decision. However, Hendricks still hasn't earned himself a title shot; that just shows you how immensely stacked the 170 lb division is. But make no mistake about it, Hendricks is near the top.
In my mind, Hendricks and Condit are tied in terms of rank, but I hate ties. I put Hendricks slightly above Condit because of one thing; knockouts. While Condit has scored his fair share of knockouts (Dan Hardy and Dong Hyun-Kim), Hendricks has scored his over better competition (Jon Fitch and Martin Kampmann). Hendricks has scored himself an impressive UFC record of 9-1, his only loss coming to former contender Rick Story back in 2010.
Scoring Knockout of the Night awards three times in UFC career, "Bigg Rigg" brings hulk-like power to the welterweight division. Anybody who stands and bangs with Hendricks is destined to get hit and be put to sleep, just ask Martin Kampmann. Kampmann has taken the heaviest shots from the best of them, (middleweights, Paul Daley (Considered one of the strongest punchers at 170), Jake Ellenberger, and Thiago Alves), and Hendricks put him out cold with just one left hook. That's power.
Hendricks will be fighting Carlos Condit at UFC 158 in a fight that should produce the true number one contender at 170 lbs. Hendricks has struggled a bit when facing wrestlers who can tie him up, but even then, Hendricks has outwrestled them. Hendricks brings an NCAA Division I wrestling pedigree into the Octagon, so taking him down and trying to overpower him will be a fight in itself. Will it be another highlight-reel KO for "Bigg Rigg"? Or will NBK earn himself another chance at the belt?
1. Georges St. Pierre
Shouldn't be any surprise here. The Canadian superstar is considered to be the best straight martial artist in the world. He holds a 3rd degree black-belt in Kyokushin karate, a black-belt in BJJ under Gracie Barra, a black-belt in Gaidojitsu, and a black-belt in Shidokan karate. GSP has compiled a UFC record of 17-2, but hasn't lost a fight since he was upset by Matt Serra in April of 2007. Since then he has gone on a 10 fight win streak, with 7 successful title defenses. GSP is also top 3 in the argument for number one Pound-For-Pound, despite not having changed weight classes.
While many fans want to see GSP in a super fight against the equally credentialed middleweight champion, Anderson Silva, "Rush" could potential be busy at 170 defending his belt against the divisions top contenders that seem to be sprouting new every year. GSP will be defending his belt for 8th time against previously listed Nick Diaz, in a fight that has been said to "reveal his dark side". GSP has taken controversy and criticism toward his fighting style. Before GSP was upset by Matt Serra, GSP was primarily a stand-up fighter. He out struck fighters, and could finish them on the feet; but when he was caught by Matt Serra, GSP turned into a safe, "riskless" fighter.
Having failed to finish a fight in nearly 4 years, GSP has seemed content to out-point his opponents. While his last performance against Carlos Condit may have earned the Fight of the Year award, it still was not a finish and left many fans disappointed. We'll see if GSP's "dark side" will reveal an even more dangerous version of Georges against Diaz that we may not have seen before. Despite the heat taken toward GSP, it's undoubted that he is the number one welterweight of today, and in history.
Thanks for reading!
-Hodgi