For the longest time, the light-heavyweight division has been known to be the "face" of the UFC. It's held household to some of the biggest names in MMA history such as; Tito Oriz, Chuck Liddell, Shogun Rua, Jon Jones, Randy Couture, etc. However, it has always been an extremely dynamic division. Jon Jones is the first champion since Chuck Liddell to hold the belt and actually hang onto it. This is my current top 10 UFC LHW rankings. Also, at the end, is my thoughts on who should be next in line for the title shot.
10. Ryan Bader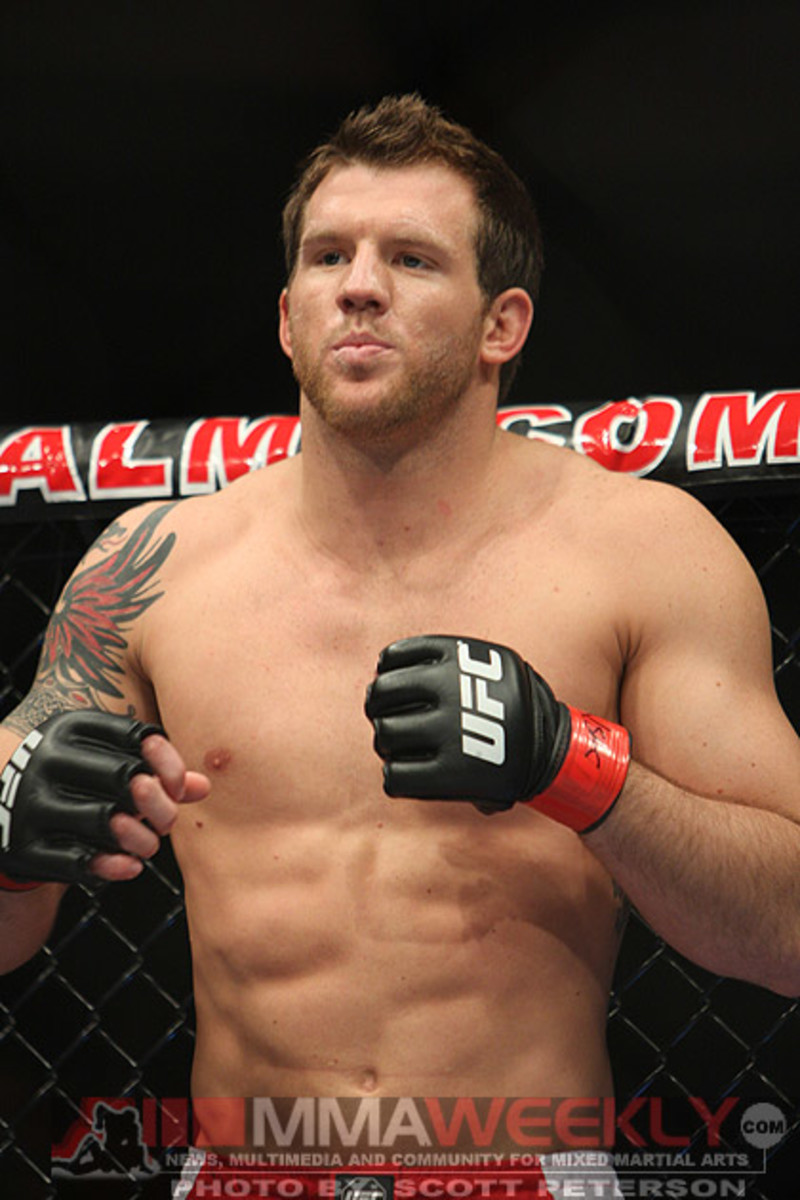 Starting this top ten off is Ryan Bader, an Ultimate Fighter Season 8 winner. Bader is known for his one-punch KO power, and his explosive wrestling game. Bader looked to be rising up the 205 lb ranks, just like Jon Jones was at the time. Eventually, Bader met the rising-contender Jon Jones while on a 5-fight winning streak. Bader was out-struck, and out-grappled as he was choked out in the first round. Since then, Bader has been 3-2; including an upset loss to Tito Ortiz, a KO loss to Lyoto Machida, but also a decision win over former champion Rampage Jackson. Recently, Ryan Bader is coming off of an impressive tooling of Vladimir Matyushenko, and was scheduled to face rising contender Glover Teixeira but had to pull out due to injury. Look for Bader to possibly face someone in the Summer.
9. Phil Davis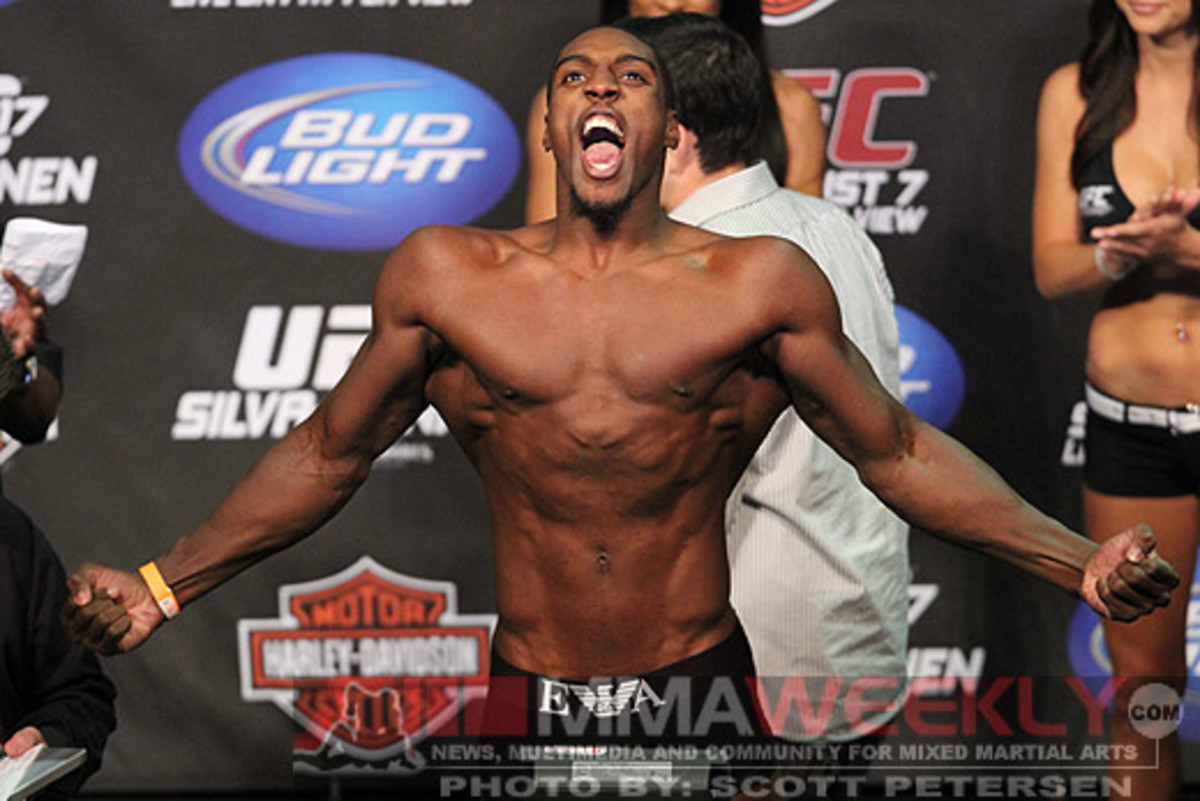 Coming in at num. 9 is the super athletic grappler "Mr. Wonderful", Phil Davis. Davis has an impressive record in the UFC at 6-1-1. Davis is known for excellent wrestling abilities that compliment his physical athleticism, as well as his very high-level submission skills. Davis has finished 3 of his opponents in the UFC via submission and is one of the few fighters in the top 10 that has that advantage over his opponents. Davis's career has been at a bit of a stifling as of late; he fought UFC newcomer Wagner Prado in August of last year. The bout was registered a No Contest when Prado was unable to continue due to an illegal eye poke. The bout was scheduled for a rematch; Davis won the bout by 2nd round anaconda choke. Davis was then scheduled to face UFC veteran Forrest Griffin, but Griffin had to pull out last-second via injury. The bout was scrapped and Davis was forced to find another opponent for a later date. Now, Davis is scheduled to face Vinny Magalhaes at UFC 159.
8. Rashad Evans


Once being considered the best UFC Light-Heavyweight at one point, Rashad Evans has faced a series of ups and downs through-out his career. Evans started his UFC career out strong after winning The Ultimate Fighter, going 8-0-1, becoming champion when he defeated Forrest Griffin. However, the rising star in Lyoto Machida stole that belt via KO, giving Evans his first UFC loss. Rashad rebounded well however, going on an impressive 4-fight win streak including victories over Rampage Jackson, Thiago Silva, Tito Ortiz, and Phil Davis. But as of late, Evans is on a 2-fight losing streak. Evans lost his title shot attempt to Jon Jones, and then was upset by Antonio Nogueira last February. This last lost especially drops Evans down the rankings; look for him to get a chance to climb back up when he faces Dan Henderson this June.
7. Mauricio Rua

Much like Rashad Evans, "Shogun" Rua was at one time considered the greatest light-heavyweight on the planet. Shogun won the 2005 Pride Middleweight Grand Prix; defeating Rampage Jackson, Antonio Rogerio Nogueira, Alistair Overeem, and Ricardo Arona to win it. At this time, Shogun was the baddest man on the planet. Racking up an MMA record of 16-2 with some of the most impressive wins in the game, Shogun was headed to the UFC. Rua was already ranked among the top in the world, but his stock severely dropped when he lost his UFC debut to Forrest Griffin. A lackluster win over washed up MMA veteran Mark Coleman, and Rua was matched up against Chuck Liddell in what appeared to be a suicide match for Shogun. However, Rua rose to the occasion, knocking out Liddell in the first round and becoming the number one contender. Lyoto Machida was the champion at the time, and Rua and Machida fought for 5 rounds in October of 2009.
Being labeled as one of the biggest robberies of the year, Machida took the decision. A rematch was scheduled and Shogun won in devastating fashion, knocking Machida out cold in the first round. Since then, Rua has been 2-2, and hasn't looked like himself. His cardio doesn't seem to be anywhere where it should, and his striking seems to be getting worse rather than better. However, Rua will have a chance redeem himself and keep himself in the mix in a matchup with Antonio Rogerio Nogueira, one the opponents he defeated in Pride, in June.
6. Glover Teixeira


Coming in just short of the top 5 is Glover Teixeira. Teixeira was one of the most experienced and talented fighters not fighting in a popular organization before he entered the UFC in May of 2012. Teixeira debuted impressively when he took out Kyle Kingsbury in the first round. Then he fought the talented Brazilian boxer Fabio Maldonado; Glover would then win the bout via doctor stoppage after the second round. Glover was then greeted with a high profile bout, former UFC champion Rampage Jackson. Teixeira defeated Quinton by decision last January to earn himself a spot among the top 10. Teixeira was scheduled to face Ryan Bader, but Bader was pulled from the bout due to injury. Now, Teixeira will be fighting New Zealand slugger James Te-Huna, who is on a 4-fight win streak.
5. Antonio Rogerio Nogueira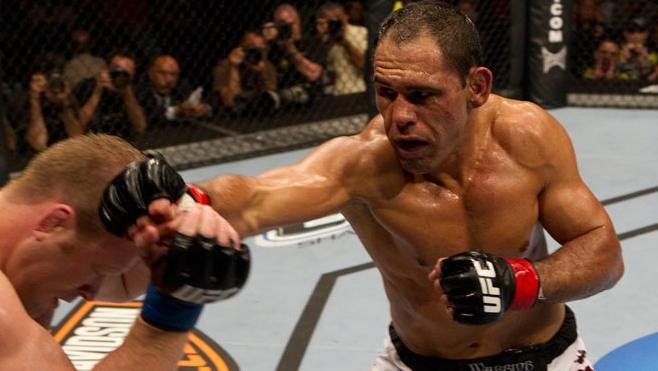 Coming into the UFC with a record of 17-3 and loads of experience, Lil Nog's UFC career was highly anticipated. It started out with promise when he knocked out Luiz Cane in his debut. However, a lack-luster decision victory over Jason Brilz had critics doubting Lil Nog's future. Following his 2-0 beginning, Lil Nog dropped two consecutive bouts; decision losses to Ryan Bader, and Phil Davis. At that time, Nogueira's career didn't appear to be very promising. Nogueira received a chance to redeem himself against UFC veteran Tito Ortiz. Nogueira was able to perform impressively when he TKO'd the former champ in the first round. After that, Nogueira was scheduled to face Rashad Evans. Heading into the bout, Nogueira was a severe underdog and didn't seem to be getting much fan support as Evans was the destined favorite to win. Nogueira went on to win a decision as he out-struck Evans, who seemed to be struggling mentally thoughout the fight. Nogueira is now ready to take on Shogun Rua this June for a chance to put his name up in the top 3.
4. Dan Henderson


A true veteran among the elite in MMA, Dan Henderson has faced the sports' most elite fighters throughout his career; such as Fedor Emelianenko, Shogun Rua, Anderson Silva, Vitor Belfort, Wanderlei Silva, and the list goes on and on. At 42 years of age, Dan Henderson finds himself at 4-2 in the past 2 years. Henderson went on a 3-1 stint in Strikeforce, including a KO over MMA great Fedor Emelianenko. Henderson returned to the UFC with a Fight of the Year performance against Shogun Rua, winning a unanimous decision. Henderson then took on Lyoto Machida in what was being rumored as a title-eliminator bout. Henderson was scheduled to face Jon Jones, but after injuries and cancellations, Henderson was forced out of the bout and against Lyoto Machida. In a lack-luster bout, Henderson dropped a close decision as he was unable to catch Lyoto Machida and was ultimately out paced. Henderson gets a chance to spring back up there as he faces Rashad Evans this June.
3. Alexander Gustafsson


It's been 3 years since Gustafsson last loss in the UFC. He came into the biggest fighting promotion in the world known as "The Mauler", racking up an 8-0 record outside of the UFC and only going the distance once. He knocked out his opponent in the first round, making it clear that Gustafsson was a force to be reckon with. However, he faced a minor setback in his second bout when he was choked out by superior grappler Phil Davis. After that loss, Gustafsson went to go and train with Davis; improving his wrestling and grappling skills. That was his only loss of his career as he would go on a 6 fight winning streak including victories over Mauricio Rua, Thiago Silva, and Matt Hamill. Now, Gustafsson finds himself among the top 3 in the weight division. He's scheduled to face top-ranked newcomer Gegard Mousasi, a highly experienced fighter who is number one in the rankings outside of the UFC. Expect this to be an extremely even match up, as both fighters play into eachothers' strengths and weaknesses.
2. Lyoto Machida


Lyoto Machida, another fighter who has tasted the number one ranking in the past. Machida entered the Octagon undefeated in July of 2006, and stayed that way until he finally lost in October of 2009. Machida went on a 6-0 streak initially before he earned himself a title shot at the champion Rashad Evans. Machida knocked Evans out in the second round, and was then forced to defend his belt against Shogun Rua. Machida won the bout controversially, but was then KO'd in the rematch. Machida then faced a strong setback when he lost a controversial decision to Rampage Jackson. However, he rebounded well and performed the Knockout of the Year KO on Randy Couture when he knocked him out with a jumping front-kick. This would earn Machida another shot at the title, against Jon Jones. Machida was the first person to win a round over Jon Jones, but was choked out in the second round. Since then, Machida has scored a KO over Ryan Bader, and a close decision over Dan Henderson. Machida, right now, is waiting for the 205 title-picture to clear up as it is quite a mess. Look for my breakdown of the LHW title-picture at the end of this blog.
1. Jon Jones


Jon Jones has been the most impressive fighter the light heavyweight division has ever seen. Sure, you've had Tito Ortiz and Chuck Liddell go on their title reigns, but nothing as dynamic and impressive as Jon Jones. Jon Jones became the UFC's youngest champion, at 22, when he finished Mauricio Rua in the 3rd round. Jon has then taken out Rampage Jackson, Rashad Evans, Lyoto Machida, and Vitor Belfort. Jones is making his fifth title defense against Chael Sonnen, a man who has successfully campaigned his way to the top of a division he has never stepped foot in.
Now let's break into what we can expect as far as the next title contender. We have:
Jon Jones vs. Chael Sonnen for the title
Alexander Gustafsson vs. Gegard Mousasi for top contender
Lyoto Machida who beat Dan Henderson in the non-official title-eliminator match up.
So let's go through some possible scenarios and I'll give my take on what I think should happen:
Jones beats Sonnen
Gustafsson beats Mousasi
If this happens, I see no reason why Gustafsson should be forced to wait again. Give Gustafsson the title shot! He's more than deserved it and especially if he beats Mousasi impressively (as in, more impressively than Machida was against Henderson). Lyoto should wait and either fight Mousasi or Sonnen. Or, don't forget, if Rogerio Nogueira defeats Shogun, he'll be up there with the aforementioned fighters.
Jones beats Sonnen
Mousasi beats Gustafsson
Should Mousasi defeat Gustafsson, I don't think Mousasi will get the title shot. Unless, he finishes Gustafsson in devastating fashion, which is definitely possible with Mousasi's skills, but against Gustafsson I think it'll be a competitive fight. In this case, look for Machida to get a rematch against Jones as Mousasi would have to possibly beat the winner of Shogun/Lil Nog to get the next title shot.
Sonnen beats Jones
Mousasi beats Gustafsson
Same kind of thing here. Don't expect Mousasi to get the title shot, it'd definitely be Machida as Sonnen has talked some trash on Machida before. For Jones, anything is possible. Hell, he could even move up to heavyweight! In this scenario, look for Machida vs. Sonnen for the LHW title, and Jones vs. Mousasi possibly if he decides to stay at 205.
This was my top 10 UFC heavyweights. As a side note: I did not include Mousasi in the rankings as he has not officially made his debut, making it really hard to rank him. However, in my eyes, he's definitely top 5. Thanks for reading!
-Hodgi