The 145 lb weight class was once regarded as being "weak on talent" and a "shallow" division. Now, it's one of the UFC's most competitive and action-packed weight classes it has to offer. At featherweight, you find complete martial artists who have as much speed and explosiveness as you can pack into the condensed frame of 145 pounds. The talent in this weight class has been overwhelming and now, with so many fighters clawing their way to the number one spot, there should be more attention and action than ever. Let's bust into the current top 10 rankings!
10. Clay Guida
Guida may not be everyone's favorite fighter, but his motivation and determination to be can speak for itself. Guida has hit a streak of uneventful bouts lately, be that as it may be, Guida took out one of the best 145'ers in his featherweight debut in Hatsu Hioki (pushing Hioki out of the top 10 in my mind). Guida displayed excellent takedowns and top control in that bout, despite being outstruck and attacked with submission throughout the bout. Guida was scheduled to fight Chad Mendes, a fight that could put him higher into the pack, but was forced out due to injury.
9. Darren Elkins
Scheduled now to replace Clay Guida is Darren Elkins. Elkins first made his UFC debut in 2010; he has only lost one bout in the UFC and is currently on an impressive 5-fight win streak. While Elkins' competition isn't all too impressive, look for that to change drastically the next year or two (depending on how much he wins), especially now stepping in for Guida against Mendes. This Elkins' chance to get his name among the top 5 in the division. Elkins is a well-rounded fighter being a talented wrestler and racking up 7 of his 16 wins by (T)KO. Look for Elkins to step his game up even more-so as he enters a new, promising chapter of his career.
8. Dennis Siver
The talented Russian Karate fighter, Dennis Siver, made splashes in the featherweight division when he made his divisional debut against Diego Nunes back in April of last year. Since then Siver has scored a win over veteran Nam Phan, and was scheduled to face fellow contender Cub Swanson in February, but had to pull out due to injury. Dennis Siver known to be one of the best strikers in the featherweight division and will be hungry to get back into the Octagon and try to make his name among the elite of the division.
7. Dustin Poirier
Once among the elite of the division, the exciting and talented Louisiana fighter Dustin Poirier has dropped to 1-2 in his last 3 bouts. However, they were against tip-top competition, which shouldn't drop him much at all; considering that he has 5 wins in the UFC and hasn't lost a bout to a non-top 10 fighter since August on 2010. Poirier still remains in the top 10, and I think 7 is where he belongs. His dynamic and technical striking forces opponents to grapple him, where he then can execute his dangerous submission game. Poirier has finished 11 of his 13 victories by either submission or (T)KO. Keep in him, this guy is still incredibly young at 24, and will have a long time to get some more wins under his belt.
6. Chad Mendes
Coming in at number 6 is former title challenger Chad Mendes. According to a lot of other rankings, it's a general consensus that Chad Mendes should be top 5 if not top 3; however I disagree. Chad Mendes was on a streak heading into that fight against Jose Aldo; an 11-fight win streak with wins over Rani Yahya and Michihiro Omigawa, but is that deserving of his placement in the top 5? I don't agree. I think Chad Mendes is definitely on the brink of being a contender again, especially with his 2-fight KO streak that he has going for himself; but again, it's not over the best of competition. Rani Yahya is his best win, and of course the only other top fighter he fought was Jose Aldo. I think Mendes' can-crushing abilities are a little overrated, but he's still a very dangerous opponent. Mendes will be facing Darren Elkins rather than Clay Guida, and will be finally be facing some decent competition. Look for his fight to show where Mendes really stands in the division.
5. Cub Swanson
A true veteran of the featherweight division, Cub Swanson has been down at 145 pounds ever since 2006. He debuted in the WEC in 2007, racking up a record of 5-3 in the promotion before the WEC was swallowed up by the UFC. While Swanson may have lost his UFC debut to Ricardo Lamas, Cub Swanson went on an absolute tear afterwards. Cub Swanson's 4-fight win streak is one of the most impressive in the division, and is definitely bringing him extremely close to a title shot. With 3 KO's over notable competition, and a decision over Dustin Poirier, Swanson was in the mix to receive the next title shot. However, with lightweight Anthony Pettis pulling ahead of all the 145 lb contenders and being the next in line, Swanson is forced to fight atleast one more fight. Look for Swanson to be forced into getting at least another win if he wants a shot at the belt.
4. Korean Zombie
Korean Zombie has been a long-time fan favorite of not just fight fans, but other fighters and even Dana White himself. Chan Sung-Jung has, so far, one of the greatest UFC careers in history with only 3 fights: A submission of the night(year) award performance over Leonard Garcia via twister, a record-time tying finish over Mark Hominick (7 seconds), and a fight of the night(year) and submission of the night award performance over Dustin Poirier. If that's not absolutely incredible than I don't know what is. The only thing hurting Jung at this point is the fact that his last fight was all away back in May of 2012; allowing all the other contenders to sneak in atleast another victory, which has dropped Jung down to 4th. But wait no longer, Korean Zombie will be making his long awaited return against Ricardo Lamas in what should be a title eliminator match on the 6th of July.
3. Frankie Edgar
Don't let Frankie Edgar's current 3-fight losing streak fool you, he is a top ranked fighter and is has been been mentioned as one of the pound-for-pound. While he may not be a champion or a dominating force, Edgar is a fight that can literally give any champion a run for their money. He displayed that when he dropped down to 145 lbs and fought Jose Aldo in a super-fight. Edgar gave Aldo his toughest fight to date despite losing a close decision.
Edgar's high-volume striking doesn't do too much for him in the eyes of the judges and fans when deciding who wins fights, even though Edgar can dominate the fight-stats. In his fights with Benson Henderson, it was the significance and power behind Henderson's strikes that one the fight for him; the same thing could be said for Aldo. However, Edgar is still the only one to really give Aldo a competitive fight, and for that, Edgar deserves to be among the top 3.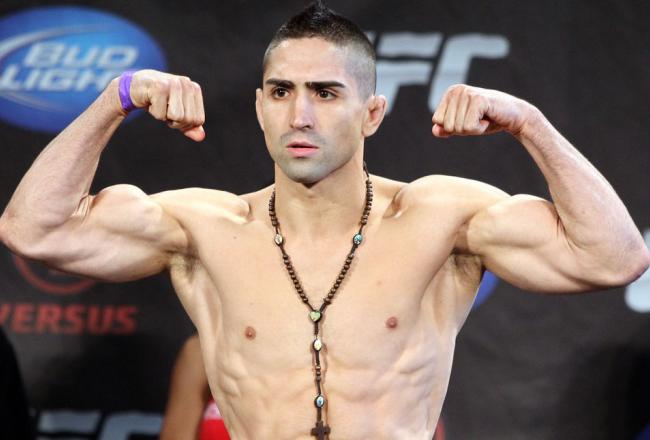 2. Ricardo Lamas
Coming it at second place is top contender Ricardo Lamas. Lamas is a WEC veteran and also a true pioneer of the featherweight division along with Cub Swanson and many others on this list. During his time in the WEC, Lamas didn't really show too much potential in being a top contender; that all changed when he entered the UFC. Lamas finished Matt Grice and Cub Swanson before taking on top ranked Japanese fighter Hatsu Hioki. Lamas won the bout via decision and was then matched up against former title challenger Erik Koch. Lamas performed impressively, finishing Koch in the second round by brutal ground and pound. Lamas's 4-fight win streak has earned him a title eliminator bout between him and Chan Sung-Jung, which will take place July 6th at UFC 162. Look for the winner of this bout to face whomever is champion after Jose Aldo fights Anthony Pettis.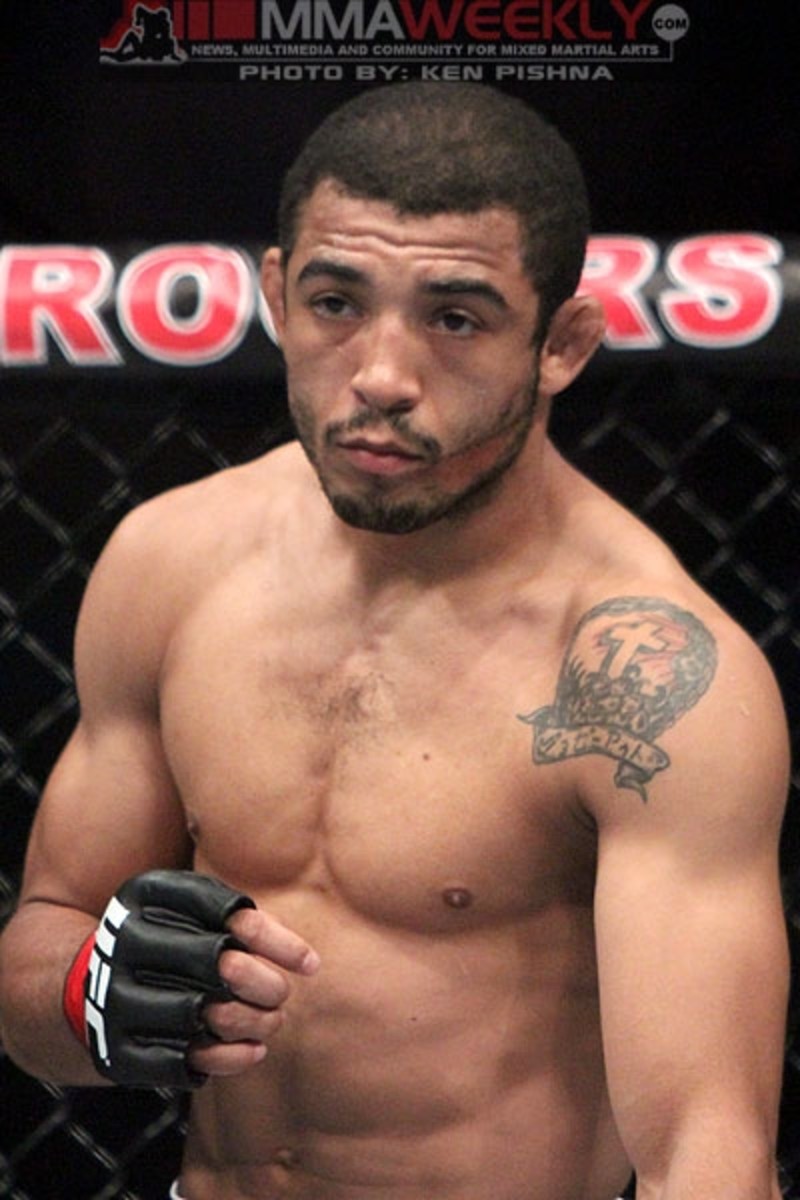 1. Jose Aldo
At number one, the UFC Featherweight Champion Jose Aldo. Jose burst onto the scene when he made his first couple appearances in the WEC. Aldo brought a 10-1 record into the promotion, but increased that to 14-1 within a year and a half of fighting. Aldo was quickly noted as being one of the most dangerous muay thai strikers in the game as he finished his first four opponents in the WEC by strikes.
Aldo earned himself a title eliminator match up against Cub Swanson; Aldo defeated Swanson in just 8 seconds via double flying knee. Aldo would then defeat the champion, Mike Brown, by TKO in the second round and defend the belt two more times in the WEC. When the WEC merged into the UFC, Aldo continued his streak of defenses by four defeating Mark Hominick, Kenny Florian, Chad Mendes, and the previously mentioned Frankie Edgar.
After Aldo's last bout with Edgar, it's been apparent that Aldo has not been as impressive. While his KO stoppage over Chad Mendes was spectacular, it's been his only finish in the UFC. He showed cardio issues in his bout with Mark Hominick, and was statistically out-struck by Frankie Edgar despite winning the decision. In Aldo's upcoming bout against Pettis, he'll have to really be on his game if he wants to hold onto the belt. Pettis has looked on fire lately; against bigger and more powerful fighters. Pettis and Aldo are rumored to fight August 3rd.
Those were my top 10 UFC featherweights! Please comment, enjoy your day!
-Hodgi