"Business as usual". That was the infamous quote given by Dana White when dealings between Strikeforce and Zuffa were being made public. It was mid-2011 when the UFC bought out the competing organization Strikeforce, however there wasn't much of a follow up. Strikeforce continued to have events (Although their ratings dropped as they began to run themselves dry), and they withered away until their final event (held January 12, 2013). It wasn't until earlier this year that the fighters themselves began to trickle into the UFC promotion. While there was a lot of skepticism out there as to how the newcomers would fare, the Strikeforce fighters so far have looked promising. Here is my top 10 list of Strikeforce fighters that have fought, or will fight, in the UFC.
Note: Both UFC and Strikeforce career is being taken into consideration, also whether or not they have debuted yet or not. (IE: A B level fighter who has already debuted and won in the UFC is going to be ranked higher than another B level fighter who has not)
10. Ronaldo "Jacare" Souza (Middleweight, 17-3 MMA 7-1 SF)
Starting off the list is the former Strikeforce Middleweight Champion, Jacare. Souza is best known for his dangerous ground work which is complimented greatly by his wrestling and fantastic credentials, which triumph nearly all of those who oppose him in the cage. While his striking game has been a weak facet of his game, he's been evolving it for the past several years and is starting to become a full complete MMA fighter at the age of 33. He is currently riding a 3-fight win streak heading into his UFC debut (scheduled at UFC on FX: Rockhold vs. Belfort, against rising top-contender Constantinos Phillippou) and could be just a few wins away from getting a shot at UFC gold.
9. Robbie "Ruthless" Lawler (Welterweight 20-9 MMA 3-5 SF)
One of the most exciting fighters that has came into the UFC from Strikeforce is "Ruthless" Robbie Lawler. He constructed a debut full of shock-and-awe when he TKO'd UFC vet and top ranked contender Josh Koscheck in the first round at UFC 157. Despite the fight result in a contested stoppage, Lawler showed just how much power he packs with him at 170 lbs. Looking to stay at 170, Lawler could quickly rise up the ranks and be knocking on the doorstep for a top contention status with another victory.
The key for Lawler to have success is going to be to stay at welterweight. Throughout his Strikeforce career, he fought at middleweight or even above, thus racking up an unimpressive record of 3-5. However, Lawler began his career going 9-2 at welterweight (including a UFC stint where he went 7-3 before leaving). Now with a successful return to welterweight, look for Lawler to bring the pain and send his career to a new time high. A second fight for Lawler has not been scheduled.
8. Antonio "Bigfoot" Silva (Heavyweight 18-4 MMA 3-2 SF)
Possibly being one of the most intimidating heavyweights out there, "Bigfoot" Silva brings some serious potential to the UFC's heavyweight division. While he may have only won 3 out of his 5 fights under the Strikeforce banner, he is no stranger to top competition. Silva was one of the first fighters to cross over into the UFC as they saw him as a beastly, athletic heavyweight; who's heavy hands combined with his top-notch ground game makes him a very dangerous opponent for anyone. Heading into his UFC debut against then-former Heavyweight champion Cain Velasquez, Bigfoot had a lot to prove.
Despite losing in the first round to Velasquez, Bigfoot was greeted with another chance to showcase his potential. He knocked out rising prospect Travis Browne, and then was matched up with fellow Strikeforce combatant and combat veteran Alistair Overeem. Although Silva was a heavy underdog coming into this fight, he rallied in the 3rd round to KO the heavily favored fighter and make a stake for a shot at the title. Silva will rematch Cain Velasquez for the Heavyweight belt at UFC 160.
7. Tarec Saffiedine (Welterweight 14-3 MMA 6-1 SF)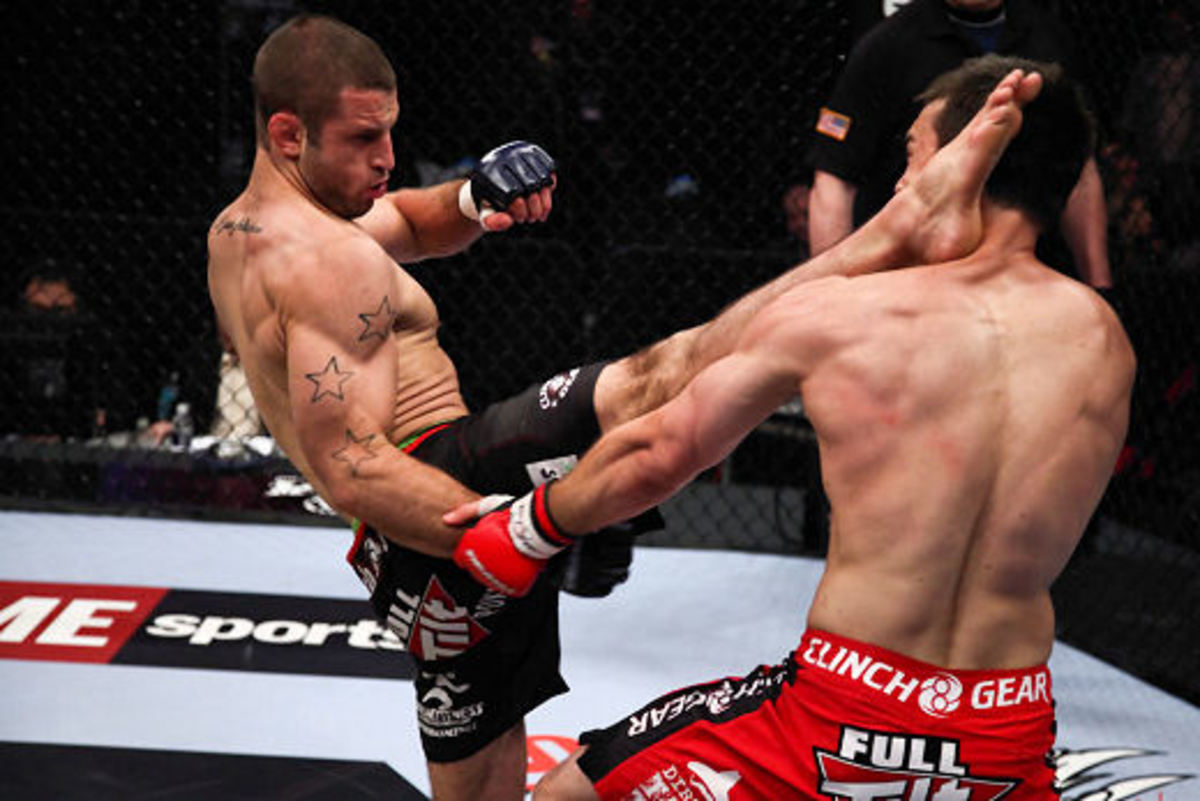 Next up coming in at number nine is the "Sponge", a Belgium-born karate styled fighter, and Strikeforce's last Welterweight Champion. It may seem odd to have a champion at number nine, but nevertheless Saffiedine is looking to make a great impact in the UFC's welterweight division (which contains a plethora of great match ups for him).
It wasn't until recent that Saffiedine's stock rose; it was his unanimous decision win over long-time UFC vet and former Strikeforce Champion Nate "The Great" Marquardt. Before that fight, Tarec wasn't awfully impressive; 5 of his 6 wins under the Strikeforce banner came by decision. However, that's his style. He's a technical striker who out-points the other fighter on the great, and uses his grappling and wrestling skills defensively; sound like anybody? You could relate him as a 170 lb Lyoto Machida. Maybe not quite as defensive as him, but the overall idea is the same. I'm looking forward to see how Tarec's style will work against the powerful wrestlers and hard-hitters that are in the UFC. His debuting fight has not yet been announced.
6. Luke Rockhold (Middleweight 10-1 MMA 9-0 SF)
Possibly holding one of the best records on the Strikeforce roster, the Strikeforce Middleweight Champion will be looking to make his UFC debut against top contender Vitor Belfort. Rockhold started out in Strikeforce fighting on the undercard and building his way up. Eventually he got the shot at Ronaldo Souza for the title, and beat him. Since then he defended his belt twice showcasing what he's all about. Rockhold brings a graceful kickboxing game, along with solid grappling capabilities and a bit of wrestling to back it up.
Ever since Rockhold made it into the spotlight, he's been targeted as one of the few who could potential dethrone the UFC's middleweight king, Anderson Silva. However, he'll have to continue his streak of excellence if he wants a chance to do as he'll be diving into a division full of talented fighters all striving for the top. Expect Rockhold to either sink or float as he has yet to taste much adversity in his current career.
5. Fabricio Werdum (Heavyweight 16-5-1 MMA 3-1 SF)
Coming in at number five on the rankings is the highly credentialed, Fabricio Werdum. Werdum has fought top level competition all his life; from Big Nog in Pride, to Junior dos Santos in the UFC, to the former MMA G.O.A.T Fedor Emelianenko under the Strikeforce promotion. Werdum possesses the most dangerous ground game in the heavyweight division, and an evolving stand up game to combine with it.
Werdum is no stranger to moving promotions and being put under pressure. He started his main-stream career fighting in Japan under the Pride organization. He went 4-2 there before he made his UFC debut in April of 2007. He ultimately left the UFC after 2-2 and started up in Strikeforce. After beginning 2-0 in Strikeforce, he received the opportunity to face Fedor Emelianenko in what would be the most important fight of his career. The heavy underdog was sent to canvas early by the Russian, only to pull off 20010's Submission of the Year as he slapped on a triangle/armbar combo to tap the highly touted Emelianenko and raise Werdum's stock immensely.
After losing a decision to Strikeforce's Heavyweight champ, Alistair Overeem, Werdum returned back to the UFC where went on a 2-fight win streak and is looking to back into top contention. While there are several other fighters all stacking up in line to fight for contention, Werdum can make a case for himself and has the skills provided to beat anyone who steps in front of him.
4. Daniel Cormier (Heavyweight 11-0 MMA 7-0 SF)
Along with Werdum in arriving heavyweight talent is the freestyle wrestling phenom Daniel Cormier. Cormier, just like Rockhold, made his name as he built it fight by fight. Getting into Strikeforce after just three fights, Cormier went on a 7-0 streak; defeating the likes of Antonio Silva, Josh Barnett, and Jeff Monson. Known for his relentless pace and heavy power, Cormier has finished 8 of his 11 opponents (6 in the first round). Cormier will be debuting in the UFC against former champion and long-time veteran Frank Mir in April.
3. Gilbert Melendez (Lightweight 21-2 MMA 11-1 SF)
At the third spot is Strikeforce Lightweight Champion, Gilbert Melendez. "El Nino" has compiled an impressive record against the world's top lightweights. He's fought about everybody there is to fight in his division that's not in the UFC, but that's going to change. Melendez is scheduled to meet Benson Henderson (UFC Lightweight Champ) in an epic duel to decide the ultimate lightweight of the world. Melendez brings a fast brutal fighting style to the Octagon that very few can keep up with.
Melendez debuted in Strikeforce in 2006 where he went 2-0, picking up the lightweight title when he edged the now-UFC vet Clay Guida. After that, Gilbert made a few trips to Japan and fought in Pride against their top lightweights. Gilbert made a scheduled return to America to defend the strap before losing it in a close fight against Josh Thomson. Gilbert would then win the Interim title, defend it, and then unify the title when he rematched Josh Thomson and won. Since then Gilbert has defended the title 4 times, and is looking to combine it with UFC gold as he locks horns in what should be an epic battle in April.
2. Gegard Mousasi (Light-Heavyweight 33-3-2 MMA 4-1-1 SF)
Gegard Mousasi, once labeled as MMA's next up-and-coming kingpin. Mousasi probably brings the most fighting experience out of the rest of the Strikeforce roster as he has nearly 40 professional MMA bouts combined experience in professional kickboxing, amateur boxing, and even a black-belt in Judo. Mousasi, just 27 years old, looks to have a very bright future ahead of him. However, the UFC has already thrown him a tough debut. He's taking on Alexander Gustafsson, the pride of Swedish MMA, in a bout that could decide the UFC's number one contender. Set to take place April 6th, Mousasi is going to have to train hard as both of these guys seem about equal on paper.
The thing that makes Mousasi so impressive is his versatility, and his insanely large arsenal. Mousasi has only gone to decision 4 times in his 33 professional wins; winning 18 by knockout, and 11 by submission. Not only does Mousasi look good on paper, but he also the showings to prove it. Mousasi entered the Dream 2008 Middleweight Grand Prix at just 22 years of age; choking out UFC veteran Denis Kang, out-dueling Pride veteran Dong Sik-Yoon, tapping the ferocious stand-up fighter Melvin Manhoef, and knocking out "Jacare" Souza to win it. This Grand Prix would carve the path to success for Mousasi. He entered Strikeforce and debuted in a Light-Heavyweight title fight against the champ and former UFC title contender Renato "Babalu" Sobral, knocking him out in the first round and taking home the strap.
Mousasi would then lose the belt in a controversial decision loss to rising prospect "King Mo". While he may have lost the belt, that didn't stop Gegard's streak of success as he picked it back up fighting between Japan and America and going on a 5-0-1 streak. Now heading into the biggest fight of his life, Mousasi could very well become the next big thing.
1. Ronda Rousey (Women's Bantamweight 7-0 MMA 5-0 SF)
At number one, meet the most successful woman athlete in current history, "Rowdy" Ronda Rousey. Ronda started her martial arts career off learning Judo, qualifying for the Olympics at just 17 years of age. At 19, becoming the first U.S athlete to win two Junior World Medals. In 2008, Ronda became American to win an Olympic medal in Judo since it's inception in in 1992.
You want to talk about credentials, she's got them: 4th dan black belt in Judo, 2-time Female Fighter of the Year Winner (2011 and 2012), 6-time USA Senior National Championship Winner, 3-time World Cup Senior Gold Medalist, the goes on and on.
Ronda Rousey could potentially be the greatest athlete in MMA, but it's hard to judge. When you compare her to other fighters could fit that title: George St. Pierre, Demian Maia, Daniel Cormier, etc. it's hard to rank her along side them. You have to look at her insane credentials in Judo, and then see the application to MMA. She has just about 12 minutes of total fighting experience in 7 professional bouts. She has won all 7 of her fights by the same technique in the first round. She has almost never been caught or put in any sort of trouble in her career. These types is what makes her the best Strikeforce fighter to enter the UFC, and could very well make her the greatest fighter in the UFC. Like I said, it's extremely hard to judge because she is competing in a complete different world than all of the fighters listed above.
Ronda Rousey debuted in the UFC, headlining UFC 157 against Liz Carmouche to defend her previously received UFC Women's Bantamweight Championship. Rousey finished her in the first round by armbar and got her name out there in the public media. Ronda Rousey is for real. She is predicted to fight the winner of Miesha Tate and Cat Zingano, although it has not been made official.