Wanderlei Silva will step into the Octagon for what could be a final time tonight in Japan to prove to the fans, his opponent, and himself that he is still in the game. He has mentioned thoughts of retirement before, but why Japan? Well it's obvious, that is where he became what he is. Japan was everything that birthed the vicious brawler known today as Wanderlei Silva. And tonight, it could all be put to a sad but happy ending.
Silva has worked tirelessly to adapt his game to the new-coming arsenal of techniques brought by this sports' front running young guns. The strategy and skillset contained in the mind and body of the Brazilian just could not cut it in the ever evolving fight game. Early in his career, he was able to charge through punches and fire off vicious combinations that would almost always rock his opponents, but when he came over into America, in the UFC, into the most cut-throat MMA organization out there, he was not the same.
It could have been due to age; at 36 years old today Wanderlei looks to be about twice that. His face, badly damaged from heavy blows sustained by the likes of even heavyweights such as Mark Hunt. His knees, torqued and put under so much pressure throughout his career. His mind, battered and withered with extreme disappointment, but also extreme pleasure.
Wanderlei Silva has been through it all, he does not have anything more to prove, but he's still fighting. Why? Because it's in his nature. The Wanderlei Silva of Pride is still the same person as today, but just in a completely evolved world. Silva still possesses vicious combinations, a deathly muay thai clinch, and that evil stare down that so many fighters have had the unlucky opportunity of staring into, however, it's been weakened.
Silva's chin is the most noticeable thing that has been labeled as "gone". We've seen Silva go toe-to-toe with heavyweights that could KO a horse, and stay standing through all the punishment just to deal it right back at them. But it seems that today just the slightest hook to the jaw wobbles him. Wanderlei will have to fight smart, contained, and patient from now on if he has any hope of continuing his career for several more years to come; that definitely doesn't sound to be in his nature, but it's true.
His opponent, Brian Stann, is a known power-puncher. He has solid boxing, fast hands, and a lot of power. He's also extremely tough as he has only been stopped due to strikes once, about 5 years ago. Stann will most likely look for the knockout on the feet, he knows Wanderlei isn't as fast as he used to be. He knows that his chin is heavily degraded. However, he also knows that he's fighting a man with as much heart and determination than anyone else in the world.
Silva loves fighting, he won't give that up easily. Expect Silva to fight for every last second that his body will let him. After-all, the only person he needs to prove anything to is himself. Should Silva lose, it's a decent guess to say that he's done. However, if he wins, it could possibly refuel Wanderlei Silva for atleast another fight.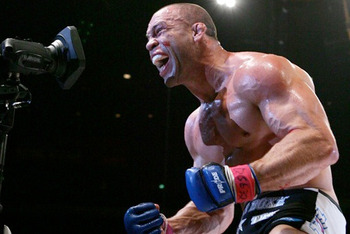 Stepping into the Octagon tonight Wanderlei will be more energized, more prepared, and more determined than ever as he'll be competing in his home away from home in Japan. Expect The Axe Murderer and Brian Stann to battle and bang until one of them drops. This means everything for Silva, so don't expect him to go down easy; atleast not without a fight.
Thanks for reading!
-Hodgi