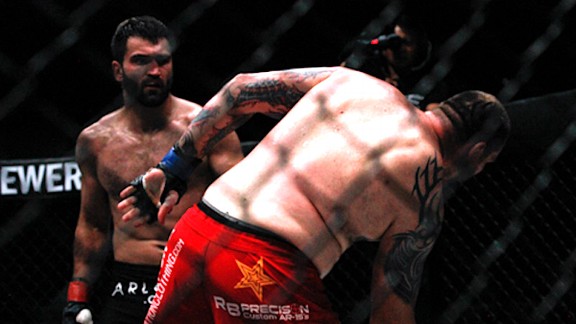 This past weekend is one MMA fans won't soon forget… though they may want to. First, we had to deal with the cancellation of what may have been a
fireworks-filled UFC 151 that was set to pit Dan Henderson, the man with
dynamite in his hands, against the polarizing 205 pound kingpin, Jon Jones.
Jones fans fervently awaited another dismantling added to the most dominant Light Heavyweight streak since Mauricio "Shogun" Rua's illustrious run for the Pride GP belt in 2005. Henderson fans (and, of course, Jones' detractors) believed the former Olympian had a chance at finding a home for his infamous "H Bomb". Both were forced to put those dreams on hold when the event was inevitably cancelled. So it goes.
But wait! As reported just last week, we had a fun matchup between former UFC Heavyweight Champions, Andrei Arlovski and Tim Sylvia. Surely this was a matchup that could satisfy our insatiable MMA craving. At least it was
supposed to.
In a contest that saw both fighters taking shots, receiving shots, and jockeying for position; the fight eventually ended in a "No Contest" as Arlovski, who had initially dropped his opponent with a right hand, proceeded to soccer kick his downed opponent.
I know what you're thinking…Â aren't soccer kicks allowed in One FC bouts?
Technically, they are. At least as long as the referee gives the go-ahead to the aggressor to continue his assault once his opponent is dropped. Yes, you read that right. A raging, jacked-up, adrenaline-filled monster of a man is expected to look to the referee before going for the kill against a downed opponent.
Of course, said adrenaline got the best of Arlovski (as it would any man, this noodly-armed writer included), who proceeded to attempt to punt Sylvia's oversized melon out of the cage and into the laps of the screaming fans. Referee Yuji Shimada waved off the fight, the crowd went wild, the announcers called the fight in Arlovski's favour.
Hold on a second. Mere moments later it's established that Arlovski had not waited for the referee's signal to assault the downed "Maineiac" and so the gight was ruled a "No Contest". For obvious reasons; Timmy's brain was noticeably scrambled by the big Belarusian's best Pele imitation.
The word on the forums following the fight is that the rule is ridiculous. And apparently One FC agrees.
A day after the fight, an official Tweet was issued from One FC's official Twitter:
"Effective immediately, ONE FC has adopted full PRIDE rules for soccer
kicks. Catch ONE FC: Rise of Kings on Oct 6!"
Great news for fans and fighters going forward —at least for those who lust for the bloodthirst and aggression that made Pride so popular a half-decade ago–not-so-great news for Arlovski, who would have earned himself another highlight reel finish if the organization had figured out the absurdity of their previous rule a little earlier.
Although he doesn't regret administering the fight-ending illegal blow. Arlovski, on Inside MMA, had this to say about the incident:
"Even if [the referee] didn't raise his arm I would have kicked him because before the fight he said he was going to kick me… It's exactly what I told Travis Browne and Greg Jackson. I told them I don't really care if they're going to disqualify me or not, if I have the opportunity to soccer kick I'm going to do it."
Hmm… these two really don't like each other, do they?
While a fifth match will inevetibly occur in the near future, this should serve as a lesson to all MMA organizations going forward that if they want to channel the spirit of Pride FC, they better commit themselves 100%. In any case, I'll be sure to tune in on October 6th to see if the new rule change has any effect on the matches.
Photo courtesy of ESPN