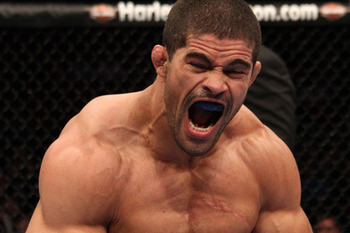 Set to take place in Australia, the next addition of UFC on FX gets a headliner; Rousimar Palhares vs. Hector Lombard.
With one UFC on FX card already approaching us (UFC on FX: Browne vs. Big Foot), this new addition to the December schedule to look to deepen the UFC's winter season some more.
Joining this headliner match up will be the fight between TUF coaches; Ross Pearson and George Sotiropoulos. These two lightweights will do battle and finalize the season of TUF: Australia vs. U.K.
These two bouts are the only ones made so far so let's hold off on any predictions about the entire card and switch to the headliner match up.
Both Lombard and Palhares are coming off of losses; Palhares to Alan Belcher, Lombard to Tim Boetsch. While these two may be not have any momentum right now, they both possess possibly the greatest potential in the division.
We've seen what Rousimar Palhares can do on the ground. It's simply devastating! However, fighters like Dan Henderson, Nate Marquardt, and Alan Belcher have shown the way to beat him is through ground and pound and/or takedown defense. Palhares possesses some of the best takedowns I've ever seen in the middleweight division, but because of his lack of length and reach, it puts him at a disadvantage.
Hector Lombard came into his UFC debut with a plethora of hype and fans wanting to see his aggressive KO power shine through in his first fight against rising middleweight contender Tim Boetsch. Not only was Lombard nearly unanimously pegged to win, but I think we could all agree that there was not a chance that this fight could be boring, nor go the distance. Well, the funny thing about MMA is that you can't count out the unexpected. Not only did Tim Boetsch get the razor-thin nod after 15 minutes, but it was not a crowd pleaser by any means.
Some people contribute the loss to severe Octagon jitters, some contribute it to Tim Boetsch's excellent game plan, others even accused Lombard of being a can crusher, and that his disappointing performance was proof of him not being able to beat worthy opponents. For me, I honestly don't know which one of these to believe in. I've seen what Hector Lombard can do, and much like Palhares, it's devastating. However, he's going to come into this fight with a lot of pressure on his hands, because we're all expecting him showcase the reason why he was regarded as the next "Silva-killer".
Now, to the fight. I hate to say this phrase, but it is honestly a perfect example of a "striker vs. grappler" match up. Palhares does wonders on the ground. He has powerful takedowns, brute strength, and some of the most technical and brutal submissions I've ever seen. On the other end, Hector Lombard is a very mean slugging machine. His KO power is second to none, his punches come as quick as they possibly can, and ontop of that he has an Olympic-level Judo game to either stay defensive in close quarters, or offensive. Something tells me Lombard isn't going to be needing any takedowns this fight.
At this point in time, I have not mustered up a definitive prediction. I really like both of these guys and I think that this will be the fight that will play hugely for one fighter, but will be devastating for the other. Both of these guys have the potential to be dominant champions, but it's going to come down to who can have the more well-rounded game and at this point, you'd have to go with Lombard.
Discuss article here