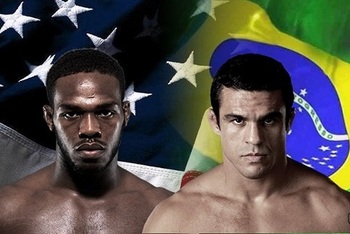 I've been playing this fight through my head a thousands lately because it's one of those fights that leaves me extremely curious as to what can, and what will happen. Although Vitor Belfort is an extreme underdog coming into this match up against Jon Jones, he has a big advantage on his side; the advantage of having your back against the wall. If you think about Belfort's place in the UFC and at 205, he really does not have anything to lose coming into this bout.
Belfort, first of all, is a middleweight and probably won't contend many fighters up at 205 (Unless he wins the title Sept. 22nd), so he won't really lose any progress he has made because he doesn't have any progress at 205. Unless you want to have his fights at 205 affect his middleweight progression, which wouldn't really make sense.
Also, stylistically Vitor Belfort has the perfect "upset-making" style. He hits hard, fast, and has probably one of the best killer-instincts in the game. That style can win him fights against anybody who stands across from him, whether they are Light Heavyweight Champions or not.
If you combine the "back against the wall" mindset and gameplan, if you will, with Vitor's natural style of head-hunting; you get a very dangerous opponent who is capable of stealing the belt.
Now let's not forget about Jon Jones. Jon is one of the most skilled competitors that MMA has ever seen and his increasing arsenal of striking, wrestling, and grappling techniques are starting to turn him into a wrecking machine who is looking not just for another title defense, but a legacy. Jones knows what he has to do coming in against Belfort, and vice-versa for the Brazilian. I think it will be very interesting to see Jon Jones' gameplan coming into this fight:
One game plan that Jon Jones might want to do, is to play it safe. Belfort is a very dangerous fighter on the feet, as was Rampage Jackson, Shogun Rua, Lyoto Machida, and Rashad Evans and he dispatched of them with relative ease. We might see Jon Jones look to use his reach advantage (as he seems to do every fight) and keep Belfort at bay while he cuts him down with distant strikes. If you think about it, Dan Henderson posed some very similar dangers to Jon Jones that Vitor Belfort will. So we may see Jon Jones use the same gameplan against Belfort that we would've seen against Dan Henderson.
Another possibility for Jon Jones is the ground game. I think that Jon Jones has a bigger chance of getting caught with something on the feet, than he does getting caught with something on the ground. A big question will be; what does Vitor Belfort have for Jones if he wants the fight the ground? Will he try to use submissions and other grappling techniques off of his back? Will he try to defend the takedown all together? Or will he just try to sling bombs as Jones comes in and hope he doesn't get taken down?
For Vitor Belfort I think we can be assured of one thing; he will want to end this fight as soon as possible. He is fighting a much bigger, stronger, longer, and more creative fighter than him. I see Belfort coming out and head-hunting immediately, the only problem is that Jones could very well be expecting Belfort to do just that, and take the fight to the ground immediately. While I don't think Belfort should dance around in front of Jones and play cautious, I do think Belfort should wait for his chance and not jump the gun.
Basically I see three different ways this fight could end:
Jon Jones via early Submission
This could be if Jon takes the fight to the ground in the first round, works his creative ground and pound and grappling, and softens Belfort up enough to get the submission. We could most likely see a guillotine choke in a very similar way in which he caught Lyoto Machida.
Vitor Belfort via early (T)KO
This would be if Belfort comes out calm, collected, and waits for his moment to blast Jon Jones. Movement will be a big thing for Vitor Belfort to control. If he lets Jon circle around him and utilize the whole cage area against him, than he can throw out that possibility of getting anything on the feet. For Belfort to win this fight with a knockout he should push forward and be in Jones' face, then wait for Jones to be against the cage and launch a big arsenal. Or he can wait for Jones to throw a leg kick as he usually does, then pounce on him like Lyoto Machida did in the first round. Either way it'll take one good flurry from Vitor Belfort to end this fight. Ultimately it will come down to how accurate, patient, and quick Vitor Belfort is.
Jon Jones via late (T)KO
This is assuming that Jon Jones picks Vitor Belfort apart from the outside. Like I said earlier, Jones is very good about utilizing his reach advantage every single fight. In this particular match up, he won't just have a reach advantage but a size advantage as well. I could see Jon Jones keeping Belfort at bay using kicks and punches, then possibly closing the distance for a takedown, and putting some ground and pound on Belfort for a finish. I don't know what Belfort's cardio will be like, if it is anything but good than you can expect to see Jon Jones win this fight single-handedly if it gets past the third round.
I hope after reading this article that you feel more educated about what you might see in the main event on Sept. 22nd. Even though it's an MMA fight and anything can happen, I've limited it down to three possibilities and some reasoning behind them. Thanks for reading, if you wish to discuss this article, please visit here