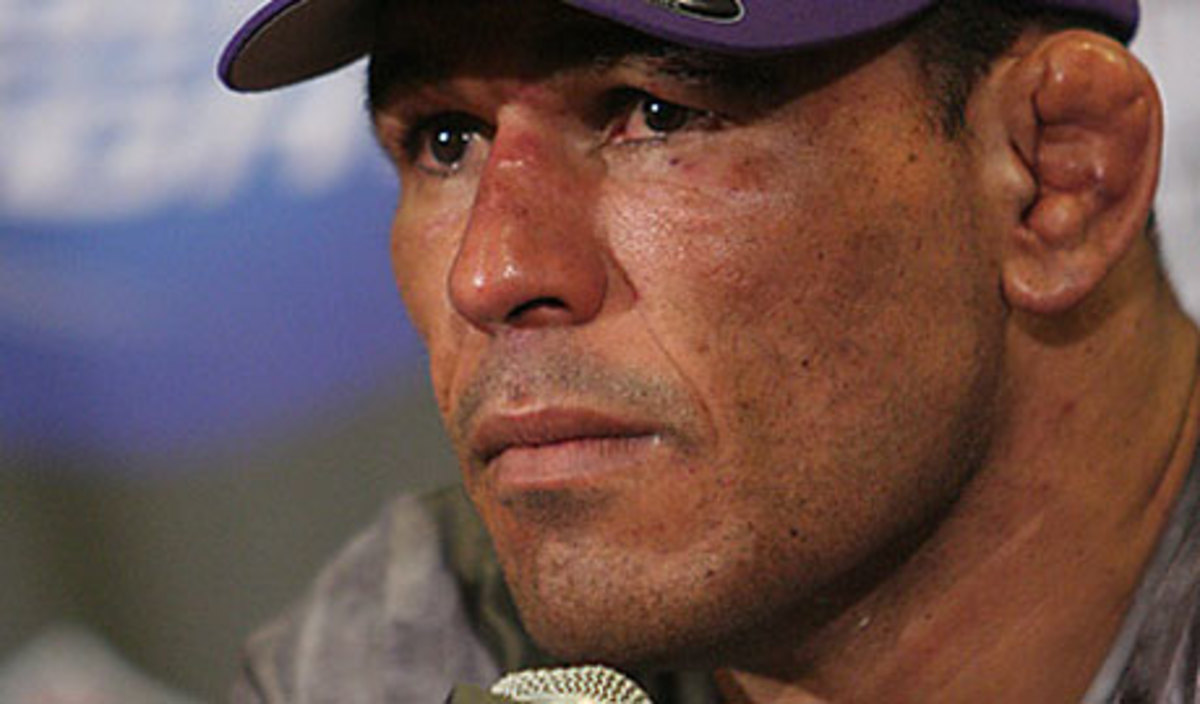 Coming into his headlining bout tonight against Fabricio Werdum, Nogueira has a lot on the line. The burning desire for combat lies deep within the heart of Antonio, but even a strong desire does not warrant the continuation of an already lengthy career. Nogueira has had one of the most legendary MMA careers known to many athletes today. Spanning over both hemispheres, 43 professional bouts, and 6 championship bouts, Antonio Rodrigo Nogueira has become a role model for, not just Brazilians, but everybody who appreciates strong heart and determination.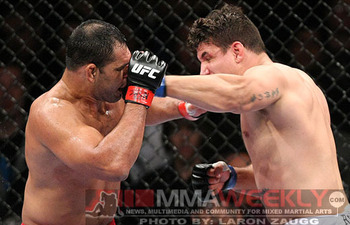 Nogueira's career hasn't all ups, he's had quite a few downs. Injuries have tested Nogueira's patience and physical abilities through-out his career, but even severe catastrophes like the truck-accident at 10 years old hasn't been enough to stop Big Nog. His will can also be seen in his fights; for a fighter known for his high resilience, Big Nog can take shots from the best of them and still find a way to win. This was displayed in his high profile bouts against Bob Sapp, Mirko Cro Cop, Heath Herring, Randy Couture, and Tim Sylvia.
So where does Big Nog stand today? Well, at 37 years old, he's quite the weathered individual. We've seen time and time again the everlasting effects that heavy amounts of punches can have on an individual, and with all of the punishment Nogueira has taken through-out his career, there's no doubt that Nogueira is not in the best of health. Combine that with the dramatic injuries he's endured and you wonder how Big Nog has been to continue this far.
While Nogueira may not be close to a heavyweight title shot, he's still a very valid contender. His opponent, Fabricio Werdum, is using Nogueira's name to leap frop over several contenders and reach that number one spot. With Werdum on a 2 fight win streak in the UFC, a big win over Nogueira could very well put him to be next in line after the inevitable rubber match between Junior dos Santos and Cain Velasquez. But what if Nogueira wins? I'd say Nogueira would need atleast 2 more victories in order to be brought into the number one contender discussion. Would two fights be too much for Nogueira? Who knows; logic tells me that Nogueira would be able to survive two more bouts against the current UFC heavyweights. But then again, we've all counted Nogueira out before when he's actually risen to the occasion.
Win, lose, or draw, you can expect Nogueira to go down swinging. He knows nothing else and will do nothing else. He may be old, he may slow and weathered, but Nogueira is still a damn good fighter and can finish anybody in the world. Depending on the outcome of tonight, retirement may or may not be in question. We've seen the works of Nogueira's coaching skills, being a coach on The Ultimate Fighter twice now and owning his own team, so I'm sure there'd be a strong welcoming reception to have Nogueira hang his gloves up and commit to coaching. Nevertheless, don't expect Nogueira to go anywhere for the next couple years.
-Hodgi