With a welterweight-heavy event in the books, there is a lot to think about regarding the exciting division. We have a title challenger, and an entire line-up of up and coming contenders. Let's take a look at some future match ups that we could expect, and what is already scheduled.
George St. Pierre vs. Johny Hendricks
No surprise here. Johny Hendricks has been unofficially announced as the next title challenger to champion Georges St. Pierre. While both fighters fought on the same card, they both did not win without taking some form of criticism. For Georges, it was his style that brought into question yet again. Georges had to rely on his takedowns top control to rack up points in his unanimous decision win over Nick Diaz. While he did stand up and strike more often than was expected, it was evident that Nick Diaz was the better boxer. Diaz criticized St. Pierre's punching power throughout the fight and after, claiming he hit like a woman. While Georges may not have had the best fight, it was another win for him and anyother fighter who does not seem to have an answer for the athleticism and wrestling skills of the Canadian.
For Hendricks, he found himself in the toughest fight of his life. Taking on former Interim champ, Carlos Condit, Johny Hendricks to fight every aspect of the game in order to edge his opponent on scorecards. While both Condit and Hendricks fought their hearts out for 15 minutes in a Fight of the Night performance, it appeared Hendricks's wrestling would prove proficient over the aggressive bottom game of Condit. A lot of fans figured that Carlos deserved the win, as he appeared more active and more aggressive, but the scoring favored Hendricks' takedowns.
Expect Hendricks and Georges to fight in a headlining event sometime in the summer, most likely in Canada. This is an exciting fight as you have possibly the hardest puncher with possibly the second or third best wrestling skills in the division taking on a more technical and athletic, but not as powerful or aggressive, GSP.
Jake Ellenberger vs. Rory MacDonald
With Jake Ellenberger's strong performance against Nate Marquardt now added onto his resume, he's making a case for top contention. Ellenberger was stopped not too long ago by Martin Kampmann, but Kampmann was KO'd by Hendricks. I think Ellenberger and Kampmann are roughly in the same position on the rankings, but because they've already fought before they need to fight parallel opponents. For Ellenberger, I think Rory MacDonald is the guy. MacDonald has been a tear through the lower-mid tier of the welterweight divison, and now with MacDonald's dominant win over BJ Penn, he's ready to face the top. Ellenberger vs. MacDonald should be an exciting match up between two real killers in the division.
They're both freakishly strong; I'd give the edge to Ellenberger in power and explosiveness, but MacDonald I think is the smarter grappler and craftier of the two. It would be a great fight to establish the upper echelon of the 170 lb division.
Carlos Condit vs. Demain Maia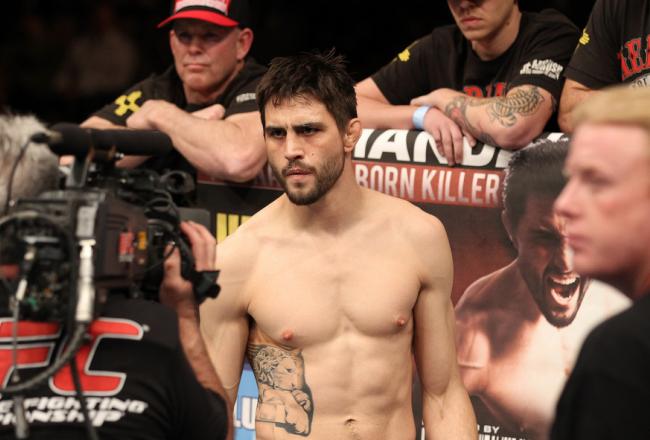 Despite dropping the decision to Johny Hendricks, Carlos Condit proved why he belongs at the top of the division. Condit showcased how good he was at getting off of his back, and how good he is at scoring offense in what seemed like every second of the fight. Condit has that natural type of aggression combined with his well-rounded talents to remain a top contender for a very long time. However, there are other fighters that are looking to take anyone out to get to the top. Right now, no one can deny Demian Maia's rise to the top. Since dropping to welterweight, he's finished two contenders and dominated another top ranked fighter in Jon Fitch for 15 minutes.
At 170 lbs, Demian Maia's physical disadvantages are not as apparent. At middleweight, Demian Maia was prone to being smothered by bigger and stronger fighters which made it incredibly difficult for him to utilize his grappling skills. However, at welterweight, Maia's grappling technique shines through. He's possibly the most dangerous fighter in the UFC when the fight hits the mat, which is a rare sight at 170 lbs as most fighters are either wrestlers or brawlers.
A match up between Demian Maia and Carlos Condit is what needs to happen. It'll test whether Maia really has what it takes to take on the tip top of the food chain as he'll have to fight every aspect of the fight game. For Condit, it'll be a chance to break his two fight loss streak and a way to stay in the top five. It'd be real interesting to see how one of the greatest specialists in the game matches up with one of the most well-rounded fighters in the world.
Martin Kampmann vs. Tarec Saffiedine
Tarec Saffiedine is an exciting new up and coming name who is set to make his UFC debut sometime this Spring. Tarec is a very technical striker who won the Strikeforce Welterweight title when he out-struck Nate Marquardt for 25 minutes. Tarec's takedown defense has looked stellar in his last couple outings, which could make him a real force in the UFC's cut-throat welterweight division. But who should he debut against? Should he be thrown in at the very top as he WAS the current champion at Strikeforce. I think a guy like Martin Kampmann would be perfect for Saffiedine. Stylistically, they're very similar. Both have very technical stand up approaches. On the ground, Saffiedine is a bit more of a wrestler whereas Kampmann is more of a BJJ guy. A fight between these two has the chance to be extremely exciting, and potentially set up a big name in Tarec Saffiedine.
Other Match-Ups:
Robbie Lawler vs. Siyar Bahadurzada
Dong Hyun-Kim vs. Nate Marquardt
Jordan Mein vs. Court McGee
Gunnar Nelson vs. Mike Pyle (Scheduled)
Tyron Woodley vs. Jake Shields (Scheduled)
Dan Hardy vs. Matt Brown (Scheduled)
Erick Silva vs. John Hathaway (Scheduled)