The Real Winners and Losers from UFC on ESPN 22
https://bleacherreport.com/articles/294 ... on-espn-22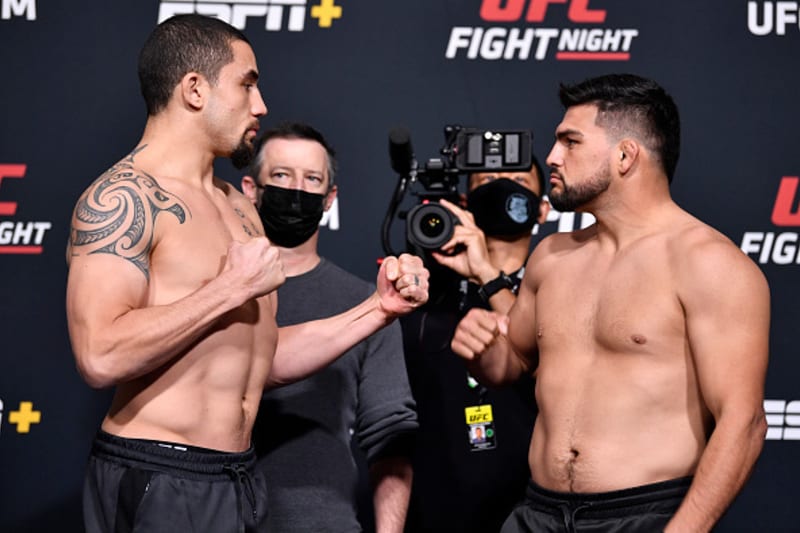 Call it a socially distanced calm before the back-to-normal storm.

The UFC cranked out one last crowd-free show in the Nevada desert Saturday night before packing up the Octagonal circus and heading east for a pay-per-view show in Jacksonville, Florida, that will feature a full complement of fans in a U.S. building for the first time since COVID-19 pandemic-related lockdowns began last spring.

Calm, however, does not always mean uneventful.

The main event pitted former middleweight champ Robert Whittaker and ex-title challenger Kelvin Gastelum in a crossroads bout matching two fighters who had lost previous main events to Israel Adesanya.

Whittaker, now ranked first at 185 pounds, had won two straight fights since losing his championship to Adesanya via second-round stoppage at UFC 243 in October 2019.

Gastelum, meanwhile, had dropped a decision to Adesanya for an interim title six months earlier and went on to lose twice more before rallying to outpoint Ian Heinisch in a three-rounder at UFC 258 in February.

He arrived Saturday ranked eighth at middleweight.

Nine other bouts rounded out the ESPN+ card. Announce duties were handled by the familiar team of Brandon Fitzgerald, Michael Bisping and Dominick Cruz. The B/R combat sports team was also on assignment to produce its authoritative list of the show's real winners and losers.

Veteran UFC executive Marc Ratner was also on hand for timely rules analysis in the featured prelim bout.

Click through to see what was called out, and drop a comment to let us know how you saw it.

Winner: Old and Improved
Most fighters don't make you anticipate a rematch with a guy who had scored an early KO in the first bout.

Robert Whittaker, as evidenced by Saturday night, is not most fighters.

Though he was beaten into a second-round stoppage by Israel Adesanya when they met at UFC 243 in October 2019, the Australian took another step toward legitimizing a return bout with a unanimous five-round decision over Kelvin Gastelum in a long-delayed main event.

"When you look at what [Adesanya] did to him, he made it look easy," Bisping said. "But this is a new and improved Robert Whittaker. That was a masterpiece. That was truly a masterpiece. And I truly can't wait for the rematch with Adesanya."

Now 30, Whittaker has won three straight since dropping his middleweight title belt. He returned nine months later to defeat Darren Till by unanimous five-round decision and then scored a three-rounder over Jared Cannonier at UFC 254 in October.

Gastelum, meanwhile, has dropped three of four since losing to Adesanya in April 2019. He was supposed to challenge for Whittaker's title belt in February 2019, but the champion pulled out a few hours before the bout and had to undergo surgery for an abdominal hernia of the intestine and a twisted and collapsed bowel.

"Robert Whittaker is more diverse in his approach. There are more kicks, more punches," Cruz said. "I think this is the best performance we've seen from him. He looks sensational. He put on a masterclass. The little things that against Adesanya you would call mistakes, he didn't do them again."

All three judges scored it a 50-45 shutout—or five rounds to zero—for Whittaker, who landed 103 total strikes and connected with Gastelum's head no fewer than 72 times.

He also had four takedowns to Gastelum's one.

"I'm feeling on top of the world," Whittaker said. "I think [Gastelum's] one of the best fighters in the division. Speed was the key. I worked my standup a lot."

Winner: Heavyweight Throwback
Remember 1999?

Bill Clinton was still in the White House. Tom Brady was still at the University of Michigan. Lebron James was still in high school.

And Andrei Arlovski, on a spring day in Saint Petersburg, Russia, became a professional MMA fighter.

Now at 42, he's still doing it. And doing it well.

A former UFC heavyweight champion, Arlovski landed the sharper punches and repeatedly drilled his opponent's legs with calf kicks on the way to a unanimous decision over Chase Sherman—who was nine years old when Arlovski debuted—in their co-main event bout.

All three judges scored it 29-28 for the winner.

It was Arlovski's 20th win in UFC competition, tying him with Bisping for fourth all time.

"It's absolutely unbelievable the way he keeps going and going and going," Cruz said. "Instead of heading him off, Sherman was getting frustrated because he kept following him around."

Indeed, Sherman outdistanced Arlovski by a 31-21 when it came to significant strikes in the first round but was less effective when the veteran changed tack and became a more mobile target. Arlovski landed 32 significant strikes to Sherman's 25 in the second round and established a 37-28 edge in that statistic across the final five minutes.

Sherman had grown increasingly frustrated toward the end and was imploring him to stand and fight, but tensions cooled, and Sherman actually asked for an autograph in the aftermath.

"It's pure genius right there by Arlovski," Cruz said.