Ranking the Best UFC Rivalries in the Last 10 Years
https://bleacherreport.com/articles/289 ... t-10-years
Rivalries.

Whether it's neighboring college basketball teams, historic pro football teams or perennially contending baseball teams, they're the fuel that keeps the sports world's engines running.

But there's something viscerally different about individual competition, particularly in an endeavor where one of the aims is to knock the other competitor senseless.

Yankees-Red Sox in a ballpark is one thing.

Ali-Frazier with their fists is quite another.

And while its mainstream history is still dwarfed by its ringed counterpart, that doesn't at all mean that the annals of mixed martial arts aren't already chock full of pairings where one rival's name can scarcely be mentioned without the other's.

In fact, the UFC's rough-and-tumble formative years were marked by memorable surname combinations like Ortiz-Shamrock (2002-06), Couture-Liddell (2005-06) and Lesnar-Mir (2008-09), among many others.

The beat has gone on uninterrupted through to the modern generation as well, and, with the return of live fights apparently on the horizon later this week, we at Bleacher Report HQ decided to sit down and rank what we believe are the best of the best rivalries the flagship promotion has presented in the last decade.

Feuds that resulted in more than one fight were given precedence, yielding a "Super Six" collection that spans 13 fights—including 11 with titles on the line—across the UFC and its now-disbanded rivals.

Click through to see where your favorite grudge matches land, or to see how our list stacks up with yours.
6. TJ Dillashaw vs. Cody Garbrandt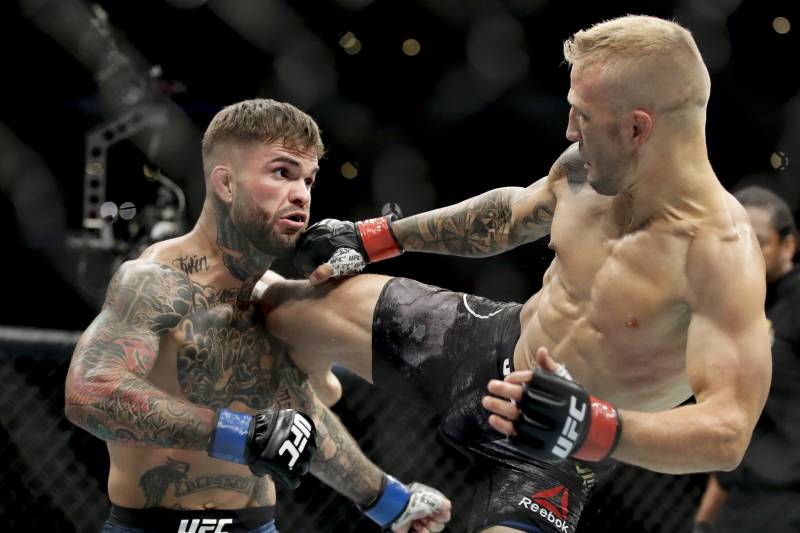 Call it the General Hospital of the UFC—as the rivalry the longest shelf life.

Though their two fights combined lasted just 11 minutes and 51 seconds, you'd not be alone if you said it seemed like TJ Dillashaw and Cody Garbrandt were in each other's lives for decades on end.

The connection between them did, in fact, begin years before they fought, when they started out as teammates—sort of—with the Team Alpha Male gym in Sacramento, Calif.

Dillashaw, however, was on his way out the Team Alpha door thanks to a continued working relationship with deposed coach Duane Ludwig after winning the UFC bantamweight title in May 2014, which opened said door for the emergence of young gun Garbrandt, who debuted in the Octagon eight months later.

The Dillashaw/TAM split became official in October 2015 and the champ was beaten by Dominick Cruz in his next outing the following January, which moved TAM's new star-in-waiting, Garbrandt, up the ladder to his initial title shot and a win over Cruz in December 2016.

Not surprisingly, wheels instantly began turning for a grudge title match for Dillashaw, and the prolonged run-up featured more than its share of vitriol, ranging from claims of sparring match KOs on one side to retorts about training-camp crying jags on the other.

They finally got together in November 2017 at UFC 217, where Dillashaw survived a tumultuous first round to rally and land a head kick that led to a stoppage of Garbrandt just past the midway point of Round 2. A rematch yielded a similar result at UFC 227 in August 2018, when Dillashaw essentially ended the rivalry with a first-round KO in only 4 minutes and 10 seconds.
5. Anderson Silva vs. Chael Sonnen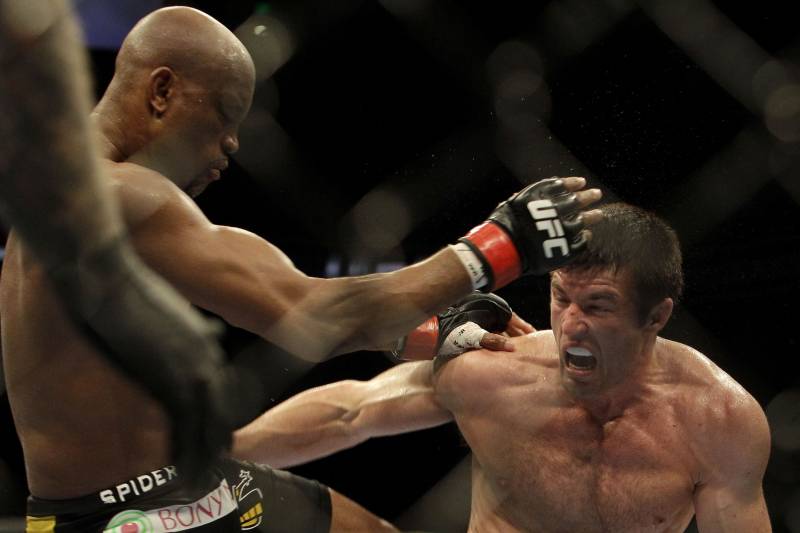 Some rivalries exist because of competition. Others, well, are heated thanks to other things.

The back-and-forth between Anderson Silva and Chael Sonnen fits the latter category.

Possessing a limited skill set by comparison, Sonnen nevertheless earned his initial date with the UFC middleweight champion at UFC 117 in August 2010 and instantly took up the mantel of a world-class trash-talker, suggesting Silva's own pristine aura at 185 pounds wasn't legit thanks to iffy opposition.

He backed it up for much of that first meeting before succumbing to a triangle choke in the final round that allowed Silva, widely considered one of the sport's all-time best, to maintain his belted status.

It didn't, however, shut Sonnen up.

In fact, he dove even deeper into the "Bad Guy" pool as the rematch approached just short of two years later, but couldn't back it up in the cage—this time bowing out early in Round 2.
4. Ronda Rousey vs. Miesha Tate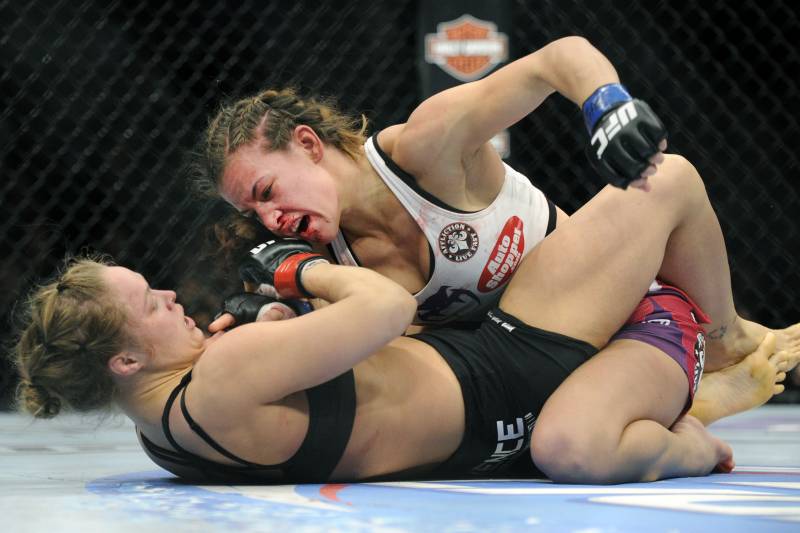 If you're carving a Mount Rushmore of MMA women, start with Ronda Rousey and Miesha Tate.

The two first got together in March 2012 following an extended salvo of insults while with the now-defunct Strikeforce promotion, with Tate suggesting Rousey was getting a title shot because of her looks and Rousey replying that watching Tate's highlight tapes left her bored.

Their first fight ultimately ended in a first-round submission after Rousey locked Tate in an armbar, but the rivalry was renewed following their dual transition to the UFC, where Rousey was crowned the promotion's inaugural bantamweight champion because of her Strikeforce reign.

Tate was beaten by Cat Zingano in an eliminator for a shot at Rousey's UFC belt, but was awarded the opportunity when Zingano pulled out due to injury. The fires were stoked while the women coached opposing teams in a season of The Ultimate Fighter, leading to a rematch in the co-main event at UFC 168.

That fight, in December 2013, ended in Round 3 when Rousey again forced Tate to submit.

They nearly crossed paths a third time, following Rousey's loss to Holly Holm in November 2015 and Tate's dethroning of Holm four months later. Tate lost to Amanda Nunes in her first defense, however, and retired after another loss that November. One month later, Nunes stopped Rousey and hastened her retirement.
3. Dominick Cruz vs. Urijah Faber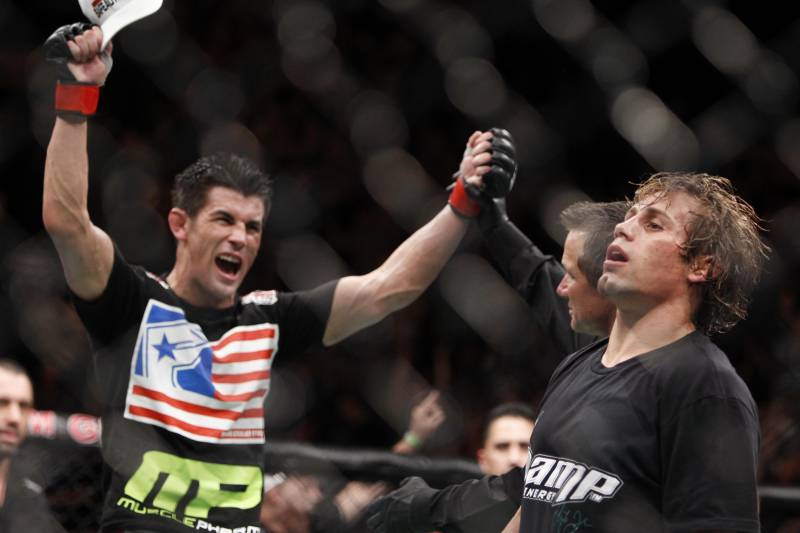 It's another rivalry that pre-dates the combatants' time in the UFC.

The scrapes between Dominick Cruz and Urijah Faber go back to their respective days in the World Extreme Cagefighting promotion way back in 2007, though it hardly looked like the start of an epic back-and-forth when Faber, the WEC's bantamweight champ, submitted Cruz, only 22, via guillotine choke in a single round.

Four years later, though, and the 26-year-old got his comeuppance via unanimous decision—winning nods of 50-45, 49-46 and 48-47 on the scorecards—and extending a personal win streak that ultimately reached 13 straight fights across two promotions and eight years.

Another season of The Ultimate Fighter provided additional opportunity for the enmity between the men to flare, and the delay of the rubber match due to Cruz's injury woes led to even more time that was conveniently filled with insults, allegations of PED use and suggestions by Faber that the UFC should enhance safety measures to make sure Cruz made it to the fight in one piece.

Cruz got the last laugh and the final win of his aforementioned 13-fight streak in the trilogy bout at UFC 199, dominating from start to finish and winning another unanimous nod by scores of 50-45, 50-45, and 49-46.
2. Jon Jones vs. Daniel Cormier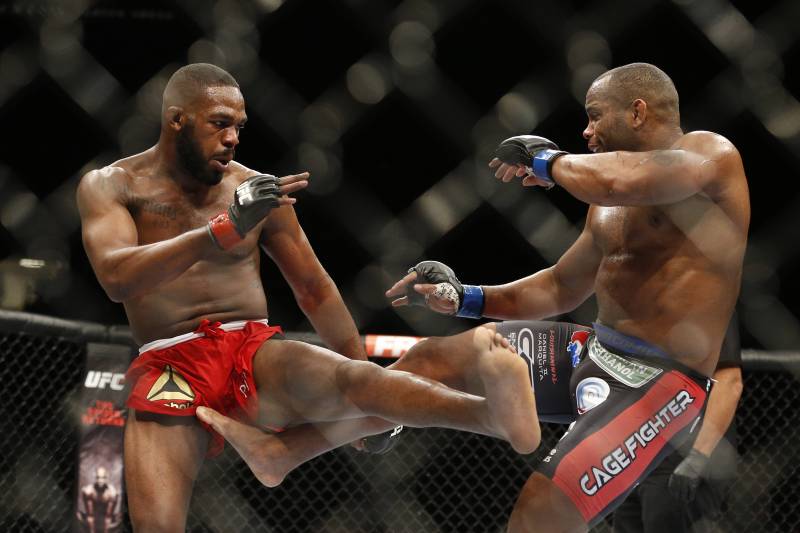 Maybe it'll happen. Maybe it won't.

But even if a third bout between rivals Jon Jones and Daniel Cormier never materializes, the two 205-pounders have packed enough physical clashes, verbal wars and social media spats to be remembered for a couple more generations past their own.

It doesn't hurt either that they're both among the best fighters the sport has ever seen.

An on-stage brawl preceded their first bout at UFC 182—won by Jones by unanimous decision—and Jones' frequent run-ins with UFC codes of conduct have provided ample material for Cormier to lash out whenever the mood strikes him.

The two rejoined the battle at UFC 214 and Jones won the rematch by third-round stoppage, but the result was flipped to a no contest after the winner tested positive for a banned substance. Cormier subsequently regained the belt and captured another with an upset of heavyweight champ Stipe Miocic.

Miocic won a rematch, leaving Cormier in the unique position of having two trilogy opportunities.

Now 41 years old, he's leaned toward retirement at times but could still be lured by Jones' long-discussed move up to heavyweight.

Fingers crossed.
1. Conor McGregor vs. Nate Diaz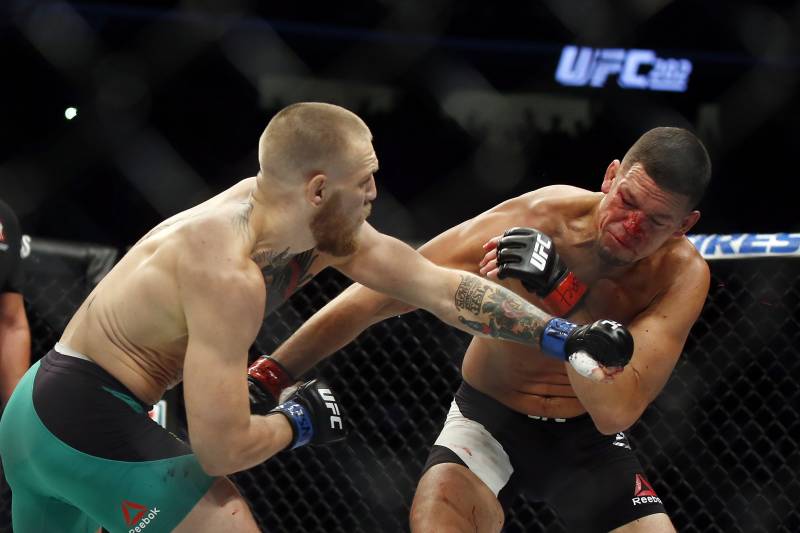 There have been rivalries of longer duration. There have been rivalries of more significance.

But when you consider the abrasiveness of the two fighters, the intensity (read: vulgarity) produced at their media appearances and the absolute quality of their encounters in the cage, there's none better.

Ladies and gentlemen, we give you Conor McGregor and Nate Diaz.

Amazingly, the battles between the two men were not actually planned.

In fact, Diaz only got his hands on McGregor the first time after lightweight champion Rafael dos Anjos pulled out of their UFC 196 match just 11 days ahead of the opening bell.

McGregor agreed to skip the weight cut and fight sub Diaz at the welterweight limit of 170, but wound up paying for his allowance when Diaz forced him to submit to a rear-naked choke in the second round.

A rematch was booked for UFC 202 five months later and the pair combined for one of the most compelling and dramatic main events in the promotion's history, eventually resulting in a majority decision for McGregor with two scores favoring the Irishman by 48-47 counts and one seeing it dead-even at 47 apiece.

The rematch was instantly heralded as a Fight of the Year candidate for 2016, an award it ultimately received from many outlets. The win, meanwhile, established McGregor as something beyond just a headline-grabbing trash-talker, according to cbssports.com.

"Conor McGregor arrived as a phenomenon. He left as a fighter. The combat sports industry's most notorious lightning rod earned his blood-and-guts chops (in the second fight), fending off a determined Nate Diaz."

The event paid off financially as well, and still stands as the second-biggest pay-per-view in UFC history—trailing only McGregor's subsequent loss to Khabib Nurmagomedov at UFC 229.

The first bout between the two remains fourth on the same all-time list.

And as for a third go-round, McGregor himself suggests never say never.

"Let's go Nathan. Let's go brother," he said following a 40-second defeat of Donald Cerrone in January, after being told by a reporter that Diaz had labeled the fight "Weak as f--k" in a tweet.

"Number three. It's always here. We're right here Nathan."
Any others??????