Underdogs are a part of our world history, the little guy taking on the big guy has always inspired us.
But when they win that inspiration turns into a an overarching lesson that we can never ever count anyone out.
And that lesson is no more apparent and on the nose than in fighting, in combat.
Andy Ruiz Jr, Holly Holm, Buster Douglas, Frankie Edgar, Hasim Rahman, Matt Serra, Michael Bisping, and the names of those we counted out stretches the centuries;all the way to the 300 Spartans whose bravery we still revel for taking on the insurmountable numbers of the Persian army.
These men and women woke up and said to themselves "you may never have this day again, so make it count."
And did they ever.
(Buster Douglas KOs Mike Tyson as a 42-1 underdog, the largest upset in terms of odds)
Holly Holm was anywhere from a 9 to 20-1 underdog.
Holly Holm had a prestigious career stretching across two other combat sports and despite a perfect record to match and a style seemingly tailor made for Ronda Rousey, no one gave Holly much of a chance.
And the champion at the time, aforementioned Rousey, disregarded her opponent to the same levels the books did.
Ronda though would lose money, her belt and seemingly her competitive drive, as Holly Holm blasted a left shin against an already broken and beaten Rouseys head and followed up with a barrage of hammer fists.
To say the doubters were wrong would be an understatement, Holly Holm embarrassed the odds makers and embarrassed Rousey and produced the biggest upset MMA had seen and the biggest upset since Buster Douglas/Mike Tyson.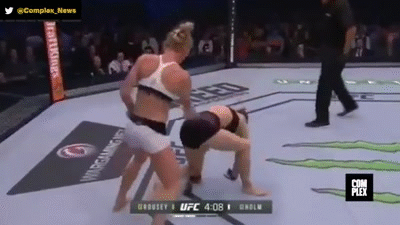 Ronda Rousey shared similarities with another champion who counted out his opponent and didn't give them any chance.
This champion was also a mean mugging, dominant personality that not a single expert saw losing for the foreseeable future.
Sonny Liston was considered not just a bad man but an actual bad man.
Notoriously involved in the Mafia and mob, Sonny would reduce Cus D'amoto standout and America's sweetheart Floyd Patterson to human rubble in 2:06.
Patterson would take a very ill advised rematch, showcasing why Cus D'amoto had spent a majority of Patterson's championship reign actively ducking the Liston fight, lasting 4 seconds longer than the first fight.
And with that an ominous, looming monster of a man, was now heavyweight champion and it looked like Sonny Liston would sit on his throne for many years to come.
But history was writing a different storyline and it was using the mouth and boxing abilities of a young Kentucky boy named Cassius Clay.
Better known as Muhammad Ali, Clay as he was called at the time pursued Liston relentlessly at, what people assumed at the time, was at the cost of Clays own life and well being.
Critics and fan alike truly believed every word, every antic and every barb Cassius made towards Sonny, in pursuit of a heavyweight title fight, was another nail in his coffin.
Cassius Clay was a man awaiting execution and Sonny Liston was the guillotine waiting to lop Clays head off.
Sonny entered the ring on February 25th 1962 against a 22 year old Cassius Clay as an 8-1 favourite.
Sonny, arguably, left the ring that night as the biggest loser combat sports would ever see until Rouseys loss.
Sonny Liston was battered, cheated and than quit on his stool, spitting his mouth guard out twice and in the third time growling to his corner "I'm fucking done".
And with that a legend was born and a lot of money was lost.
Holly Holm and Cassius Clay similarities end there.
Holm would lose her next three fights and Clay would become Muhammad Ali and a polarizing monumentally important part of boxing history.
But both will always have a special place in the timeline of combat sports, a place that can only be replaced by insurmountable odds being overcome by someone no one expects to do it.
Championship belts, fights and bets can all be lost but the memory of the greatest upsets combat sports had ever seen will never ever be lost.