Dont know how many linkers are familiar with this...but I thought I'd share.. Pretty sensual story. Talk about hand-picking opponents..
Boxers who were so feared that they were avoided by title holders and so were unable to ever secure a title shot.
Murderers' Row (boxing)
Murderers' Row refers to a group of middleweight boxing contenders in the United States competing in the 1940s and 1950s, primarily of an African-American background. Renowned for their toughness and great boxing ability, at the time they were feared throughout the boxing world and are categorised as being the most avoided fighters of their generation. According to boxing pundit Jim Murray, the Murderers' Row were "the most exclusive men's club the ring has ever known. They were so good and so feared that they had to have their own tournament".The term 'Black Murderers' Row' was coined by writer Budd Schulberg, screenwriter of 'On the Waterfront'.
Fighters recognised under the Murderers' Row banner include
Charley Burley, Lloyd Marshall, Holman Williams, Herbert "Cocoa Kid" Lewis Hardwick, Jack Chase, Eddie Booker, Aaron Wade, Bert Lytell and Elmer Ray
. Avoided by many of the famous names of the day, the nine Murderers' Row fighters faced each other a total of 61 times, the fights often classics and grueling contests. None of the fighters would ever compete for a title, despite being at the top of the rankings for many years and widespread admiration in the world of boxing.
The greatest fighter in Murderers' Row was probably
Charley Burley
, regarded by many in the boxing community as the most talented fighter never to compete for a world title. Fight writer Tom Archdeacon, wrote of Burley, "(he was) kept from title shots and ducked by many of the top fighters, he was reduced to fighting other tough - and avoided - black middleweights".
For nearly a decade Burley defeated everyone put in front of him. In the mid-1940s, world champions in Fritzie Zivic, Billy Soose and the great Archie Moore counted as Burley's conquests. He was ranked in the top 10 in the Welterweight and Middleweight divisions for most of the 1940s, without receiving a title shot. (Burley did hold the World Colored Welterweight and World Colored Middleweight Championship titles.)
Near the end of his career Burley took to fighting Heavyweights in a bid to find meaningful contests, including J.D. Turner and future Heavyweight champ Ezzard Charles. Eventually, Burley would retire after winning 83 bouts, without ever being able to meet in the ring the champions of the time, such as Rocky Graziano, Sugar Ray Robinson and Jake LaMotta. Burley was inducted into the International Boxing Hall of Fame in 1992.
Another member,
Eddie Booker
campaigned primarily at Light Heavyweight in the 1940s. Based in California, Booker blazed a path through the division, he would be victorious in 67 bouts, only losing on 5 occasions.A physically muscular and durable fighter, he was a blend of boxing skill and formidable punching power.
In his autobiography, Light Heavyweight world champion,
Archie Moore
, stated that Booker was one of only two boxers who beat him in his prime and rated him as the best fighter he ever faced. Booker would compete in 80 bouts without ever being stopped.
Fellow International Hall of Famer,
Holman Williams
fought across three weight divisions. Graduating from the same Detroit gym as Joe Louis, Williams was famed for his sublime defensive skills and stylish technique.Highly respected boxing coach
Eddie Futch
stated he would rather watch Williams spar than most fighters box in the ring.
A popular and exciting fighter, the local New Orleans paper and Ring Magazine both reported on the large crowds that would attend Williams' fights and that he received standing ovations for his performances. Williams would eventually compete in over 180 bouts, without ever getting a shot at the title.
Fellow member
Jack Chase
, also known as the 'Young Joe Louis', frequently in trouble with the law (he was imprisoned several times and at one point was arrested for shooting fellow Black Murderer's row fighter
Aaron Wade
, although both men later claimed the incident was an accident
), became famous due to his demolition of highly rated Heavyweight contender
Lee Savold
.
Subsequently, he struggled to arrange fights against the title holders. This was despite being r
anked second
in the world at Middleweight for several years. The San Francisco Chronicle sports correspondent of the time, Eddie Muller, wrote that Chase moved around the ring with speed and skill "every move a picture." It is reported that he had at least 48 bouts in the 1930s which are not included in the official record, but little is known of his career during this time.
.......................................................................................................................................................................................................
Elmer "Kid Violent" Ray
Elmer "Kid Violent" Ray
(March 3, 1911 – May 20, 1987) was an American heavyweight boxer who fought from 1926 to 1949.
He was born in Federal Point, Florida. Ray was known as a hard puncher and had a career record of 86 (with 70 knockouts)-13-1. Ray never fought for the title, but did fight future heavyweight champions Ezzard Charles and Jersey Joe Walcott. In three fights with Walcott, Ray suffered a three round knockout on September 25, 1937, rebounded to outpoint Walcott on November 15, 1946, and lost the third fight by decision (April 3, 1947). He defeated Charles on a split decision on July 25, 1947, but was knocked out in the 9th round of their rematch on May 7, 1948. He also boxed light heavyweight champion John Henry Lewis, but was stopped in the 12th round on May 19, 1938.
In 2003, Ray made the Ring Magazine's list of 100 greatest punchers of all-time at number 44.
Charley Burley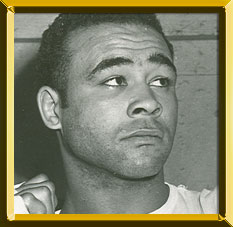 Charley Burley
(September 6, 1917 – October 16, 1992) was an African American boxer who fought as a welterweight and middleweight from 1936 to 1950. Archie Moore, the light-heavyweight champion who was defeated by Burley in a 1944 middleweight bout, was one of several fighters who called Burley the greatest fighter ever. Burley was the penultimate holder of both the World Colored Welterweight Championship and the World Colored Middleweight Championship, the only titles he held.
The 5'9 ½ Burley fought at a weight of between 145 and 162 lbs. He made his pro debut on September 29, 1936, fighting as a welterweight at 150? lbs., at Pittsburgh's Moose Temple. He knocked out George Liggins in the fourth round of a four-round bout.
Less than two years later, on August 22, 1938, Burley met the Cocoa Kid at Hickey Park in Millvale, Pennsylvania for the World Colored Welterweight Championship. He won a unanimous decision in the 15-round bout, knocking the Kid to the canvas three times and defeating him decisively, taking his title.
Burley did not defend that title, possibly as part of a strategy to win a shot at the title or world welterweight champ Henry Armstrong, an African American. He won the World Colored Middleweight Title in a match with Holman Williams at Victory Arena in New Orleans, Louisiana on 14 August 1942, winning via a technical knockout in the 9th round of a scheduled 15-round bout. In their rematch for the title held at New Orleans' Municipal Auditorium on October 16 of the same year, Williams won on a 15-round decision, though Jack Kincaid of the Times-Picayune reported that some observers believed Burley had won nine rounds of the fight. He had been the aggressor throughout the bout.
A formidable fighter, Burley was never granted a world title shot by any of the world welterweight and world middleweight champions of his era and also was avoided by many of the top white contenders. Among the fighters who "ducked" Burley were Hall of Famers Billy Conn (who fought Joe Louis for the heavyweight title), Frenchman Marcel Cerdan (who was supposed to face Burley in his American debut) and even Sugar Ray Robinson, considered by many boxing historians as the best pound-for-pound fighter of all time.
Of course, not everyone ducked the slick Pittsburgh warrior. Burley won two out of three matches against future welterweight champion Fritzie Zivic, defeated the great Archie Moore by decision, and easily defeated future NYSAC middleweight king Billy Soose.
Burley also faced future heavyweight champion
Ezzard Charles
, but dropped two 10 round decisions to him (the bouts were contested within a five-week period, sandwiching a fight against Williams). Another notable Burley fight was the one against heavyweight J.D. Turner, who outweighed him by around 70 lbs. "Turner, face beaten to raw beefsteak in six rounds, failed to answer the bell for the seventh." (The Ring, June 1942).
Burley himself was never stopped in 98 bouts.
He compiled a record of 83 wins (50 by knockout) against 12 losses and two draws with 1 "no contest". He also battled
financial problems at times during his career (which is why he's thought to have lost some of the fights he did)
and was
forced to work as an aircraft mechanic and garbage man
in order to earn enough money to live off of.
Burley's former sparring partner A.J. "Blackie" Nelson offers this comparison: "I see a lot of Charley in this kid, Roy Jones Jr. Both had unorthodox styles, could hit you from any angle, both hard to hit. Charley jabbed more than Jones, if Jones would concentrate on boxing as Charley did, he would become an all-time great."
Eddie Futch, the great trainer, called Burley "the finest all-around fighter I ever saw."
Burley was named to the Ring Magazine's list of 100 greatest punchers of all time, elected to the Boxing Hall of Fame in 1983 and the International Boxing Hall of Fame in 1992.
Burley was ranked 39th on Ring Magazine's list of the 80 Best Fighters of the Last 80 Years

Holman Williams
Holman Williams
(born January 30, 1915 in Pensacola, Florida — died July 15, 1967) was a world welterweight boxing contender.
Williams
began boxing as an amateur in 1928 as a bantamweight and had a successful 38-bout career. In 1932 he turned pro as a featherweight and would eventually be recognized as one of the cleverest welterweights and middleweights of his era.
In his career as a welterweight and middleweight divisions, he fought such notable fighters as Cocoa Kid, Charley Burley, Eddie Booker, Bob Satterfield, Archie Moore, Marcel Cerdan and Jake LaMotta.
When the World Colored Middleweight Championship was revived in the early 1940s,
Charley Burley
, who had been the colored welterweight champ, fought
Williams
for the title on 14 August 14, 1942 and won on a 9th round TKO. Williams won the title on a decision in their rematch on 16 October 1942, then lost the title on 15 January 1943 to the
Cocoa Kid
in a 12-round decision.
Williams retired with a 145-30-11, 1NC (35 KOs) record.
On July 15, 1967 Williams was killed in a fire while asleep in the club where he worked.
Williams was elected into the World Boxing Hall of Fame in 1996 and elected into the International Boxing Hall of Fame in 2008.
Cocoa Kid
Herbert Lewis Hardwick Arroyo a.k.a. "Cocoa Kid" (May 2, 1914 – December 27, 1966)
was a Puerto Rican boxer of African descent who fought primarily as a welterweight but also in the middleweight division. Hardwick won the World Colored Championships in both divisions. He was inducted into the International Boxing Hall of Fame in 2012.
Hardwick began to box in Atlanta when he was fourteen years old under the tutorship and management of Edward Allen Robinson. He fought for the first time as a
professional at the age of fifteen
, on May 27, 1929 at the Elks' Restaurant, in Atlanta, against a boxer who went under the name of "Kid Moon" and was victorious in that encounter.
In 1932, Connecticut State Senator Harry Durant was among those present at one of his fights in West Palm Beach. The Senator was impressed with Hardwick and sponsored his trip to New Haven where Hardwick began to fight under the name of the "Cocoa Kid." The name printed on his boxing license was that of "Louis Hardwick Arroyo."
Hardwick used various names during his boxing career, besides using "Louis Arroyo," he would also fight under the name of "Louis Kid Cocoa".On April 4, 1932, he won his first fight in Connecticut, against a boxer named Joe Miller
During his career in the late 1930s and early 1940s, Hardwick fought the top African-American fighters of the era in the Welterweight and Middleweight divisions. This group included, but was not limited to Charley Burley, Holman Williams, Jack Chase, Lloyd Marshall, Bert Lytell and Eddie Booker.
Hardwick fought Williams thirteen times, winning eight, losing three, and drawing in two
.
The group was known as the "Black Murderers' Row." This group was made up primarily of African-American highly rated boxing contenders in the 1940s and 1950s, who competed around the Middleweight and Light Heavyweight divisions. Hardwick was the only Hispanic of African descent in the group. Renowned for their toughness and great boxing ability, they were feared throughout the boxing world and were the most avoided fighters of their generation. According to boxing pundit Jim Murray, the Murderers' Row was the most exclusive men's club the ring has ever known. They were so good and so feared that they had to have their own tournament.The term "Boxing Murderers' Row" was coined by writer Budd Schulberg, screenwriter of On the Waterfront.
Amongst the many boxers whom Hardwick fought and defeated during his career were Louis "Kid" Kaplan. The fight occurred on February 2, 1933 at the Arena in New Haven. Kaplan was a former champion who held the World Championship title in the Featherweight division until 1927. On December 5, 1933 he faced Lou Ambers and lost the match.
From April through September 1940, Hardwick was the number one welterweight contender in the world. However Henry Armstrong, who held the World Welterweight Championship, refused to give him a title shot.On October 9, 1943, Hardwick made the cover of Knockout Magazine as "The Cocoa Kid''
I
n 1944, a controversy erupted between Hardwick and a boxer named "Oakland Billy Smith." When the fighters met on November 24, in the Civic Auditorium of San Francisco, California, the betting odds favored the Cocoa Kid over Smith by 2 to 1.When Hardwick was knocked down four times, referee Frankie Brown became suspicious and stopped the fight, declaring it a "no-contest."
During an investigation carried out by the California Boxing Commission, Hardwick claimed his poor performance was due to personal anxiety about his "sick mother" (meaning his aunt Antonia). According to the Oakland Tribune, the commission felt that Hardwick threw the fight. In addition to withholding his earnings, the commission fined him $500, and suspended him from boxing for six months.
On September 17, 1945,
Hardwick
fought and
lost
to
Archie Moore
. He lost his last professional fight on August 24, 1948, against Bobby Mann at Ball Park in Trenton, New Jersey.
In 1949, Sugar Ray Robinson entered into, and then broke, two agreements to fight against Hardwick.

That same year of 1949, Hardwick was Robinson's sparring partner at the welterweight king's training camp in Pompton Lakes, New Jersey. Robinson was training for a fight with Steve Belloise and was at his peak. In one session, Hardwick landed a short overhand right to Robinson's chin and dropped him in the second round.
By the end of his boxing career, Hardwick had fought a total of
244 professional fights, of which he won 176 with 48 knockouts (KO)
. He lost
56 fights, 7 by way of KOs and 10 of his fights were classified as draws (ties).

Among the Champions which he faced during his career were: Louis Kaplan, Johnny Jadick, Lou Ambers, Christopher "Battling" Battalino, Chalky Wright and Archie Moore. Of these he defeated Kaplan, Jadick and Wright in non-title fights.
After retiring from the ring in 1950, Hardwick found himself homeless and penniless in Chicago.
Marguerite Winrou, his wife, divorced him and gained the custody of their children
. According to the Naval Record Management Center in St. Louis, Missouri, Hardwick had served in the United States Navy during World War II.
He was honorably discharged after being diagnosed with pugilistic dementia by military doctors. He kept his diagnosis a secret during his days as a boxer in order to continue boxing
.
Due to his long and difficult boxing career, Hardwick suffered from
pugilistic dementia
in his last years. In 1955, he wrote to the Navy asking for a copy of his discharge papers which he claimed were stolen with his Social Security card and was later admitted to the Veterans Administration Hospital in North Chicago.
He died there on December 27, 1966 and is buried in Wood National Cemetery, section 36a, row 11, site 3, located in the state of Wisconsin
.
In 2011, Hardwick was inducted to the International Boxing Hall of Fame in 2012.
Jack Chase
Jack Chase
was an African-American middleweight, who boxed in the 1930s and 40s. He was born in Texas and fought mainly on the west coast of the United States. He boxed under the name 'Young Joe Lewis' for the first part of his career, before changing to Jack Chase in 1942. His official fight count stands at 122, but it is believed he competed in an additional 40 plus fights prior to 1936, during which time his full record is unknown
He was ranked second in the world in his division, but never took part in a world title fight
Jack Chase did win several regional belts in the US, including the Colorado state title, the Rocky Mountain Regional Middleweight and Welterweight Titles in the 1930s and the California State's Middlweight and Light Heavyweight titles in the 1940s. He retired from boxing in 1948.
Chase had several run ins with the law during his life, including serving jail time in Colorado on a few occasions and being arrested for shooting fellow boxer Aaron Wade in California...
Bert Lytell
102 bouts. 71 Wins - 23 Losses - 7 Draws.
One loss by TKO and that by
Deacon Johnny Brown
which he later evenged.
Calvin Coolidge Lytle (born January 24, 1924 in Victoria, Texas), better known by his stage names Bert Lytell and Chocolate Kid, was an American boxer and middleweight contender in the 1940s and early 1950s. Recognized as a member of the famous Murderers' Row, the 5'8" Lytell fought (and often won) against other top black middleweights of his time, including Charley Burley, Herbert "Cocoa Kid" Lewis Hardwick, Holman Williams, and Charley Doc Williams, as well as other notable fighters including Archie Moore and Sam Baroudi.
Lytell enlisted in the Naval reserves in 1942 in San Antonio, Texas, and was discharged in 1944.He resided in New York City for most of his career, later moving to Oakland, California to be closer to his family, including brother Loyal Lytle.
During his career, he was known as The Beast of Stillman's Gym,one of the members of the famous Black Murderers' Row.
The Chocolate Kid died on January 26, 1990, two days after his 66th birthday.
Hilton Edward "Eddie" Booker (November 5, 1917 – January 26, 1975) was an American boxer who was active during the 1930s and 1940s.
Booker compiled a record of 66-5-8
, which included wins over
Williams, Chase, Archie Moore
(being the first to knock him out) and
Lloyd Marshall
, although he never fought for a world title, and
was forced to retire prematurely due to an eye injury
.
He is an inductee of the World Boxing Hall of Fame.
Quite a few of these fighters would only receive the official recognition they deserved years after their careers. Five of the members of Murderers' Row have since become International or World Hall of Famers.