Shuck wrote:

willmma wrote:You keep circling back and I have to keep explaining to you.
So I will repeat, maybe one day you will begin to understand

Israel is the one with the really big army.
Israel is the one that violently and illegally occupies Palestinian land. There is no Palestinian forces occupying Israeli villages
Israel is the one that shoots and kills Palestinian men women children on a weekly basis
Israel is the one that says it will never accept a 2 state solution

Until Israel withdraws from the west bank and acknowledges Palestinians right to exist on their homeland then Israel is the ONLY obstacle.

The list of terrorist bombings over the last 30yrs should show you how little the words mean behind what the PA says or whoever else came out & claimed to recognize Israel as a state over the last 30yrs. Their Coy words mean nothing to Israelis, its their actions that speak.

Hamas never did recognize Israel as a State, Hamas is the "Strong Military", Hamas is the one's behind the majority of these attacks, nearly all of which are against civilians.. Yet you think this is Irrelevant, that Israel can just make believe & hope that all will be well soon as they give into their demands.. Israel knows very well who they are dealing with, the hate on both sides is embeded into their genes, playing make believe & hoping all will turn out well is not something they have the luxury of doing.
The PA is the Palestinian government. Even Hamas acknowledges that the PA is the government.
I get the impression you feel like you are making a good point. but really you are not
The PA did accept 2 state solution. And recognized Israel in 1988. And has ever since.
Israel rejects the two state solution. It will never allow a Palestinian state and continues to abuse Palestinians.
Israel chose occupation over peace. These terrorist bombings are the absence of peace that israel chose
Along with bombings of civilian population centers like this
Or shooting white phosphorous on school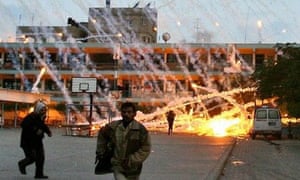 Shuck wrote:
Since you seem so set on taking the PA's word, here is a clip of a former Hamas member & son of their Leader.. & his thoughts on the PA, you will enjoy the beginning, the end probably not so much.

Interesting video. The PA are not angels. They are like typical arab governments most of which are revolutionaries or monarchs that didnt get elected But they still are the governments that represent their countries.
He is technically wrong about elections though: The 1996 presidential election was won by Yassir Arafat with 88.2% of the vote. Mahmoud Abbas gained 62.52% of the vote at the 2005 presidential election
Almost all capture, imprison and torture opponents. The PA captures and tortures other Palestinians as part of their security cooperation with Israel.
So while this guy sounds indignant, it is nothing new, and is legal terms his points dont mean anything.
It could all be said of the Jordanian or Saudi governments.
When will Israel accept a two state solution and withdraw from the West Bank and live in peace and let others live in peace, Shuck?
In reality, Israel steps farther and farther from the 2 state solution every day.
And unfortunately the Israeli abuse continues