When you go way back to season 1 of The Ultimate Fighter, and realize how many of those guys are washed up and went down the drain, you may be amazed that the mentally immature, short-tempered, unstable brawler still has himself a job and is still fighting in the world's largest fighting promotion. Leben has definitely matured since then, but he's proven that he's a true fighter that loves combat. However, he's on thin-ice coming into this fight being that he's on a 2-fight losing streak and has a recently failed drug test to his credit. This fight against Andrew Craig is really a "do-or-die" fight for Chris Leben.
Leben's opponent, Andrew Craig, is a fairly new face to the UFC. He's only been seen 3 times in the UFC (winning two), but seems to be a fairly formidable opponent for Chris Leben; he has the wrestling, the grappling, and a pretty decent chin. Craig is no way a "gimme-fight" for Leben.
The one thing Leben is going to bring into the cage with him, as he always does, is that never-die mentality. We haven't seen too many fighters than can push forward or stay in the pocket without backing off as well as Leben can, but that's also been the fate of him as well.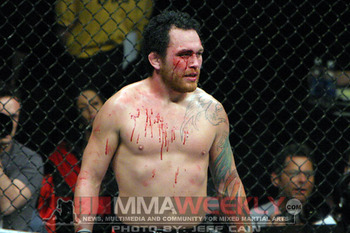 Chris Leben will always been known as that loose-nut who seemed to love fighting a little more than everyone else. But after 8+ years of UFC experience, it's realistic to think his fire could be getting dimmer and dimmer. If he should lose this fight against Craig, the UFC may put his fire out a little sooner than he might like. He is only 32 years old, so a fighting career somewhere else could very well be in store for him. If not, then at least he can baste in the glory of being one of the last standing TUF: Season 1 competitors in the UFC.
On a 2-fight losing streak, a failed drug test, and long lay-off due to the penalization, we could be in store to see a caged tiger unleashed tonight. However, the stakes high, as Chris Leben may only have one more shot in the UFC. It's do-or-die for Leben, so prepare to see some fireworks.