I'm sure we have all been involved in the never-ending discussion regarding who is the top "pound-for-pound" fighter in MMA. For the most part, this unofficial ranking featured all UFC-employed fighters. But who are the guys that would make the list if you don't look at the UFC? Let's take a look at Bellator:
5. Eddie Alvarez


Eddie Alvarez is no doubt one of Bellator's most prized and famous fighters on their roster. That much is evident when taking a look at the big contract scandal that Bellator has been sparking up involving Alvarez's much desired transition into the UFC. That being said, Alvarez is still under Bellator contract as of recent, and is one of Bellator's top lightweights. Despite losing his lightweight championship over a year ago, Alvarez's accomplishments and cut-throat schedule keeps his name at the top of the list.
4. Eduardo Dantas


Inside of Bellator Fighting Championship, "Dudu" has been proven to be an absolute killer. He may not possess a length career under the promotion, but he's scored himself a perfect 5-0 record while capturing and defending the bantamweight championship. Dantas is an imposing figure at 135 lbs, but one hindering aspect to his career could very well be his 2012 loss to Tyson Nam. His KO loss to Nam was not under the Bellator promotion, so it does not affect his status in those circumstances, but it does affect his image as a fighter overall. Fortunately, Dantas rebounded well by KO'ing top-level fighting Marcos Galvao.
3. Ben Askren


He may not be Bellator's poster boy, but Askren has shown himself to be an unstoppable force against their line up of contenders. Askren is your typical one-dimensional wrestler who uses his offensive takedowns, smothering ground and pound, and powerful top control to grind his opponents to the end of every bell. Askren has defended his welterweight title multiple times under Bellator's promotion, and while he's not winning over many fans, he's slowly creeping his way up the list when considering welterweights all over the world. Askren is a perfect 8-0 in Bellator, and no contender to date has managed to persuade us fans that his win column will stop increasing.
2. Pat Curran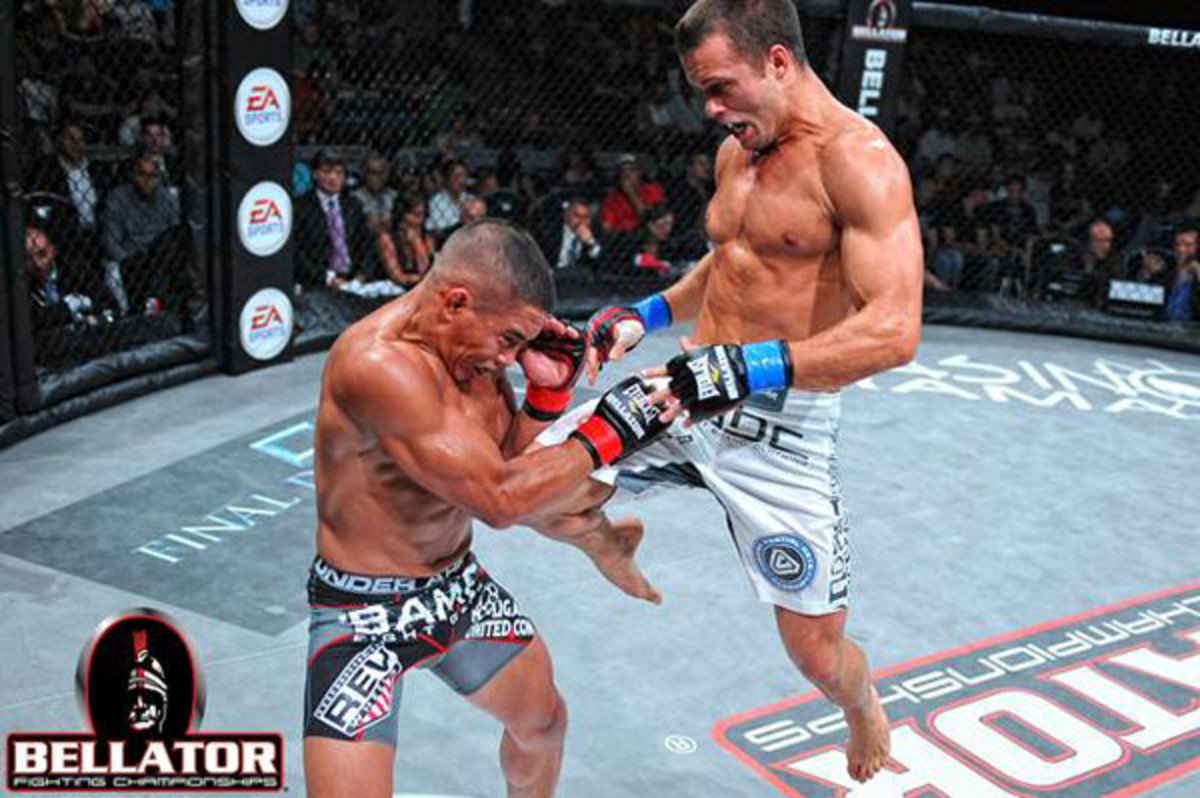 When you're as skilled of a fighter as Pat Curran, it's hard not to think of being considered number one. Curran has quickly became Bellator's next up-n'-coming poster boy, by performing spectacular finish after spectacular finish. Curran's last loss was to Eddie Alvarez in 2011, but since then has dropped to 145 and gone on an impressive 6-0 streak, including capturing the title. Curran is a dangerous opponent on his feet, with KO power in his muay thai, but also a determined finisher on the mat. Curran is a guy who can reign supreme for a very long time.
1. Michael Chandler


In my mind, Chandler and Curran are both very well deserving of being considered the number one pound-for-pound fighter on Bellator's roster, but Chandler has one thing that Curran does not; a win over Eddie Alvarez. Chandler exploded onto the scene from nowhere with his back-and-forth slugfest with the former lightweight champ. Chandler proved his case by getting the better of Alvarez on the feet, and then submitting him in the fourth round to capture his lightweight title. Chandler is undefeated in MMA, and has defended his belt against Bellator's toughest competitors. Chandler is a serious threat to any lightweight in the world.
Thanks for reading this P4P list! Stay tuned for more work.
-Hodgi