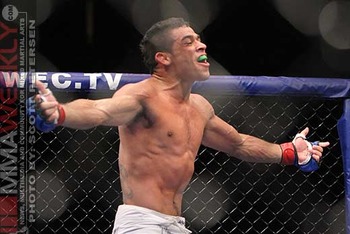 The 135lb division may not be the UFC's largest or most well-known division, but it doesn't lack excitement and interest one bit. With the champion, Dominick Cruz, side-lined still, it opens the path for a quick-dash to the Interim belt. Unfortunately for many contenders, the Brazilian, Renan Barao, has already made his claim for that Interim belt. With injuries sidelining Barao, the UFC (along with many fans) are trying to decide what will happen. This is a great time to take a step back, and breakdown this division.
Scheduled Fights
Raphael Assuncao vs. Vaughan Lee (UFC on Fuel TV) – Ever since dropping to 135 lbs, Assauncao has looked like a totally different fighter. Assauncao is on a 3-fight win streak in the bantamweight division, and because of the lack in numbers, means he is very close to title contention. Standing in his way is the tough Brit, Vaughan Lee, who is looking for his 2nd win in the UFC.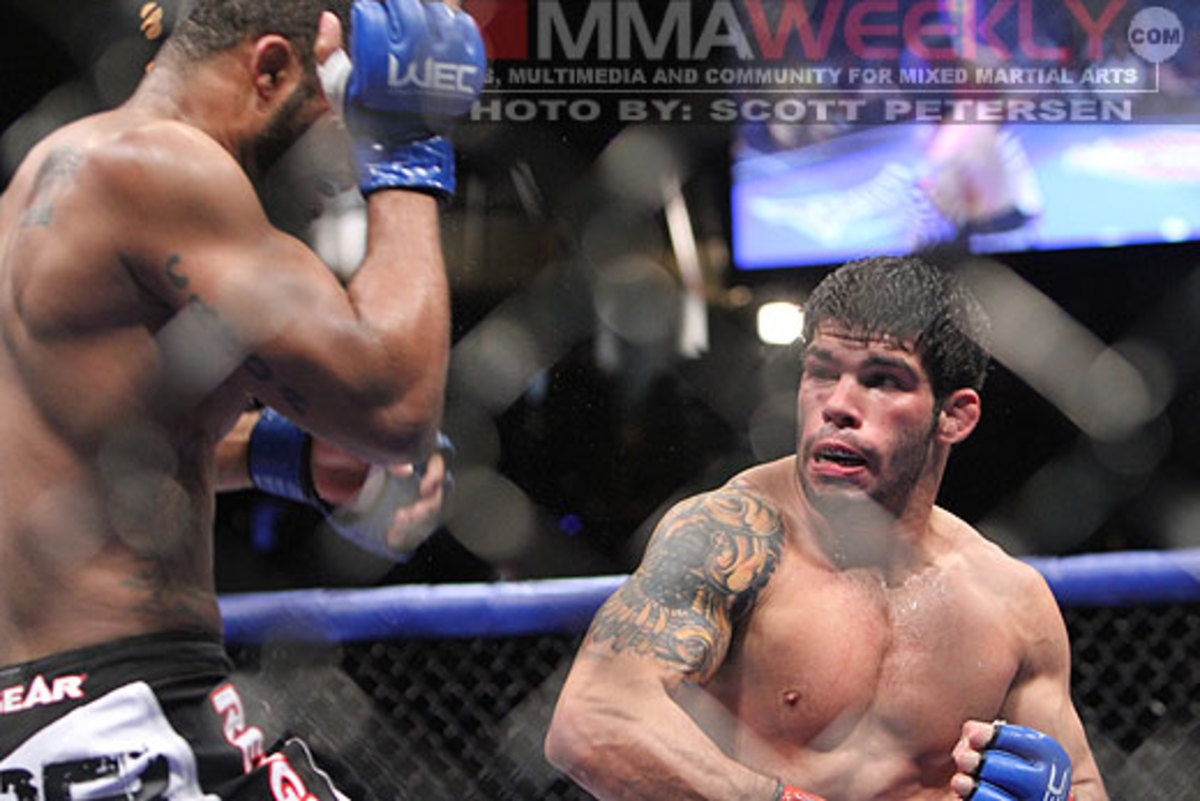 John Albert vs. Yaotzin Meza (UFC on FOX)
Roland Delorme vs. Edward Figueroa (UFC 161)
Yves Jabouin vs. Dustin Pague (UFC 161)
Unscheduled Fighters
Yuri Alcantara
Renan Barao
Johnny Bedford
Brian Bowles
Alex Caceres
Chico Camus
Bryan Caraway
Dominick Cruz
TJ Dillashaw
Mike Easton
Johnny Eduardo
Urijah Faber
Mitch Gagnon
Scott Jorgensen
Kyung Ho Kang
Dustin Kimura
Michael McDonald
Ivan Menjivar
Takeya Mizugaki
Erik Perez
Brad Pickett
Francisco Rivera
George Roop
Iliarde Santos
Motonobu Tezuka
Hugo Viana
Eddie Wineland
Expected Match-Ups
Renan Barao vs. Eddie Wineland – Even with Barao out with a foot injury, I'm fairly certain that they will keep this match up booked, and just post-pone the fight. It scheduled to headline UFC 161, but now expect the fight to be pushed back to sometime late Summer. Barao is long-overdue for his title shot against Dominick Cruz, but Wineland is a sturdy test for anybody and now that Wineland gained momentum look for this fight to create the real true number one contender.
Yuri Alcantara vs. TJ Dillashaw – This bout gives me shivers. I like it so much because these two dogs are hungry for some top-ranked opponents. Alcantara was labeled as one of Brazil's top prospects coming into the UFC, and now that he's back to his winning ways, look for him to face someone like TJ Dillashaw. Dillashaw has been cleaning house against low and mid-tier fighters, so he's due for somebody who he can't finish in the first round.
Michael McDonald vs. Urijah Faber – A true veteran vs. new breed styled fight. Faber, who's coming off of a solid performance against Scott Jorgensen, is looking for a top-ranked opponent needed to get another crack at the title. Michael McDonald is needing a big win after losing to Barao to stay relevant, and an exciting match up between these two guys could pay off very well.
Other notable match-ups:
Brian Bowles vs. Scott Jorgensen
Bryan Caraway vs. Alex Caceres
Erik Perez vs. Francisco Rivera
Brad Pickett vs. George Roop
Johnny Eduardo vs. Hugo Viana
Kyung Ho-Kang vs. Dustin Kimura
Ivan Menjivar vs. Takeya Mizugaki
Mike Easton vs. Johnny Bedford
Chico Camus vs. Motonobu Tezuka
Iliarde Santos vs. Mitch Gagnon
*Dominick Cruz vs. Barao/Wineland Winner
Thanks for reading! Have a great weekend!
-Hodgi